Python hurt in fight with tigress at Nandankanan
The fight between the two was witnessed by some visitors and they immediately alerted the zoo officials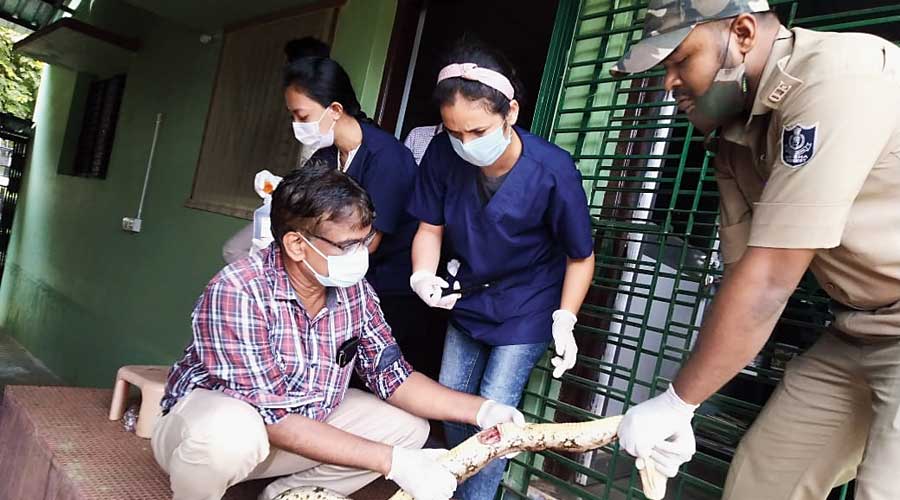 Injured python is being treated by a team of doctors of OUAT on Tuesday
Telegraph picture
---
Bhubaneswar
|
Published 07.10.21, 12:18 AM
|
---
Rupa, a white royal Bengal tigress, attacked and injured an 11ft-long Indian python on Tuesday when it tried to enter into her enclosure at the Nandankanan Zoo on the outskirts of the city.
The fight between the two was witnessed by some visitors and they immediately alerted the zoo officials.
The python, which sustained injuries to its abdomen and other parts, is reported to be stable following a two-hour-long operation by the veterinary doctors at the Odisha University of Agriculture and Technology (OUAT).
This is the first such battle between a tigress and a python in the zoo considered to be one of the major tourist attractions of the state.
Dr Indramani Nath, head of the department of surgery and radiology at OUAT, told The Telegraph: "The python, an ambush hunter, is around five to six years old and grey in colour. It had sneaked into the zoo from the nearby Chandaka forest on Tuesday around 10.30am. When the tigress noticed the snake, she pounced upon it. A battle ensued and the tigress managed to overpower the snake using her paws as a weapon."
Zoo sources said after being injured by the tigress, the python got terrified and curled up in a corner of the enclosure to protect itself. Though it tried to slither out of the enclosure, it was unable to do so due to the injuries it had sustained. "As the snake was non-poisonous, the tigress suffered no harm. However, the python sustained multiple injuries to muscles on various parts of its body," Dr Nath said.
While the tigress was confined to her enclosure, the python was rushed to the OUAT for treatment. "When we saw the condition of the python, we immediately formed a seven-member team. After X-ray, we started the treatment including surgery on its muscles. However, there was no skeletal injury. We had to put a tube in its intestine through its mouth to find out if there were any major ruptures inside the body. Thankfully, there were none. The injuries were in the lower part of the abdomen, soft tissues and skins. The operation went on from 1pm to 3pm. The python is stable and under observation," Dr Nath said.
He added: "No food will be given to the snake for at least seven days."
A python can survive without food even for a month. After seven days, we will give her egg albumin and yolk. Once its condition improves, we will release rats near it to see whether it's able to get back its hunting skills. Once it shows signs of complete recovery, it will be released into the wild."
Zoo veterinary doctor Sarat Sahu told this newspaper: "The tigress is in a good condition. No injury marks were found on her."
Nandankanan has 27 tigers, including six white ones.