Punjab court issues fresh arrest warrant against Tajinder Bagga
This comes a day after Delhi and Haryana police, who report to BJP governments, had freed the BJP politician from custody in AAP-run state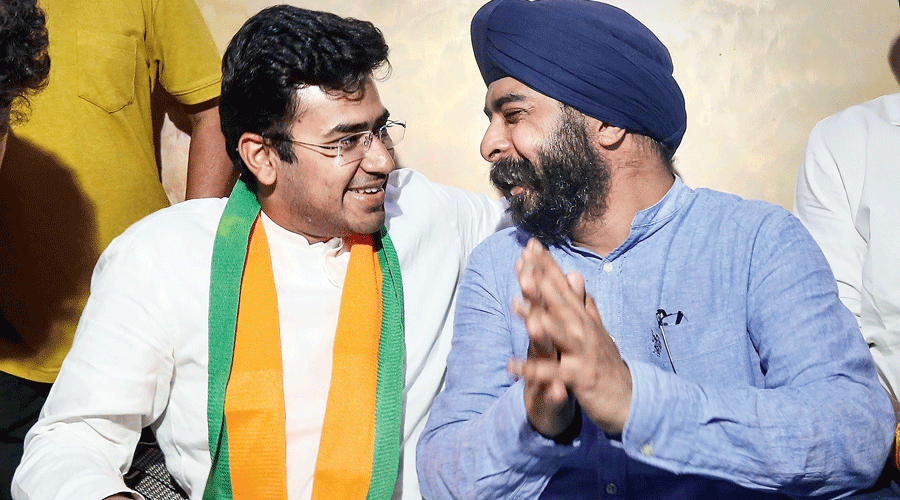 BJP MP Tejasvi Surya meets Tajinder Bagga at the Delhi politician's home at Janakpuri in New Delhi on Saturday.
PTI Photo
---
New Delhi
|
Published 08.05.22, 03:17 AM
|
---
A court in Punjab's Mohali on Saturday issued a fresh arrest warrant against Delhi BJP spokesperson Tajinder Pal Singh Bagga over alleged hate speeches, a day after Delhi and Haryana police, who report to BJP governments, had freed him from the custody of cops from AAP-run Punjab.
Bar and Bench, a legal news portal, reported close to midnight that Bagga had moved Punjab and Haryana High Court against the warrant, which allowed urgent hearing to be held at the residence of a judge.
The high court stayed Bagga's arrest warrant, PTI quoted his counsel Chetan Mittal as saying. "No coercive steps till May 10," Mittal added.
Earlier, the court of judicial magistrate Ravtesh Inderjit Singh in Mohali had directed the officer in charge of the state cyber crime wing to arrest Bagga and produce him before it. The next date for the case in the Mohali court is May 23.
Before the warrant was issued, Punjab and Haryana High Court had adjourned till May 10 the hearing of the appeal against the alleged detention of Punjab police officers by the Haryana police on Friday when they were on their way to Mohali after arresting Bagga from his Delhi home.
The Punjab police had approached Punjab and Haryana High Court against the "detention" of its team in Kurukshetra and termed the intervention by the Haryana police "a violation of law".
The Punjab police team was intercepted in BJP-ruled Haryana and allegedly detained at Kurukshetra police station for a few hours. The Haryana police said they had been alerted by the Delhi police, who report to the Centre through the Union home ministry, to a kidnapping complaint the capital's cops had registered on a complaint from Bagga's father.
Armed with a search warrant from a Delhi court to trace Bagga, a Delhi police team had also rushed to Kurukshetra on Friday afternoon. Later, Bagga was handed over to the Delhi police by their counterparts in Haryana, and only then were the Punjab cops allowed to leave.
Bagga was brought to Delhi and produced before a duty magistrate late on Friday night, following which he was allowed to go.
Bagga's medical examination, conducted after the Punjab police had arrested him, has revealed injury marks on his body, the Delhi police said on Saturday.
The Delhi police said it would make the necessary security arrangements for the Delhi BJP leader. An officer said Bagga had expressed apprehensions about his safety.
The AAP's chief spokesperson in Punjab, Malvinder Singh Kang, said the state's police had followed "all procedures" while arresting Bagga from his home in Delhi. Kang said five notices had been served on Bagga to join the investigation after an FIR was registered against him by the Punjab police on April 1, "but he did not respond".
"This is not the first case against him. A habitual offender was being brought to be produced before a court in Mohali, but he was released and Punjab police officers were detained. The entire country watched this autocratic behaviour of the BJP-led government at the Centre and in Haryana," the AAP spokesperson said.
He said Bagga faced more than 20 cases in Delhi, Bengal and Chhattisgarh. "Such antisocial elements should get punishment as per the law of the land, but unfortunately the country's government is coming out in his support," Kang alleged.
The Punjab police had booked Bagga on the charges of making provocative statements, promoting enmity and criminal intimidation. The case was registered on a complaint by AAP leader Sunny Ahluwalia, a resident of Mohali.
The FIR registered on April 1 referred to Bagga's remarks on March 30 when he was part of a BJP youth wing protest outside the residence of Delhi chief minister Arvind Kejriwal.
Bagga claimed on Saturday that he had been branded a "disruptive" leader by political opponents, including the AAP, as he was active both on social media and in the field to expose them.
Surrounded by journalists, family members and friends at his Janakpuri residence, Bagga expressed his "redoubled" resolve to raise his voice against the AAP and Kejriwal.
Additional reporting by PTI