BJP spokespersons yet to be arrested
Strong action taken against individuals: Arindam Bagchi
The question whether Delhi police have registered an FIR against Nupur Sharma and Navin Jindal over acts is met with stony silence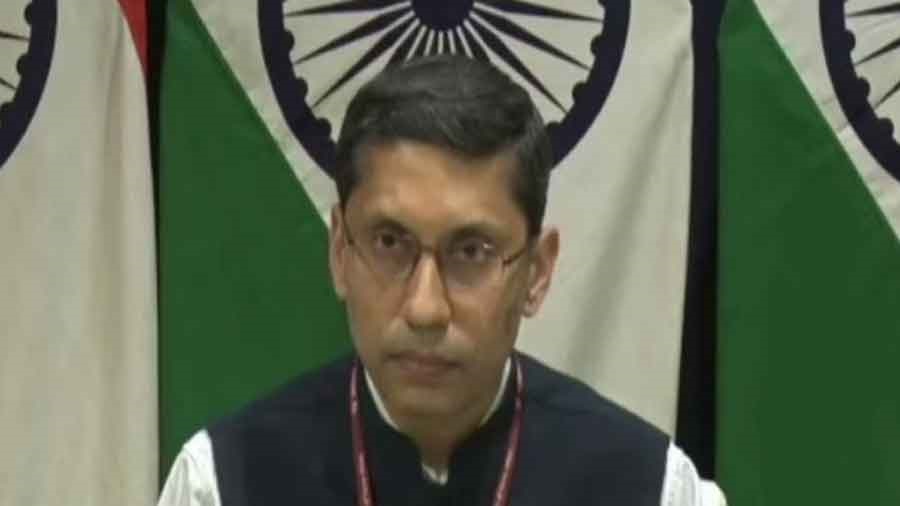 Arindam Bagchi.
File photo
---
New Delhi
|
Published 07.06.22, 02:16 AM
|
---
The Indian external affairs ministry has conveyed to multiple governments in West Asia that "strong action has already been taken against these individuals", referring to the now-axed BJP spokespersons who denigrated Prophet Mohammed.
If this is indeed so, the Indian foreign ministry has shared with foreign governments classified information that is not accessible to Indian citizens.
So far, neither Nupur Sharma, the suspended national spokesperson of the BJP, nor Navin Jindal, the expelled Delhi BJP spokesperson, has been arrested. No police force would even confirm whether they had been questioned.
The question whether Delhi police, the country's most high-profile police force which reports to the Union home ministry and under whose jurisdiction the residences of Sharma and Jindal fall, have registered an FIR against them on their own over acts that were carried out at least over a week ago is met with stony silence.
Several police stations in Maharashtra and Telangana — both Opposition-ruled states — had booked Sharma for inciting hatred between communities and insulting religious sentiments.
On Monday afternoon,   Mumbai police said they would summon Sharma to record her statement. Which means "strong action", if any, is still pending, and if it comes, the Modi government will owe it to a government in which the Shiv Sena and the Congress are partners.
Ironically, sources said, Delhi police have registered an FIR against "unknown persons" over complaints from Sharma that she was receiving threat calls.In a tweet, Trinamul national spokesperson Saket Gokhale referred to the Delhi police FIR based on Sharma's complaint and added: "However, no FIR registered yet on a complaint I filed last week against her communal remarks."
Get this - @DelhiPolice has registered an FIR based on Nupur Sharma's complaint. However, no FIR registered yet on a complaint I filed last week against her communal remarks.

Nupur Sharma isn't "fringe".

She's still being backed for her comments by no less than Govt of India.

— Saket Gokhale (@SaketGokhale) June 6, 2022
  On Monday, the Indian external affairs spokesperson Arindam Bagchi said: "The offensive tweets and comments denigrating a religious personality were made by certain individuals. They do not, in any manner, reflect the views of the Government of India. Strong action has already been taken against these individuals by relevant bodies."
It is getting bad to worse.
So far, the only known "strong action" has been that taken by the BJP, not by an arm of the executive, which raises the question whether a political party is the "relevant" body to take action for what looks like a criminal offence that has already triggered clashes in some parts of the country and shamed India abroad.
Unless evidence emerges that the police had taken strong action against the duo by the time Indian ambassadors briefed the foreign countries on Sunday, it can be contended that the Indian government has delegated to the BJP the responsibility of taking action that the party deems fit. Even if the cases initiated by Mumbai and Hyderabad police are taken into account, the proceedings so far can by no means be described as "strong action".
The Delhi police have not always displayed such restraint.
"Remember that while Munawar, his friends and an Amazon employee were thrown behind bars for offending Hindu sentiments, Sharma and Jindal have only been suspended from the party," social media user Dushyant Arora tweeted.
In January last year, stand-up comedian Munawar Faruqui was arrested by Madhya Pradesh police on the charge of hurting religious sentiments through his remarks about Hindus deities during a gig at a café in Indore. Witnesses had told reporters that he had been arrested before his alleged performance.
In May 2019, Noida police had registered a case against Amazon for allegedly hurting sentiments after rugs and toilet seat covers with pictures of Hindu gods became available for sale on its US website. An FIR was lodged in Lucknow last year against the makers of an Amazon Prime Video web series on charges of hurting the religious sentiments of Hindus and promoting enmity on grounds of religion.
Then there are the young Indians who were charged with the stringent UAPA and thrown into jail over the Delhi riots two years ago. They have been charged with incitement — the same allegation levelled against the erstwhile BJP spokespersons.
The youngsters include JNU and Jamia Millia Islamia students, alumni and activists such as Devangana Kalita, Natasha Narwal, Sharjeel Imam, Umar Khalid, Safoora Zargar, Asif Iqbal Tanha, Meeran Haider and Gulfisha Fatima.
Zargar was pregnant when she was arrested in April 2020 and was released on bail two months later on humanitarian grounds. Kalita, Narwal and Tanha were arrested in April 2020 and released on bail in June 2021.
The Indian foreign ministry was livid on Monday after suffering the humiliation of being lectured by Pakistan.
But Indians are also asking questions.
Twitter user Sandeep Sarma asked: "Why has not yet UAPA been slapped against Nupur Sharma? There has already been violence in Kanpur because of her derogatory remarks."
Ashok Kumar Pandey tweeted: "Suspension from party is not any action at all. If BJP thinks both (Sharma and Jindal) have indulged in inciting religious sentiments, then action should be taken against them under relevant sections of the IPC."
पार्टी से निकाल देना कोई 'कड़ी कार्यवाही' नहीं है।

अगर भाजपा मानती है कि इन दोनों ने धार्मिक भावनाएँ भड़काने का काम किया है तो क़ानून के हिसाब से सम्बद्ध धाराओं में मामला दर्ज कर कार्यवाही होनी चाहिए।

— Ashok Kumar Pandey अशोक اشوک (@Ashok_Kashmir) June 5, 2022
A former Delhi police commissioner told this newspaper it was ironical that the police had not yet on their own taken cognisance of Sharma's derogatory statement. "Ideally, police should have booked Sharma under the IPC for her outrageous and derogatory statements and for inciting communal violence. Nothing shocks any more in this New India," he said.