Kashmiri IAS topper who quit service charts political career
Shah Faesal won't join any mainstream party now, but hopes to emulate Imran Khan and Arvind Kejriwal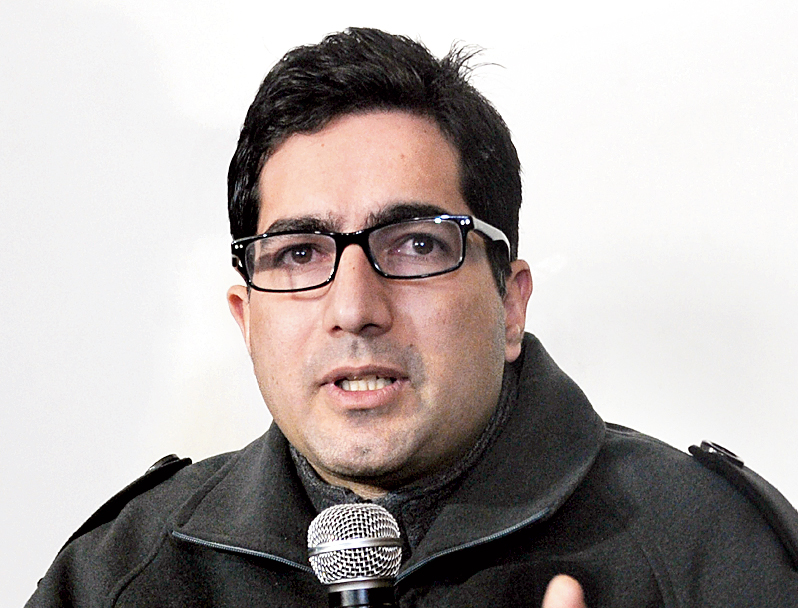 ---
|
Srinagar
|
Published 11.01.19, 10:53 PM
---
Shah Faesal, the lone civil service exam topper from the Valley, kicked off his political journey on Friday, opting for the pro-India camp over the separatists but swearing loyalty to the "sentiment" of the Kashmiri people.
He hoped to emulate Pakistan Prime Minister Imran Khan and Delhi chief minister Arvind Kejriwal, saying he had been deeply influenced by them.
Faisal had on Wednesday declared his intention of quitting the IAS in protest at the killings in Kashmir and the "growing culture of intolerance" in the country.
In his first formal media interaction on Friday, he said he would not be joining any existing pro-India party at the moment but would hold consultations with all before deciding his course of action.
He clarified that he would contest elections. But, he added, he would re-imagine mainstream (pro-India) politics and represent the "sentiment" of the people.
For many in Kashmir, "sentiment" means a call for independence, but Faesal did not explain his use of the word.
"When tomorrow I formally join politics, you will see my vocabulary --- my representation of the sentiment will be as per the narrative of the people. I will talk a little differently from others," he told reporters here.
He added: "If youngsters of the state give me that opportunity, I will be very happy to do a retake of Imran Khan and Kejriwal."
Asked whether he would join the Hurriyat if most Kashmiris wanted him to, he said he wouldn't do it now.
"I am a man from the system. I have experience (in it). My specialisation is in governance. I'm not essentially trained in politics. So I will be happy to do something in an institution where I can use my skills, as (in) governance administration," he said.
"I wish I could do that elsewhere but because Hurriyat does not give me that kind of opportunity… we have to accept the difference of opinion. Maybe at this moment I won't be able to do that."
Faesal, though, seemed to defend the Hurriyat, saying its representational character could be judged only if it got an opportunity to fight elections.
"They have not fought elections yet and you never know (what will happen if they do). Those people who are winning today, we never know whether they will win if the Hurriyat contests elections. It will be wrong to presume that the Hurriyat has no role to play in our state."
Moderate Hurriyat chairman Mirwaiz Umar Farooq had welcomed Faesal's decision to quit the IAS but hoped his outrage would guide his choice of politics, virtually asking him not to join pro-India politics.
Faesal regretted that there had been a de-legitimisation of mainstream politics because of the way it had been conducted. "I believe that Parliament and legislative space is a very important space, and we need well-meaning and right people there," he said.
Faesal said the problem with the state was that politicians were asked to deal with municipal issues and the military dealt with political issues, implying the mainstream parties had a larger role in conflict resolution.
He said he would talk to all stakeholders --– the youth, political parties --- to build a consensus on how mainstream politics can be re-imagined. He suggested the parties need "to tell the truth to the people".
He did not explain what this "truth" was but it could mean working for achievable solutions to the Kashmir dispute.