Priyanka Gandhi 'shock' claim on Uttar Pradesh police
The Congress leader said the family of a Dalit man who died in police custody has told her that he had been mercilessly assaulted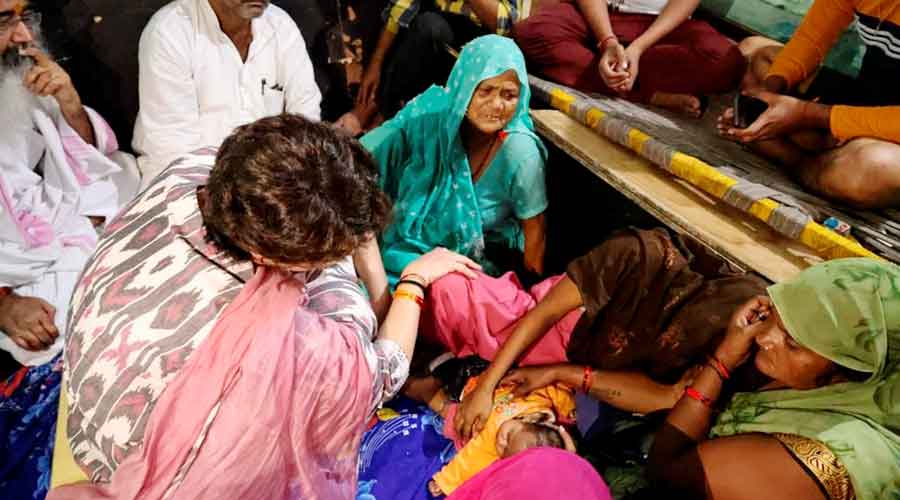 Priyanka Gandhi visits family members of a man who died in police custody in Agra, Wednesday night
PTI
---
Lucknow
|
Published 22.10.21, 01:59 AM
|
---
Priyanka Gandhi Vadra has said the family of a Dalit man who died in police custody has told her that he had been mercilessly assaulted and also administered electric shock.
Police in Agra denied the allegation, saying Arun Narwar, a sweeper, had died of heart attack on Tuesday night. Arun had been arrested on the charge of stealing Rs 25 lakh from the locker room of Agra's Jagdishpura police station.
Priyanka said after meeting Arun's family at Lohamandi on Wednesday night: "The family members of Arun told me that the police picked up 17-18 people of the Valmiki community, took them to the police station and thrashed them mercilessly. His wife (Sonam) told me that she was also beaten up, not only by policewomen but male cops as well. They all have big injury marks. Her husband was beaten in front of her. His hands and legs were tied and he was given electric shock."
The Congress leader added: "The police wrote a complaint and forced the victim's brother (Sonu) to sign it. He doesn't even know how to read. Their house was ransacked."
Arun's mother Kamla Devi said he had mentioned the names of "the police officers who had actually stolen the money and so the cops killed him".
Five policemen have been suspended and booked for murder.
Muniraj G, senior superintendent of police of Agra, told reporters when asked about Priyanka's allegation that Arun had been administered electric shock: "It is not true. He died of a heart attack when the police had taken him to his home to recover the stolen cash. However, every aspect will be investigated."
The officer conceded that there were four injury marks on Arun's body.