PM counters Rafale fire with Agusta
Modi said there was a conspiracy to weaken the nation's security during 2004 to 2014 and its exposure was now a pain for Congress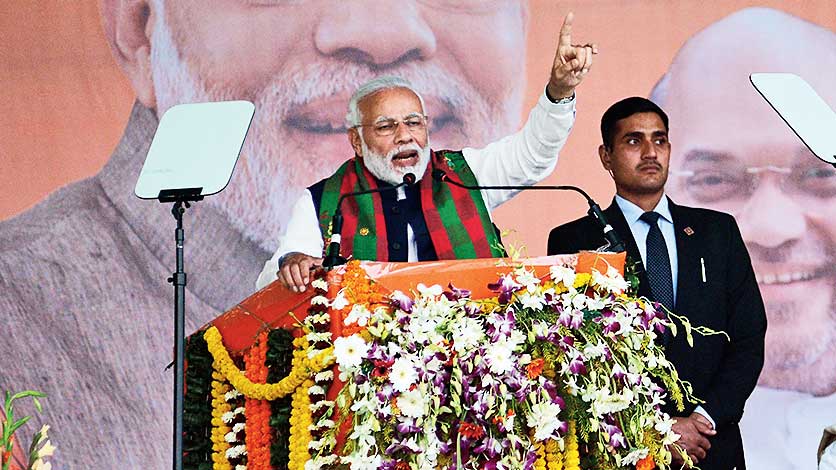 ---
|
Baripada
|
Published 05.01.19, 07:51 PM
---
Prime Minister Narendra Modi on Saturday chose to pick up the AgustaWestland shield to battle the offensive of the Congress on Rafale rather than answer queries that have been rattling his government both inside and outside Parliament for a while now.
Addressing a BJP rally here, about 280km from Bhubaneswar, Modi reiterated the BJP's stand on the AgustaWestland deal and almost portrayed middleman Christian Michel, who is in judicial custody, as an ace up his government's sleeve.
Hitting out at his rivals, Modi said: "Was the Congress running the government (UPA) or (was it) Michel mama's durbar?"
Michel, he said, had "better knowledge of (AgustaWestland) file movement" than the UPA government.
Modi told the gathering: "From a letter it has become clear that he (Michel) had better knowledge of the (AgustaWestland) file movement in the government than that of the Prime Minister (Manmohan Singh)."
Modi said that the investigating agencies would probe into all aspects and the law would "not spare anyone" involved in doing "injustice to armed forces".
Praising defence minister Nirmala Sitharaman for rebutting Opposition charges on the Rafale deal in Parliament on Friday, Modi said there was a conspiracy to weaken the nation's security during 2004 to 2014 and its exposure was now a pain for Congress leaders.
Now, he said: "They want to remove the chowkidar from their path at any cost."
Referring to the coming together of Opposition parties against his government, Modi said that the first target of "choron ki jammat (congregation of thieves) is always at the chowkidar".
Earlier in the day, speaking at a rally to launch a slew of irrigation projects in Jharkhand's Palamau, Modi, blamed the Congress for the suffering of farmers.
Addressing the meet, Modi centred his 40minute speech primarily on farmers, liberally interspersed with jibes at "un logon ki sarkar (the government of those people)".
"The government of those people (read Congress) treated farmers as vote banks. We treat farmers as our anna data (provider of food). There lies the difference. They used farmers, while we work for farmers," Modi said, adding that the "government of those people" used loan waivers as a tool to win polls.
"First, the government of those people entrapped farmers in debt and now they are waiving of their loans," he said. "The Congress has looted the country. And now, thieves have developed a stomach ache … so, they are on a 'Modi-hatao' mission, which they will not succeed in," Modi said.