Pragya still at play, Modi ire at batman Akash Vijayvargiya
The Prime Minister said BJP legislator Akash Vijayvargiya 'should be sacked'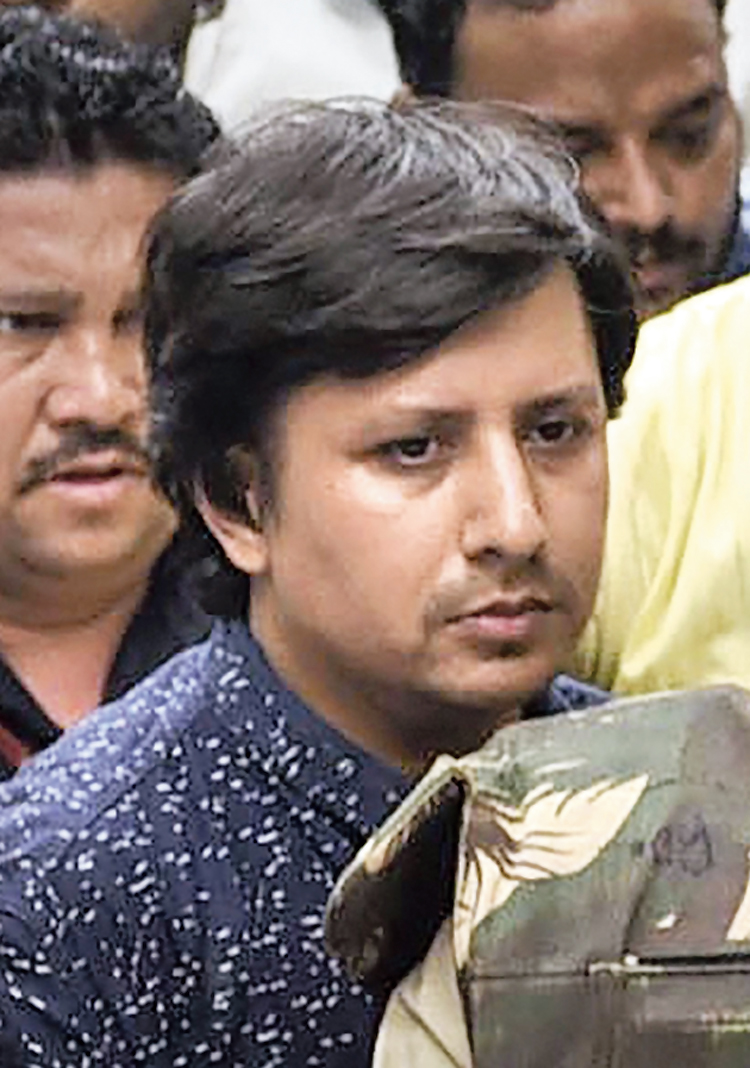 Akash Vijayvargiya
A file picture
---
New Delhi
|
Published 03.07.19, 12:56 AM
|
---
Prime Minister Narendra Modi on Tuesday said BJP legislator Akash Vijayvargiya "should be sacked" along with his supporters for his "unacceptable" cricket-bat assault on a civic official but there was no official announcement till late in the evening on whether and how the party planned to walk the talk.
Modi took up the issue at the BJP's weekly closed-door parliamentary party meeting. Some of the MPs who were present said the Prime Minister appeared livid and made it clear he didn't care whose son Akash was.
Akash's father Kailash Vijayvargiya, general secretary and the party's Bengal minder, had on Monday called his son a "kachcha khiladi" (novice player) and said it was a minor misdemeanour that had been blown out of proportion. Kailash was present at Tuesday's meeting.
"People like him (Akash) and his supporters should be sacked," the MPs quoted Modi as saying. "Main khoon pasina baha raha hoon, iske liye nahi. Beta kisi ka bhi ho, manmani nahi chalegi (I am not shedding my blood and sweat for all this. No matter whose son he is, this kind of behaviour is unacceptable)."
Akash, 34, a first-time MLA from Indore, Madhya Pradesh, was caught on camera chasing, abusing and assaulting civic official Dhirendra Singh Bais with a cricket bat during an anti-encroachment drive last Wednesday.
The MLA was given a rousing welcome and garlanded by supporters when he stepped out of prison on Sunday after being granted bail. Kailash was present too in Indore that day.
At Tuesday's meeting, Modi referred to the welcome Akash got, wondering what "parakram" (extraordinary) work the MLA had done to be garlanded. "As MPs of the BJP your job is to serve the people. Demonstration is for the Opposition," the Prime Minister said.
Modi reportedly said the party should not care about losing one MLA. 'What will happen if we lose one MLA?' he asked.
None in the party, however, spoke in public about action against Akash despite Modi's strong words. Kailash is known to be close to party chief Amit Shah, now also the country's home minister.
This was not the first time Modi had used strong words of disapproval against wayward party colleagues. Before the Lok Sabha election result, Modi had said he would never be able to pardon Pragya Singh Thakur for calling Mahatma Gandhi's assassin Nathuram Godse a "patriot".
Party chief Shah had promised firm action against Thakur, then the BJP candidate in Bhopal and now an MP. No action has been taken yet.
On Akash, father Kailash refused to comment when reporters approached him in Parliament after the meeting.
Asked whether any action would be taken against Kailash, the BJP's Madhya Pradesh in-charge, Vinay Sahasrabuddhe, said: "The state unit is the primary unit for this. I can't comment anything."
Madhya Pradesh BJP president Rakesh Singh could not be contacted in spite of repeated attempts.
Some party sources said a showcause notice could be served on Akash and action taken on the basis of the reply.