Pragya hands big defeat to Digvijaya
The BJP had won 27 of the 29 seats in Madhya Pradesh in 2014 and appeared set to win 28 this time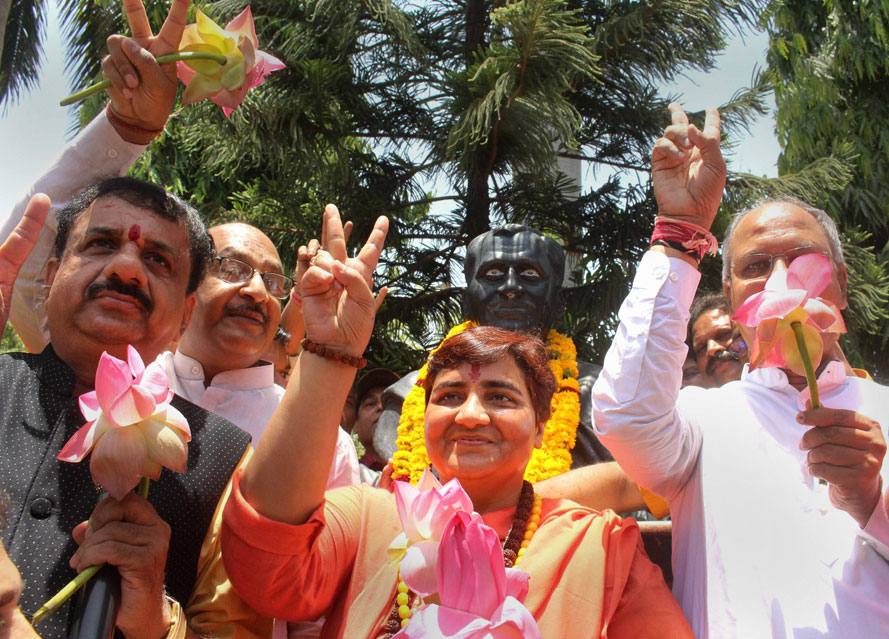 Newly-elected BJP MP from Bhopal Pragya Singh Thakur after her win in the Lok Sabha elections at party's state headquarters in Bhopal, Friday, May 24, 2019.
(PTI)
---
New Delhi
|
Published 24.05.19, 10:10 AM
|
---
Senior Congress leader Digvijaya Singh, a two-time former chief minister, was defeated by a margin of 3,64,822 votes by terror-accused BJP nominee Pragya Singh Thakur from the prestigious Bhopal seat in Madhya Pradesh.
Digvijaya's party colleague Jyotiraditya Scindia, a leader with a royal lineage, also lost in the Guna Lok Sabha seat.
The Congress, which had wrested the state in the December Assembly elections, was swamped by a saffron surge with only Chhindwara, the personally nursed constituency of chief minister Kamal Nath from where he had fielded his son Nakul, standing out as an oasis.
Jyotiraditya, son of the late Gwalior royal Madhav Rao Scindia, had managed to save his constituency in 2014 from the Narendra Modi wave, but it collapsed this time, ironically when the Congress rules the state.
The BJP had won 27 of the 29 seats in Madhya Pradesh in 2014 and appeared set to win 28 this time, barring Chhindwara, which the Congress had managed to hold on to last time.
It was Digvijaya's defeat to the saffron-robed Pragya, who uses the honorific "Sadhvi", that probably summed up the saffron surge.
The BJP, driven by the RSS, its ideological mentor, had fielded Pragya as a symbol of revenge against Digvijaya, accusing him of tarnishing the Hindu community with his "saffron terror" campaign when the Congress-led UPA was in power.
Pragya, now out on bail, is an accused in the 2008 Malegaon blast that killed six people.
Digvijaya, branded an anti-Hindu leader by the BJP-RSS, had tried an image makeover during the campaign by getting a large number of Hindu saints to back him, but the results showed all that didn't work.