Poll-eve retreat on forest law
Controversial draft amendments to the Indian Forest Act were withdrawn ahead of the Jharkhand Assembly elections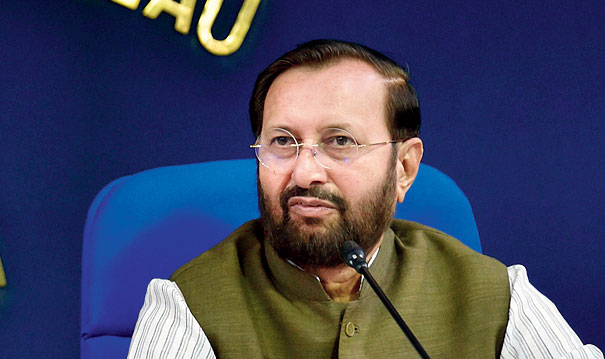 ---
New Delhi
|
Published 15.11.19, 08:44 PM
|
---
The Narendra Modi government has withdrawn controversial draft amendments to the Indian Forest Act ahead of the Jharkhand Assembly elections following sharp criticism that the changes would give excessive powers to forest officials and deprive tribal communities and forest dwellers of their rights.
Union environment minister Prakash Javadekar announced on Friday that the government has withdrawn the draft of the proposed amendments as it had "no intention to take away the rights of the tribals and forest dwellers".
"On Bhagwan Birsa Munda's jayanti today, the government has withdrawn the draft amendment," Javadekar tweeted, referring to the 19th century freedom fighter who belonged to the Munda tribe.
"The Narendra Modi government is committed to give more rights to tribals and forest dwellers," Javadekar added.
The announcement comes ahead of the Jharkhand Assembly elections, scheduled between November 30 and December 20. Tribal people make up more than a quarter of the state's population.
The Campaign for Survival and Dignity, a nationwide non-government platform of tribals and forest dwellers, welcomed Javadekar's announcement but said it was "meaningless until the ministry issues a written notification withdrawing this draft".
The Campaign had issued a call for nationwide protests against the proposed amendments in state capitals and other cities on November 17 and said tens of thousands of people were expected to join the demonstrations.
On Friday, the Campaign said the November 17 protests "which were on other issues as well as this will continue as planned".
The draft had evoked protests with the Campaign and other critics claiming that the proposed amendments would have given forest officials the power to arrest, raid, seize and shoot-to-kill without facing accountability.
The Campaign had claimed that if the draft amendments became law, "any tribal or forest dweller in the country can by law be arrested, deprived of their rights, or even killed by forest officials on the basis of suspicion alone".
CPM politburo member Brinda Karat had earlier this year also demanded the withdrawal of the proposed amendments, billing the changes as repressive and way beyond how the British had tried to establish ownership over forests before Independence.
In a letter to minister Javadekar, Karat had said the amendments "go beyond what the British dared to do, by militarising forest conservation", criminalising every aspect of tribal life by giving "untrammelled powers" to the forest bureaucracy to arrest without warrant and use arms to implement the law.
In response to a question in Parliament on June 28 this year, Javadekar had asserted that the proposed amendments did not contain provisions that would give authority to forest officials to shoot people in the name of "conservation".
"However, with an intention to prevent commission of offence in the forest, a provision has been proposed to empower forest officer to use little force, including fire arms, with appropriate precaution," the minister had said in his response.