Cuttack: Political parties oppose Durga Puja idol height cap
State authorities have argued that big idols attract larger crowds, increasing Covid infections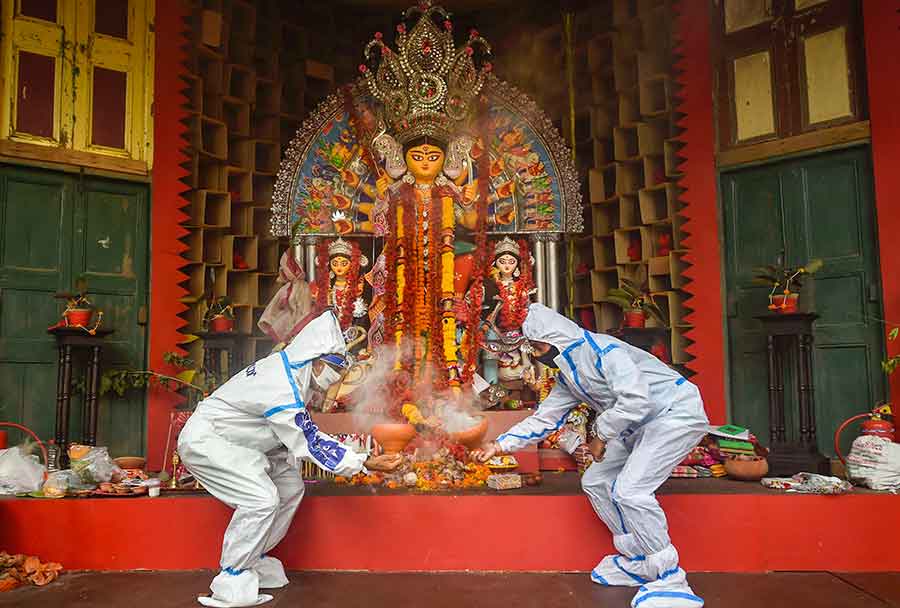 ---
Bhubaneswar
|
Published 13.09.21, 12:15 AM
|
---
Political parties in Cuttack have united against a state government order limiting the height of Durga Puja idols to four feet, saying it would spoil the festival in a city renowned for holding it in a big way.
State authorities have argued that big idols attract larger crowds, increasing Covid infections.
An all-party team from Cuttack, including members of the ruling Biju Janata Dal (BJD), are expected to meet chief minister Naveen Patnaik soon and seek a rethink on the height restriction, announced by special relief commissioner P.K. Jena on Friday. The BJP will observe a Cuttack bandh on the issue on Monday.
"This cap on the height of idols is not acceptable," Mahhamed Mouqim of the Congress, MLA from Barbati in Cuttack city, told The Telegraph.
"Here people across religions observe the Durga Puja. It's the biggest festival in Cuttack city. We must celebrate it with the traditional grandeur. No other state, not even Bengal, has capped the height of Durga idols."
The state government had last year too capped the idols' height to four feet citing the pandemic. All of Cuttack's 145 Puja committees had fallen in line barring nine whom Orissa High Court had granted exemptions because they had already got their idols built.
This time the authorities have ordered the height restriction well in time before the October 11-15 festivities, but the Puja organisers aren't willing to curtail the event's glamour two years running.
Pravat Tripay, senior BJD leader and secretary of the Cuttack Durga Puja Committee, said the idols have to be at least six feet tall.
"In Cuttack, the Durga Puja committees have traditional sets of gold and silver ornaments, including the crown, for the idols. These ornaments were made keeping in mind six-foot-tall idols. Any reduction in height will affect the beauty of the idols and rob the festival of its glamour," he said.
Last year, many of the ornaments could not be used because they were too big for the four-foot idols.
"We had a meeting on Saturday evening. An all-party delegation will meet the chief minister on the matter," Tripay said.
A Puja committee member said: "We are ready to abide by all Covid protocols, but there's no link between the height of an idol and the rise or fall of Covid cases."
Another said: "The Covid situation was grim last year. Now we have lived with the pandemic for more than one year and need to move ahead."
Odisha recorded 649 new Covid cases on Saturday, 630 on Friday and 745 on Thursday.
The Durga Puja was first organised in Cuttack in 1509 by a Banerjee family that had arrived in Odisha with Sri Chaitanya Deb from Nabadwip.
"The Puja did not stop even when famine gripped Odisha in 1865-66, or when the Spanish flu hit in 1919," an elderly Puja committee member said.