Police stops Priyanka from visiting family of a Dalit youth in Agra
Mystery surrounds the death of Arun Valmiki, a sweeper in his 20s, who was detained for alleged theft but never produced in court during two days in custody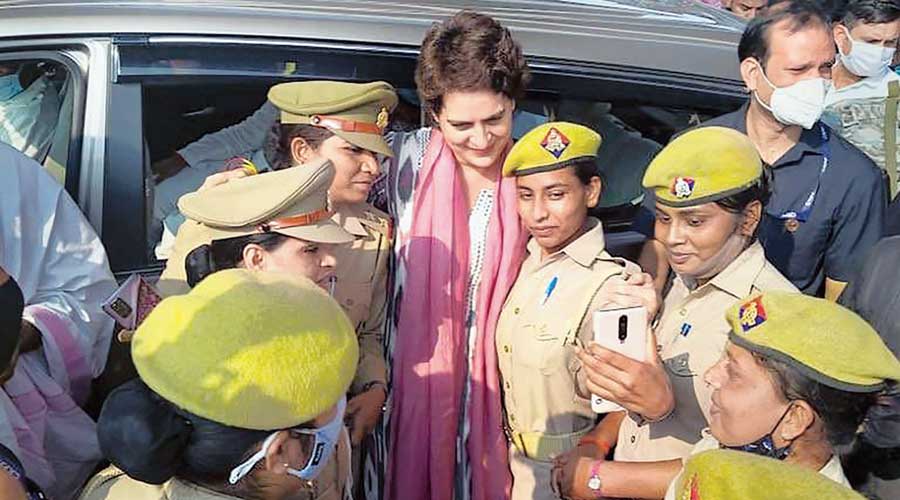 Priyanka and several policewomen pose for a picture in Lucknow. She tweeted later that there was word the Adityanath government would take action against the policewomen for the photograph. If it were so, then action should be taken against her too, Priyanka added.
(PTI picture)
---
Lucknow
|
Published 21.10.21, 02:39 AM
|
---
Uttar Pradesh police stopped Priyanka Gandhi Vadra on a highway for over two hours on Wednesday afternoon while she was travelling to Agra to meet the family of a Dalit youth who had died in police custody on Tuesday night.
"What is the Uttar Pradesh government afraid of? Why are they stopping me?" the Congress general secretary, detained earlier this month on her way to Lakhimpur Kheri, tweeted while arguing with the police on the highway.
Stopped around 3pm on Lucknow's fringes, at the entrance to the expressway to Agra, Priyanka was eventually allowed to resume her journey at 5.40pm. She was expected to reach her destination, 360km from here, at night.
Mystery surrounds the death of Arun Valmiki, a sweeper in his 20s, who was detained for alleged theft but never produced in court during two days in custody. A Congress leader has alleged his body bore injury marks.
A video circulated by Congress leaders shows Priyanka asking a police officer to furnish the magistrate's order that says she should be stopped.
The officer shows her something — presumably the order — on his mobile, which she takes from his hand and reads. Priyanka then demands the reason she is being stopped.
"Has Section 144 (prohibition on the assembly of five or more people) been imposed on the highway?" she asks.
"Yes, madam," the officer replies.
"Let me travel with three people," Priyanka says. The officer refuses.
A male voice similar to state Congress president Ajay Kumar Lallu's is heard from the background, saying: "Did you impose Section 144 in Kushinagar where the Prime Minister has gathered people and is delivering a speech?"
Prime Minister Narendra Modi inaugurated an international airport on Wednesday — which marked the holy Buddhist occasion of Abhidhamma Divas — at the Buddhist pilgrimage centre of Kushinagar, eastern Uttar Pradesh.
Eventually, the police accepted Priyanka's logic and allowed her to leave with three others: the driver, Lallu and a party worker.
On October 7, Priyanka had been stopped in Sitapur on her way to Lakhimpur Kheri to meet the families of four farmers and a journalist mowed down by a Thar, driven allegedly by Union minister Ajay Mishra's son Ashis Mishra.
She was allowed to resume her journey two days later after the Congress launched a state-wide agitation and her brother Rahul Gandhi arrived in Lucknow intending to intensify the protests.
Priyanka's tweet from the highway on Wednesday said: "Arun Valmiki died in police custody. His family is demanding justice. I want to go to meet the family."
अरुण वाल्मीकि की मृत्यु पुलिस हिरासत में हुई। उनका परिवार न्याय मांग रहा है। मैं परिवार से मिलने जाना चाहती हूं। उप्र सरकार को डर किस बात का है? क्यों मुझे रोका जा रहा है।

आज भगवान वाल्मीकि जयंती है, पीएम ने महात्मा बुद्ध पर बड़ी बातें की, लेकिन उनके संदेशों पर हमला कर रहे हैं।

— Priyanka Gandhi Vadra (@priyankagandhi) October 20, 2021
After asking what the state government was afraid of, she added: "Today is Bhagwan Valmiki's Jayanti (birth anniversary). The Prime Minister talked big about Mahatma Buddha but has been assaulting his ideas."
Valmiki, considered the writer of the Ramayan, is a Dalit icon.
Police sources have said that Arun, a sweeper at Jagdishpura police station in Agra, was detained on Sunday on the charge of stealing Rs 25 lakh from the locker room. The police say the money had been seized from criminals.
Arun is said to have fallen unconscious on Tuesday night. He was declared dead on arrival at the district hospital.
District Congress chief Raghvendra Singh Minu, who had visited the hospital, alleged there were injury marks all over Arun's body. The post-mortem report has not been submitted yet.
"We have suspended five policemen, including an inspector. We have also registered a murder case against unidentified people. Further action will be initiated after an inquiry," Agra senior superintendent of police Muniraj G said.
Muniraj had earlier said the police had taken Arun to his home to recover the money and that he fell ill there.
Samajwadi Party president and former chief minister Akhilesh Yadav alleged the police had stolen the money and implicated Arun.
"The police are committing crimes in Uttar Pradesh and the government is protecting the criminal cops," he said.
खबर आ रही है कि इस तस्वीर से योगी जी इतने व्यथित हो गए कि इन महिला पुलिसकर्मियों पर कार्यवाही करना चाहते हैं।

अगर मेरे साथ तस्वीर लेना गुनाह है तो इसकी सजा भी मुझे मिले, इन कर्मठ और निष्ठावान पुलिसकर्मियों का कैरियर ख़राब करना सरकार को शोभा नहीं देता। pic.twitter.com/6wiGunRFEe

— Priyanka Gandhi Vadra (@priyankagandhi) October 20, 2021