Narendra Modi's minority outreach
Modi delivered a marathon speech, seeking to position himself as a ruler committed to serving every section of society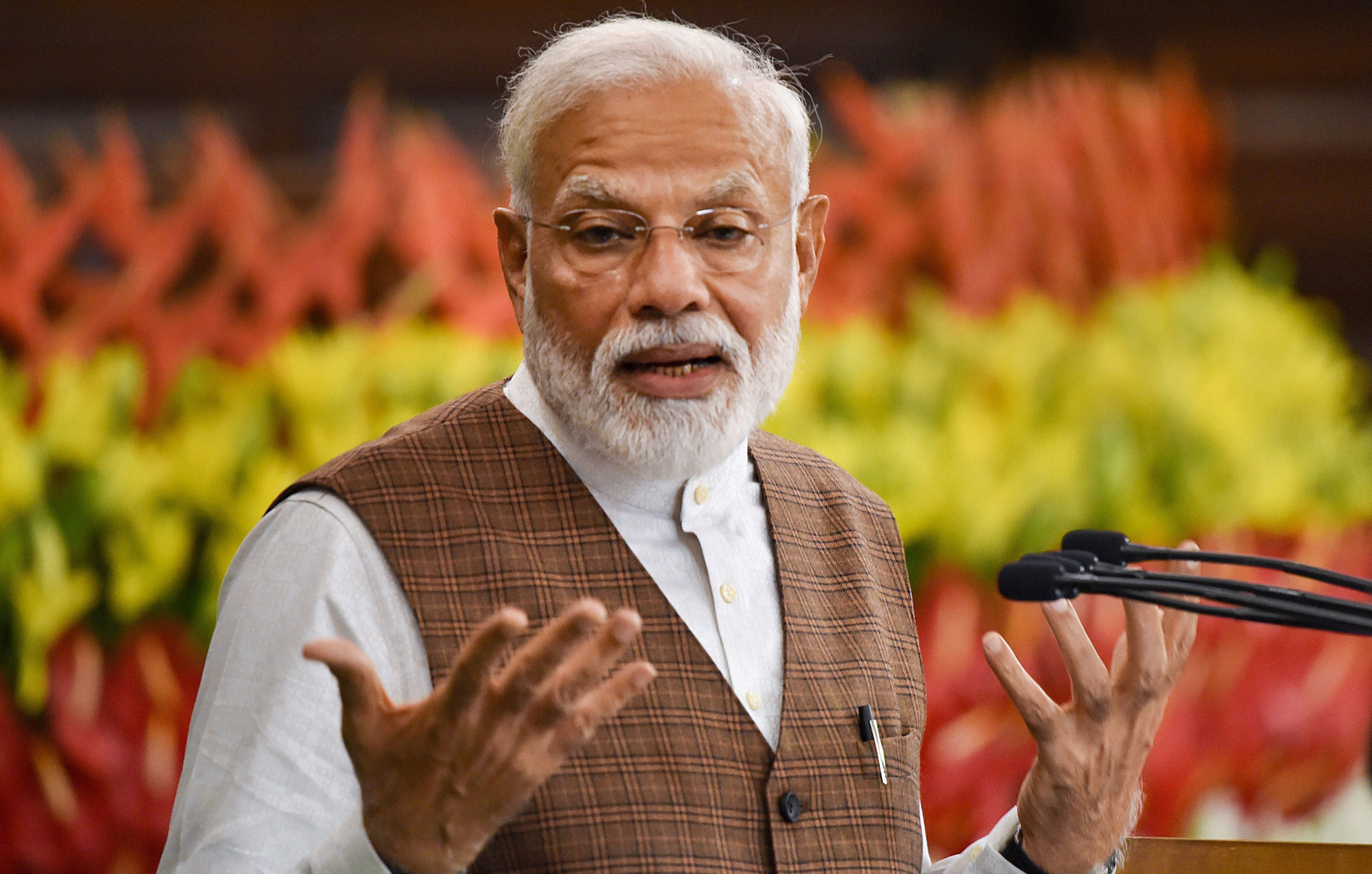 ---
---
Narendra Modi tried to shake off his divisive image and reach out to the minorities on Saturday as he prepared to start his second innings as Prime Minister, setting his MPs and government the "challenge" of winning minority communities' "faith, trust and support".
Modi, elected leader of the BJP and NDA parliamentary parties at a ceremony in the Central Hall of Parliament, used the occasion to deliver a marathon speech, seeking to position himself as a ruler committed to serving every section of society.
He began his speech after bowing before a copy of the Constitution, placed on the lectern. While entering Parliament for the first time after his 2014 victory, Modi had bent down to place his forehead on the steps.
"The minorities have been deceived the same way as the poor. Their education and health should have been in focus… (but) an imaginary fear was created to use them as vote banks," Modi said, addressing ruling alliance members.
"I expect you to be able to pierce this deception. We have to earn their (minorities') trust. We have to take along our fierce opponents. Without this the country cannot progress. There should be no discrimination over caste or religion. This is a challenge and we have to do this."
Modi said there were only two categories of people, "those who supported us and those who will support us", and urged the MPs to
serve those who had opposed them and win their faith and trust. He claimed the 2019 election had ended divisions in society.
He said if his first term was about "Sabka sath, sabka vikas (Alongside all, development for all)", his second would stand for "Sabka sath, sabka vikas, sabka vishwas (Alongside all, development for all, trust of all)".
Modi was clearly trying to change perceptions of him as India's "divider in chief", a sobriquet Time magazine gave him recently. His speech marked a sharp contrast with the way he ran his poll campaign, accusing Rahul Gandhi of contesting from Wayanad because the "majority (Hindus) are in the minority" there.
Among the audience, which repeatedly roared "Bharat Mata ki jai", was the new Bhopal MP and terror accused Pragya Singh Thakur, who recently called Mahatma Gandhi's assassin a "patriot". The cameras, however, largely ignored her. She sat quietly at the back as Modi urged the members to uphold the Mahatma's teachings.
Also present were chief ministers and their deputies from NDA-ruled states, BJP general secretaries and vice-presidents. Party seniors like L.K. Advani and Murli Manohar Joshi, and allies such as Parkash Singh Badal, Nitish Kumar, Ram Vilas Paswan and E.K. Palanisamy sat on the dais with Modi, BJP president Amit Shah and other seniors.