Modi mocks rivals for 'EVM raga'
The Opposition is seeking verification of votes by paper trail in at least half the polling booths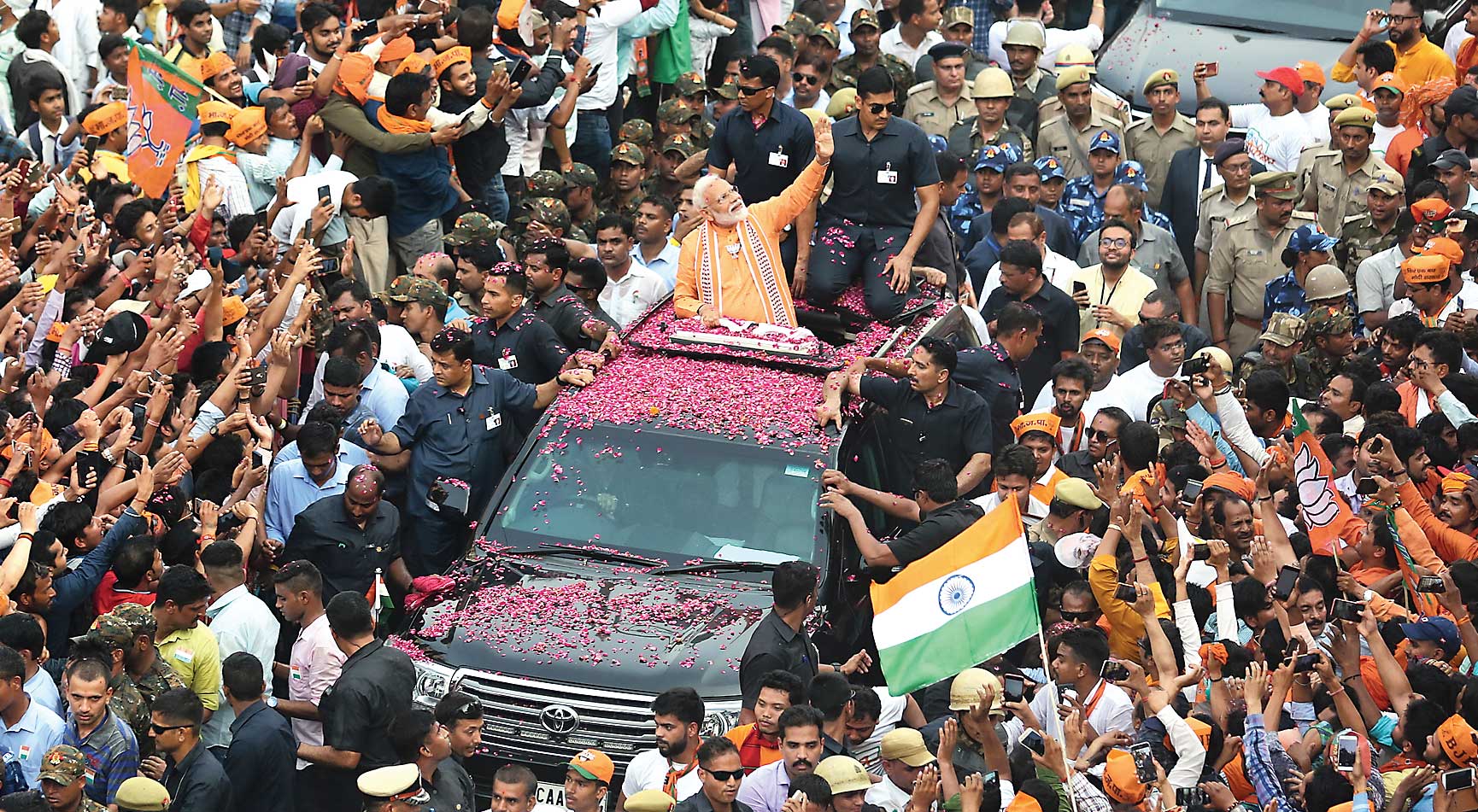 Prime Minister Narendra Modi waves to the crowd during a political campaign road show in Varanasi, on Thursday.
(AP)
---
Varanasi
|
Published 26.04.19, 02:23 AM
|
---
Narendra Modi held a 4km road show in Varanasi on Thursday, standing in an open SUV and waving at the crowds that responded with an excited "Modi, Modi" chant.
Unlike in the past, when his security staff would not allow television cameras close to the Prime Minister, hundreds were permitted to move with him and cover each movement from the front.
While some over-enthusiastic news channels claimed there were 5 lakh people when Modi started his road show from the gates of Banaras Hindu University after garlanding a statue of Madan Mohan Malviya, impartial observers put the figure at at least 50,000 people, including about 10,000 women.
A staunch Modi supporter, who is a Gujarati based in Varanasi for generations, said he had profited from the show. "I got Rs 15,000 to bring at last 20 Gujarati men and women at one point from where Modi would pass. I spent Rs 5,000 in buying saffron scarves and bringing them to the spot in auto-rickshaws and saved Rs 10,000," he said.
The supporter continued: "Similar assignment have been given to the Modi bhakts in Punjabi, Tamil, Marathi and other communities. They are expected to stand by the road in their traditional dresses."
Chakrawarthi Vijay Nawad, a Yoga guru and a Modi supporter, said winning would be no problem.
"Our target is to ensure that he wins by a margin of more than 3.70 lakh votes. He had won by this margin against Arvind Kejriwal in 2014. Modi's respect will be considered as decreasing in Varanasi if he wins by a lesser margin against the Congress' Ajay Rai and the SP-BSP alliance candidate Shalini Yadav," added Nawad, who has his roots in Karnataka.
Asked why Modi should win, Nawad responded: "He should win because he is Prime Minister of the country."
He added: "But I agree that he has not done anything for the area… which is originally known as Kashi. There is shortage of drinking water there, sewer lines are open and electricity wires are hanging by the poles."
Then came the punchline: "Varanasi was always cheated and people would happily accept if this cheating is done to them by Modi."
Deepak Madhok, chairman of Sunbeam Group of Institutes, argued that some work has been done. "Flyovers have been constructed here and roads have been widened. But it is true that Modi didn't care about basic, day to day problems of water and traffic jam," he said.
Modi mocked his rivals, saying: "The faces of some people have faded after voting on 300 seats in the first three phases. They have against started playing the raga of EVM (tampering). They kept cursing Modi during the first half of the election. But it didn't work. So now they have started cursing the EVM. They will waste their time in targeting the EVM."
The Opposition, which has for a long time voiced fears of tampering of voting machines and even gone to the Supreme Court over this, is seeking verification of votes by paper trail in at least half the booths.
"Inke haath kya lagega, zero bata sannata (What will they get, a cipher)," Modi said.
He congratulated the officers on election duty and said: "I came to know that they are working here to ensure 100 per cent turnout. It is a good thing. I congratulate them…."