Phone call from valley of despair
Read more below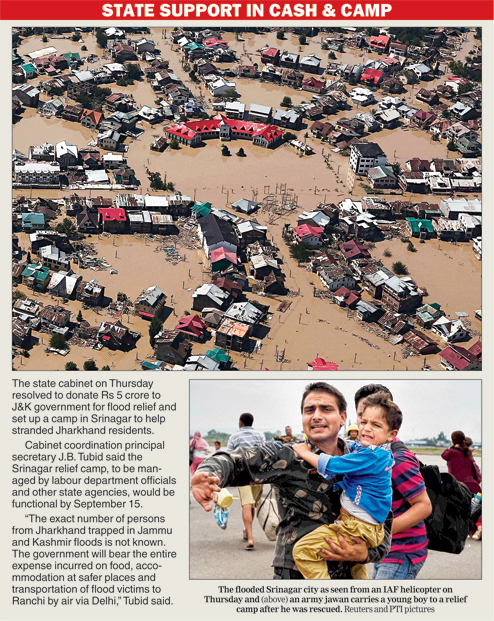 ---
---
Hazaribagh, Sept. 11: Amid fears and uncertainty in Sultana, the village in Hazaribagh that sent 150-odd "sons" to Jammu and Kashmir for work, a telephone call last evening from the flood-ravaged valley was like an answer to prayers.
At a time when lakhs in J&K are waiting to be rescued by the mammoth multi-agency taskforce, Sultana resident Mohammad Ashif yesterday got a call from his younger brother Mohammed Nasim in Srinagar, a construction worker believed missing since last Saturday, saying that he was safe.
"The number was unknown but when I took the call, I cried for joy," Ashif told The Telegraph. "My brother said 'bhaiya main theek hoon aur yahan Shankaracharya ke mandir mein hoon (I'm fine and at the Shankaracharya temple)'. He said he had been airlifted to the temple that was on a high altitude."
The brother said the three-minute call was a miracle. "It got disconnected suddenly and when we tried the number, the call was unreachable, but it is enough for us to know that Nasim is alive."
He added that prior to this, Nasim spoke to them on Saturday when he said he was trapped on the fourth floor of a building at Lal Chowk.
"He said then that water had climbed a height of 15 feet and it would be impossible to survive. That phone call had also got disconnected, leaving us distraught. But now I am happy," Ashif said.
Others in Sultana, a village 12km from district headquarters, are drawing hope from this happiness.
Aisha Khatoon (32), whose husband Shaukat Ali, also a migrant worker in J&K, has not contacted her yet, but the woman feels he is also alive "just like Nasim".
Sultana residents said the figure of those hailing from Hazaribagh and trapped in J&K is no less than 2,000.
"Huge numbers of our men folk go to Kashmir from Hazaribagh in search of jobs," said an elderly resident, Mohammad Jubair.
Local CPI leader Razi Ahmad has said he would table the figure of Hazaribagh workers trapped in Kashmir and submit it to the state in a day or two.
According to latest reports from J&K, flood waters are receded further in Kashmir valley on Thursday.
Rescue teams are working round the clock to evacuate those stranded and provide crucial supplies — food, water purifying tablets and medicines — in submerged areas.
Keeping in view the urgent requirement of boats in rescue operations, the Army has deployed 90 more boats in Srinagar and adjoining areas, Colonel S.D. Goswami said.
"In all, 224 boats of the Army and 148 inflatable boats of NDRF are involved in the mammoth rescue operations," he said.
Armed forces have also established 19 relief camps in Srinagar and Jammu region, Goswami added.
In Srinagar, camps have been established at BB Cantt, Avantipur, Old Airfield, Sumbal, Chattargam and Jijamata Mandir, where thousands of rescued people are being sheltered and fed. Thirteen tonnes of water purifying tablets and six water filtration plants with a capacity to filter 1.2 lakh bottles a day have also been transported to Srinagar today., Goswami added.