Pegasus: SC issues notices to Centre on plea for court-monitored probe
Narendra Modi government warns that the action will put national security at risk, and only help terrorists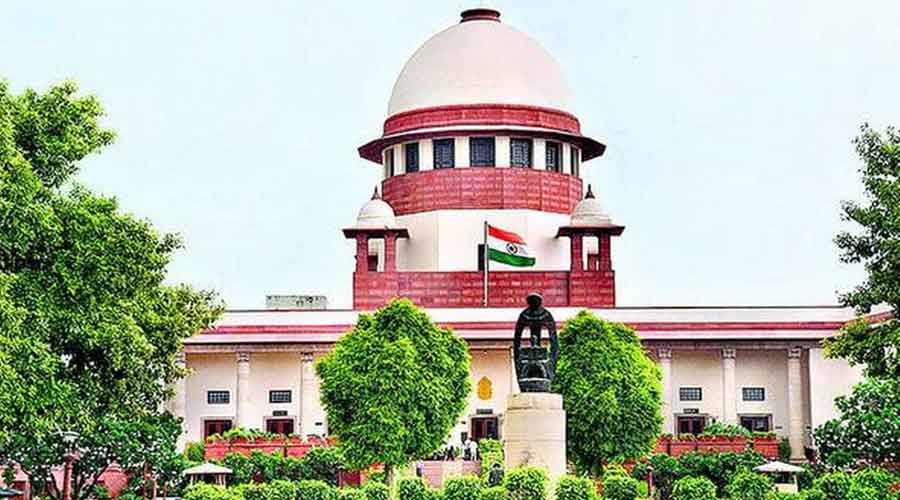 Supreme Court of India
File picture
---
New Delhi
|
Published 18.08.21, 01:45 AM
|
---
The Supreme Court on Tuesday issued a notice to the Union government on a batch of petitions seeking a court-monitored special investigation into the Pegasus snooping controversy.
The  Narendra Modi government, without confirming or denying that the Israeli spyware  was used, told a bench headed by Chief Justice of India N.V. Ramana that if the truth was divulged, it would only help terrorists.
The Centre, represented by solicitor-general Tushar Mehta, said there was nothing wrong if surveillance was carried out for the sake of national security. The petitioners want to know if the Centre bought Pegasus and used it to snoop on several Indians, including Opposition politicians, judges, journalists and activists.
Although the government renewed the offer to set up an expert panel to examine the allegations, the apex court did not immediately concede the plea. The court indicated that if necessary, at a later stage, the court may consider the request or set up its own panel.
Mehta declined to file any additional affidavit as suggested on Monday by the apex court, which, along with the petitioners, was not satisfied with the two-page affidavit filed by the additional secretary, electronics and information technology ministry.
"According to me, my affidavit suffices but as a responsible government I am saying we will form a committee and submit a report before this court…. If there is an illegitimate use, then it cannot be countenanced by this court. There can't be anything more fair than this," the government's law officer contended.
Justice Ramana said: "You understand we are not asking you to divulge what you don't want to. We are not here for that. We are not compelling you. We are thinking, we will issue notice, let us see. In the meanwhile… we will see if we have to constitute a committee and see what to do."
The Chief Justice added:  "We will see that. This is all at stage of admission. We had thought a comprehensive reply will come but it was a limited reply. We will see, we will also think and consider what can be done.  We will discuss what needs to be done, if a committee of experts needs to be made, or some other committee has to be set up…."
Focusing on national security, Mehta said: "Mr (Kapil) Sibal (representing two petitioners) pointed out yesterday that there is a statutory mechanism in the form of an act as well as  rules which permit interception as per the statutorily prescribed procedure. …This is necessary for national security purposes and to combat terrorists….
"It is nobody's case that under the IP Rules, 2000, a software cannot be used for the purpose of national security and to combat terrorism. They want the Government of India to divulge which software is not used. No country would ever reveal which software they have used or not used. Then the persons who are being intercepted may take pre-emptive or corrective steps."
Mehta added: "We know the IT encryption rules are there for state security, and national security presupposes that these software can be used. These software are purchased by every country, they (the petitioners) want it to be divulged if the software has not been used. If we divulge this, then the terrorists and their sleeper cells… can take preventive steps."
"…These are national security issues and we cannot hide anything from the court. This has to be before a committee and it cannot be a subject to public debate. Some web portals are weaving a narrative that some software is used. If I ask the government to divulge this fact before the court, then I will fail in my duty," Mehta told the bench that includes Justices Surya Kant and Anriuddha Bose.
Mehta was making an oblique reference to Section 69 of the IT Act, which empowers the Centre and state government or their authorised officers to  "intercept, monitor or decrypt or cause to be intercepted or monitored or decrypted any information generated, transmitted, received or stored in any computer resource" to uphold the sovereignty, defence and security of the country.
Responding to the solicitor-general's submission, Justice Surya Kant said that as a court, the bench does not expect the government to disclose anything impinging on national security but wondered why the Centre was not willing to file a detailed affidavit.
Justice Surya Kant said: "We, as a court, and you, as the solicitor-general, and all lawyers, as officers of the court, none of us would like to compromise the security of the nation. For the defence of the nation, we are not going to disclose anything.
"Whatever mechanism the defence ministry has evoked, we will not ask you to disclose any such thing. But here there are some persons of eminence (the petitioners) who are alleging snooping and hacking of phones.…
"Now, this can be done only with the permission of a competent authority. What is the problem, if the authority files an affidavit before us?"
Mehta, however, insisted that the government was willing to disclose whether there was any authorised or unauthorised interception before the expert inquiry committee proposed by the Centre. The expert committee in turn can place the report before the court. But, at the same time, the government is not willing to make a statement in the open court lest it enters the public domain.
The solicitor-general said: "What is intended should come by way of an affidavit before Your Lordships or a report by the committee. I am not saying that I won't disclose this to anyone. I am only saying I won't tell this publicly. We can say this before the expert committee.
"I wish to make it clear that it's not that I don't want to disclose by affidavit…. Let me say it before a committee whose report will later come to Your Lordships."