PDP expels 8 seniors, more trouble brews
The party is now left with only four senior leaders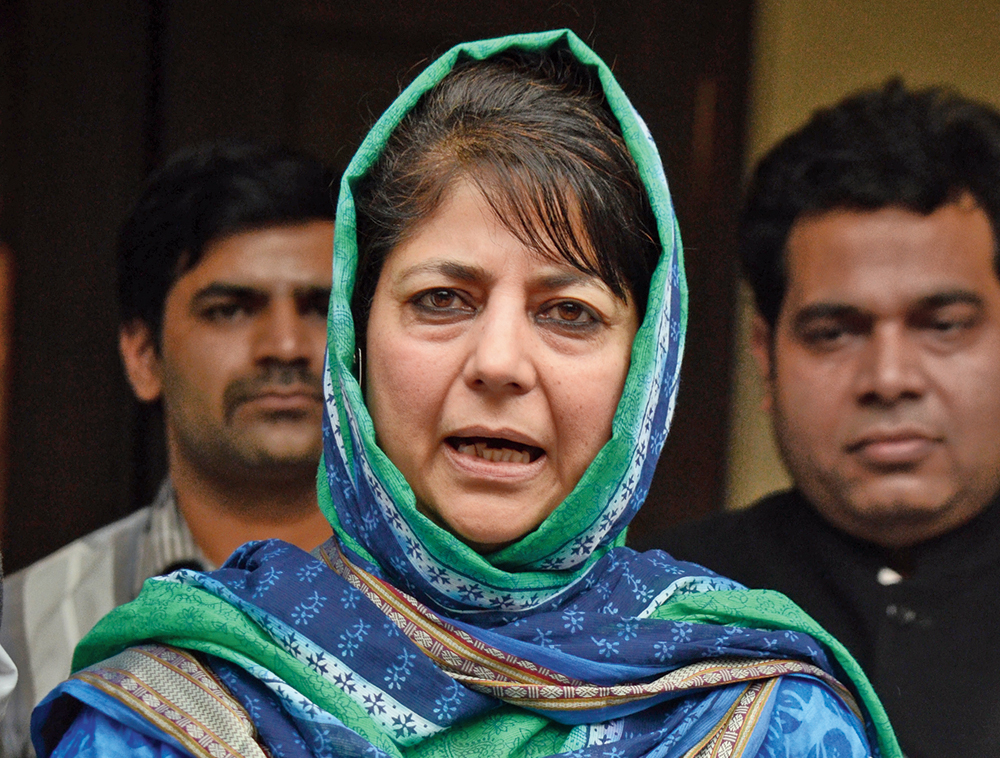 Mehbooba Mufti
(File photo)
---
Srinagar
|
Published 09.01.20, 09:25 PM
|
---
The People's Democratic Party appeared on the brink of collapse on Thursday as it expelled a battery of senior politicians on the ground of acquiescing to the scrapping of Article 370 provisions, with many others too appearing to be on their way out.
Eight party leaders have been expelled for either meeting lieutenant governor G.C. Murmu (in Jammu on Tuesday) or the visiting foreign diplomats in Srinagar on Thursday. The PDP claimed their actions were against the interests of the state and the party's core beliefs.
More trouble seemed to be brewing, with party patron Muzaffar Baig alleging that the jailed president, Mehbooba Mufti, had provoked the Centre into abrogating Jammu and Kashmir's special status with her intemperate remarks.
The PDP is now left with only four senior leaders: Mehbooba, Naeem Akhtar, who too is in jail, Abdul Rahman Veeri and Ghulam Nabi Lone Hanjura.
Party sources said more leaders are likely to join the dissidents, who might float a new party that would be willing to do business with the Centre after giving up their traditional stand on Article 370.
Those expelled are party general secretary Dilawar Mir, chief spokesperson Rafi Mir and former legislators Zaffar Iqbal Manhas, Choudhary Qamar Hussain, Raja Manzoor, Javaid Beigh, Abdul Majeed Padar and Abdul Rahim Rather.
Mir, Padar and Rather did not meet Murmu but met the foreign diplomats on Thursday. Altaf Bukhari and Ghulam Hassan Mir, who had been expelled from the party before the August 5 decisions, too met Murmu. Congress politicians Shoaib Lone and Hilal Shah too joined the delegation that met the foreign diplomats.
PDP dissident Rather blamed the PDP and the National Conference for "the mess" Kashmir finds itself in. "We have a lot of like-minded men from different parties, including the PDP and the NC. It is too early to say whether a new political party is coming up, but a lot of changes are taking place," Rather told The Telegraph.
He said PDP patron Baig might join them. Baig addressed a news conference in Jammu on Thursday where he gave no indication that he was part of the dissident group. The former deputy chief minister, however, tore into Mehbooba and made no demand for the restoration of Article 370.
"I was not personally present when she (Mehbooba) made these remarks but they were provocative and her remarks resulted in the state's downgrade into (two) Union Territories," Baig said.
He was alluding to Mehbooba's remarks, made before August 5, that nobody would hold the Tricolour in Kashmir if the state's special status were touched. "No one can intimidate the Prime Minister and the home minister of the country," Baig said.