CUET: Principal points finger at 'dummy schools'
Parents say they want to admit their children to an institution that provides exam coaching along with regular classes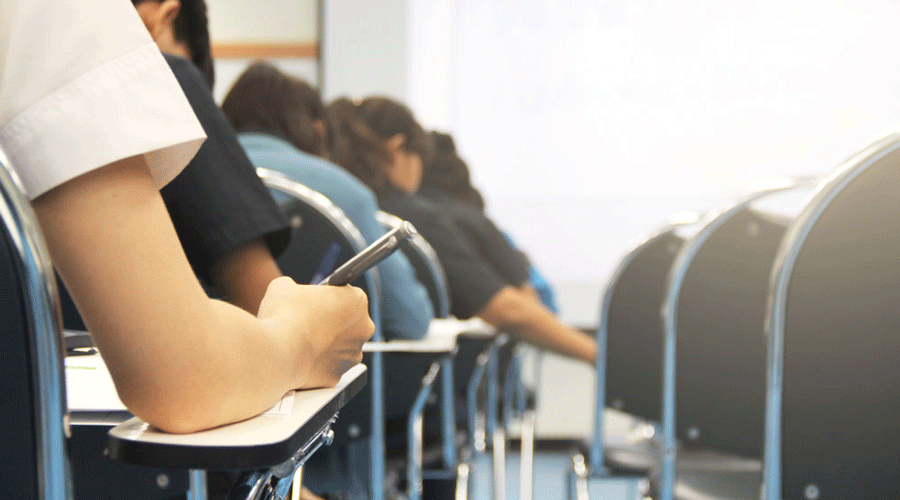 Representational image.
Shutterstock
---
New Delhi
|
Published 26.04.22, 03:57 AM
|
---
Sudha Acharya, principal of the ITL Public School here, was surprised this month when the parents of five top-performing Class X students handed in applications seeking transfer certificates for their children.
When she questioned them, the parents said they wanted to admit their children to a school that provided exam coaching along with regular classes.
They explained they wanted their children to focus on the Common University Entrance Test (CUET), whose introduction as the sole avenue for undergraduate admission to central universities has reduced the significance of the Class XII board exams.
To exploit this desperation among parents, certain schools are allowing outside coaching centres to use their classrooms and infrastructure to train their pupils in cracking competitive exams -– against hefty charges that cover the fees of the school and the coaching centre.
Acharya termed these schools "dummy schools", saying they allow their pupils a lot of leeway in skipping projects and regular classes – which is against board rules – so they can attend the coaching sessions during normal school hours.
"Otherwise, the student would have had to spend the evening in coaching class after an entire day attending regular school. So, the dummy school helps the student," a parent who said he had admitted his daughter to a dummy school explained, requesting anonymity.
Acharya said: "Five Class X toppers of my schools have sought transfer to dummy schools this year. Their parents said that board marks would now have little relevance to university admission, so they wanted coaching along with schooling for their children."
The parents' request came days after the education authorities formally announced in March that the first ever CUET would be held in July this year.
Some dummy schools existed in Delhi earlier, too, catering to students preparing for the medical and engineering entrance tests. These schools have now been attracting more students with the introduction of the CUET.
Several types of dummy schools exist. While some allow private coaching centres to use their infrastructure to coach their pupils, some others allow their students to remain absent permanently, if they so want. These students pursue coaching in places like Kota, Rajasthan, but take the board exam on behalf of the school where they are enrolled.
Evidence shows that coaching is crucial to success in entrance exams. While the CUET will largely follow the CBSE syllabus, it will set compulsory questions that involve logical reasoning, numerical problems and computational analysis that arts and humanities students would not have encountered in their regular classes.
"Gradually, schooling is losing its relevance. Getting coached against high fees is becoming the mainstay of a child's education. Children from poor families will be affected the worst by this trend," Acharya said.
A parent said he had got his daughter, a Class XI student, admitted to a dummy school in Delhi last year.
Earlier, the child studied at a regular school in Rajasthan where her mother worked. After the mother got transferred to Delhi, the couple contacted a private coaching institute in the Dwarka area. The institute advised them to get the girl admitted to a particular school where the institute's faculty coached the pupils.
A teacher at a Kendriya Vidyalaya Sangathan school in Delhi said that students of dummy schools often lack conceptual clarity in some or other subject.
"These students don't do any practical classes. They mainly practise solving problems, matching the patterns of the questions asked in entrance tests. This is mechanical learning," the teacher said.
Emails sent to CBSE chairperson Vineet Joshi and Delhi education secretary H. Rajesh Prasad, seeking their perspective on schools illegally allowing commercial coaching on their premises during normal hours, have brought no response.