Narendra Modi government lacks sincerity on quotas: House panel
It had recommended to the ministry of communication that the reservation be implemented by private contractors who recruit labourers for BSNL work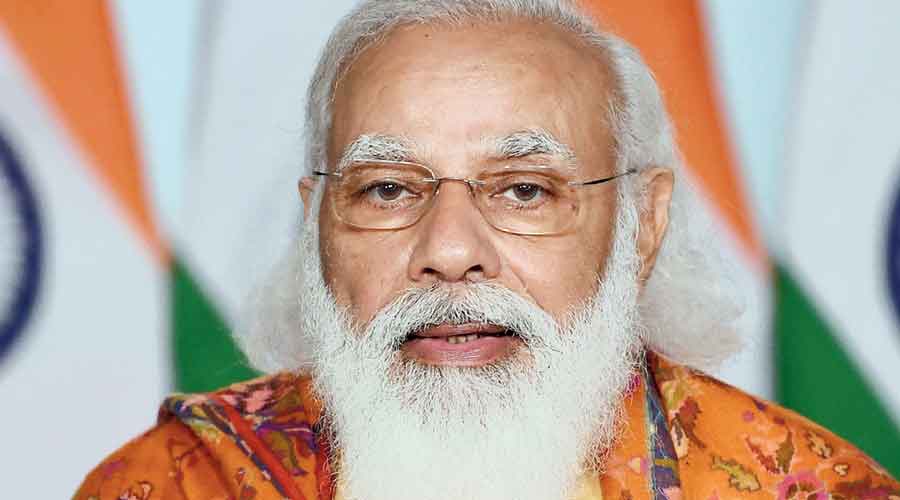 Narendra Modi.
File photo
---
New Delhi
|
Published 18.12.21, 12:57 AM
|
---
The Parliamentary Committee on Welfare of Scheduled Castes and Scheduled Tribes, led by a BJP MP, has said the Narendra Modi government lacks sincerity in implementing reservation for the socially deprived sections.
The committee, headed by BJP parliamentarian Kirit Premjibhai Solanki who represents Ahmedabad West in the Lok Sabha, based its observation on the non-implementation of quotas in jobs
outsourced by BSNL, the telecom PSU, to private contractors.
In its report titled "Ways and means to secure reservation for SCs and STs in light of privatisation, outsourcing of work and contractual employment in government services, PSUs and autonomous bodies with special reference to BSNL", the committee reiterated its recommendation to grant reservation benefits to SCs and STs in outsourced jobs.
Earlier, the 30-member committee that has many BJP parliamentarians had recommended to the ministry of communication that quotas be implemented by private contractors who recruit labourers for BSNL work.
BSNL has outsourced certain non-core work to contractors, who engage labourers. However, BSNL is the principal employer of these contract workers.
The government, replying on behalf of BSNL, had told the committee that as the principal employer, the telecom company ensures that applicable statutory provisions of labour laws in respect of contract labourers, such as timely wage payments and safety and security, are complied with by the contractors.
On the question of quotas, the government said, according to the committee report: "BSNL as principal employer does not give any direction to the contractor on employment of contract labour including any reservation of SCs and STs as per the existing guidelines."
The committee said in its report: "The committee feels that above reply by government shows the lack of sincerity on their part to provide due representation/ reservation for SCs or STs for their recruitment of contractual labourers or workers…."
The committee said that as part of the government's policy to reach out to the marginalised communities, it must implement reservation or have a representation policy for all jobs, including contract work, time-bound assignments and outsourced work.
"The committee also feels that since salaries to the contractual and part-time employees are being paid by the government from the Consolidated Fund of India and with the approval of BSNL, therefore it would be appropriate that the constitutional provision of the reservation policy is ensured for these appointments as well," the report said.
The department of personnel provides for reservation in temporary appointments that are to last 45 days or longer.
At a recent media conference, social justice minister Virendra Kumar had refused to comment when asked about his stand on the non-implementation of reservation in contractual and outsourced jobs.