Pakistan sub claim and Indian denial
This is the second time since 2016 that Pakistan said it had detected an Indian submarine trying to enter Pak waters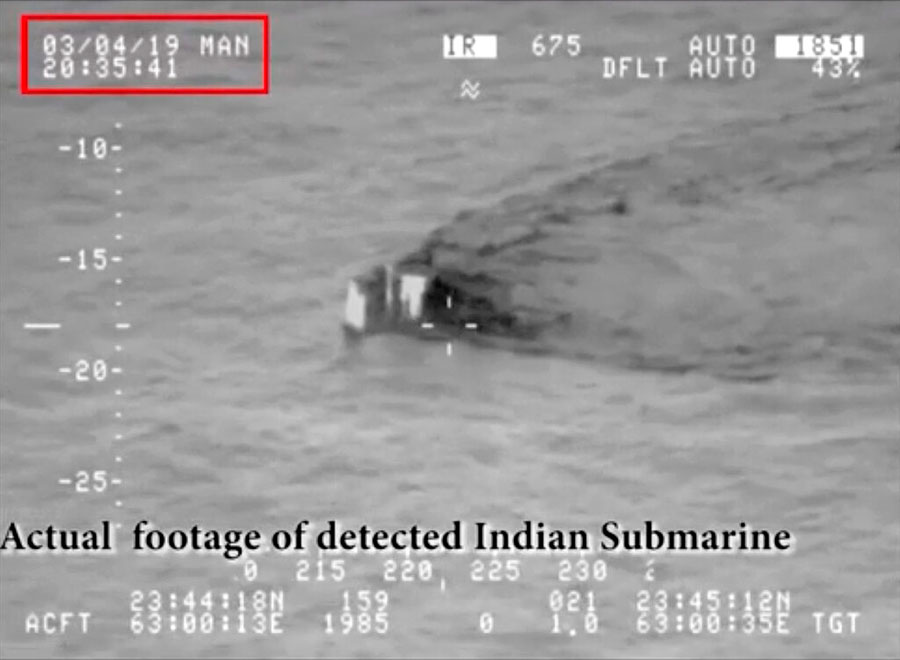 In this image made from video taken on March 4, 2019, and released on Tuesday, March 5, 2019, by the Pakistan Military, shows what they claim is an Indian submarine approaching its territorial waters in the Arabian Sea.
(AP)
---
Islamabad
|
Published 05.03.19, 09:53 PM
|
---
 Pakistan on Tuesday said it had stopped an Indian submarine and thwarted it from entering its territorial waters as tensions continued to simmer between the two nuclear-armed neighbours.
The Indian Navy dismissed the claim, describing it as "propaganda".
"The Indian Navy remains deployed as necessary to protect National Maritime interests. Over the past several days, we have witnessed Pakistan indulging in false propaganda and spread of misinformation. The Indian Navy does not take cognisance of such propaganda. Our deployments remain undeterred," it said in a statement.
Sources in Delhi said the presence of an Indian submarine in international waters seems to have unnerved the Pakistan Navy.
The Indian submarine was said to have been detected on Monday night trying to enter Pakistani territorial waters. "The Pakistan Navy used its specialised skills to ward off the submarine, successfully keeping it from entering Pakistani waters," a Pakistani naval spokesperson said in a statement.
This was the second time since 2016 that the Pakistan Navy said it had detected an Indian submarine trying to enter Pakistani waters.
Pakistan's territorial waters stretch 12 nautical miles while its seabed territory — the Exclusive Economic Zone (EEZ) — grew to 290,000sqkm in 2015. The EEZ signifies an area of coastal water and seabed within a certain distance of a country's coastline that cannot be entered without permission or prior information.
The spokesperson said the fact that an Indian submarine fitted with modern technology had been detected by the Pakistan Navy was a failure for the adversary.
"We would have engaged and hit the submarine but it was deliberately avoided in line with the government's policy to maintain peace," he said.
Tensions had flared up between the two countries after Indian Air Force jets bombed Pakistani territory on February 26 and were challenged by Pakistan's air force.