Imran: Can we really afford such miscalculation?
Excerpts from a televised address by the Pakistan Prime Minister to his country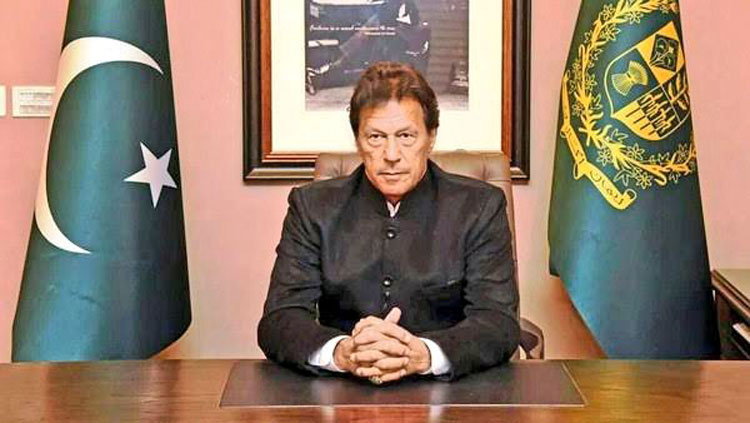 Imran Khan urged India to resolve issues through dialogue.
Source: @pid_gov
---
Published 27.02.19, 09:13 PM
|
---
I wanted to take the nation into confidence over the developments since yesterday morning.
We offered any form of probe to India. I understood the pain of the families.... We have lost 70,000 of our own and I know what those who are left behind and those who are injured feel.
We offered to cooperate with India. It is not in Pakistan's interest to let our land be used for terrorism. There is no dispute there…. I had said that it will be our compulsion to respond as no sovereign country can accept action within its territory by another country. When India struck yesterday morning, the army chief and I spoke. We did not respond in haste... it would have been irresponsible on our part as it may have resulted in casualties on their side. Once we assessed the damage caused, we were ready to take action.
The sole purpose of our action (aerial operation on Wednesday) was to convey that if you can come into our country, we can do the same. We simply wanted to show capability. That was the only purpose of what we did.
India's MiGs crossed the border in retaliation and were shot down.... The issue now is where do we go from here?
It is very important… I am addressing this to India:
We need to use wisdom and sagacity.
History tells us that all big wars have been full of miscalculations. No one knows where they lead to. World War I was supposed to end in months, it took years. Hitler lost World War II because of serious miscalculations about the Russian winter.... I ask India: with the weapons you have and the weapons we have, can we really afford such a miscalculation? Shouldn't we ask ourselves if it escalates from here now, where will it go? If this escalates, things will no longer be in my control or in Narendra Modi's.
I once again invite you: we are ready. We understand the grief India has suffered in Pulwama and are ready for any sort of dialogue on terrorism. I reiterate that better sense should prevail now.
Let's sit together and settle this with talks. Thank you.