Pakistan, China in peace call
Islamabad has been a strong proponent of prevention of an arms race in outer space: Pak spokesperson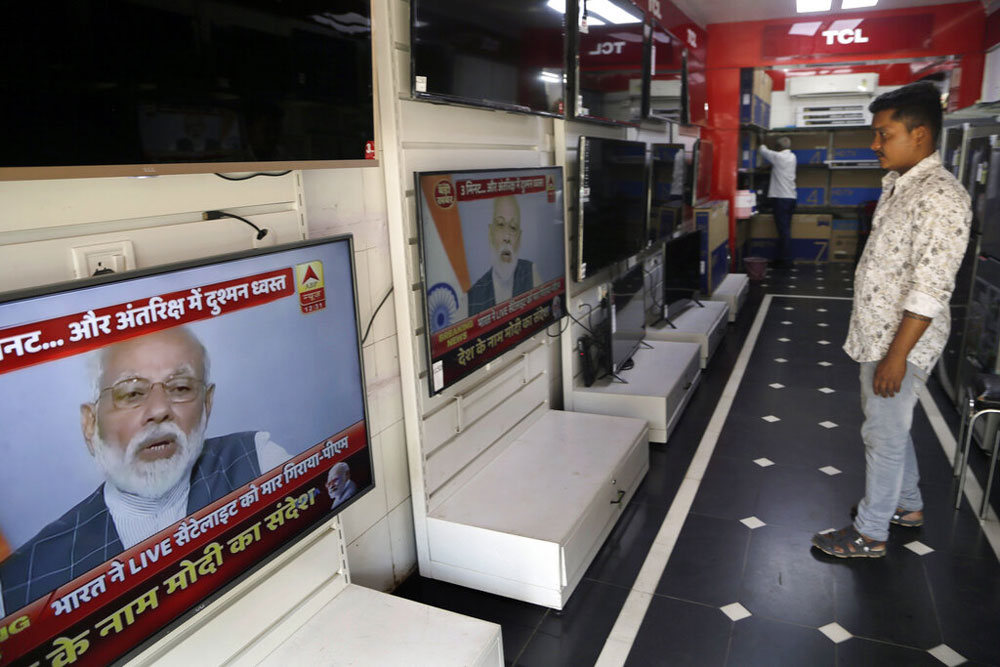 A salesman watches Prime Minister Narendra Modi addressing the nation on a television in Mumbai on Wednesday.
(AP Photo)
---
New Delhi
|
Published 27.03.19, 09:30 PM
|
---
Pakistan and China on Wednesday articulated the hope that all countries would uphold peace and tranquility in outer space, after India demonstrated its capability to bring down a satellite.
Likening India's boast to Don Quixote's tilting at the windmills, Pakistan's foreign office spokesperson pointed out that Islamabad has been a strong proponent of prevention of an arms race in outer space.
"Space is the common heritage of mankind and every nation has the responsibility to avoid actions that can lead to the militarisation of this arena," the spokesperson said.
Islamabad is also of the view that there is a need to address gaps in international space laws to ensure that no one threatens peaceful activities and application of space technologies for socio-economic development.
"We hope that countries which have in the past strongly condemned demonstration of similar capabilities by others will be prepared to work towards developing international instruments to prevent military threats relating to outer space," Pakistan underlined.
The Chinese foreign ministry said in a written response to the news agency PTI on India entering the elite space club: "We have noticed reports and hope that each country will uphold peace and tranquillity in outer space." China displayed such prowess in 2007.
The external affairs ministry had earlier in the day itself clarified that India had no intention of entering into an arms race in outer space.
"We have always maintained that space must be used only for peaceful purposes. We are against the weaponisation of outer space and support international efforts to reinforce the safety and security of space-based assets," the ministry had said.
The ministry had pointed out that India was a party to all the major international treatises relating to outer space. India already implements a number of transparency and confidence-building measures, including registering space objects with the UN, issuing pre-launch notifications, taking measures in harmony with the UN Space Mitigation Guidelines, participating in Inter-Agency Space Debris Coordination activities and undertaking space object proximity awareness and collision avoidance analysis.
Also, India has supported the UN General Assembly resolution 69/32 on No First Placement of Weapons on Outer Space. "We see the No First Placement of weapons in outer space as only an interim step and not a substitute for concluding substantive legal measures to ensure the prevention of an arms race in outer space, which should continue to be a priority for the international community," the external affairs ministry said.