Pakistan camps smashed: Bipin Rawat
Islamabad said its retaliatory fire had killed 9 Indian soldiers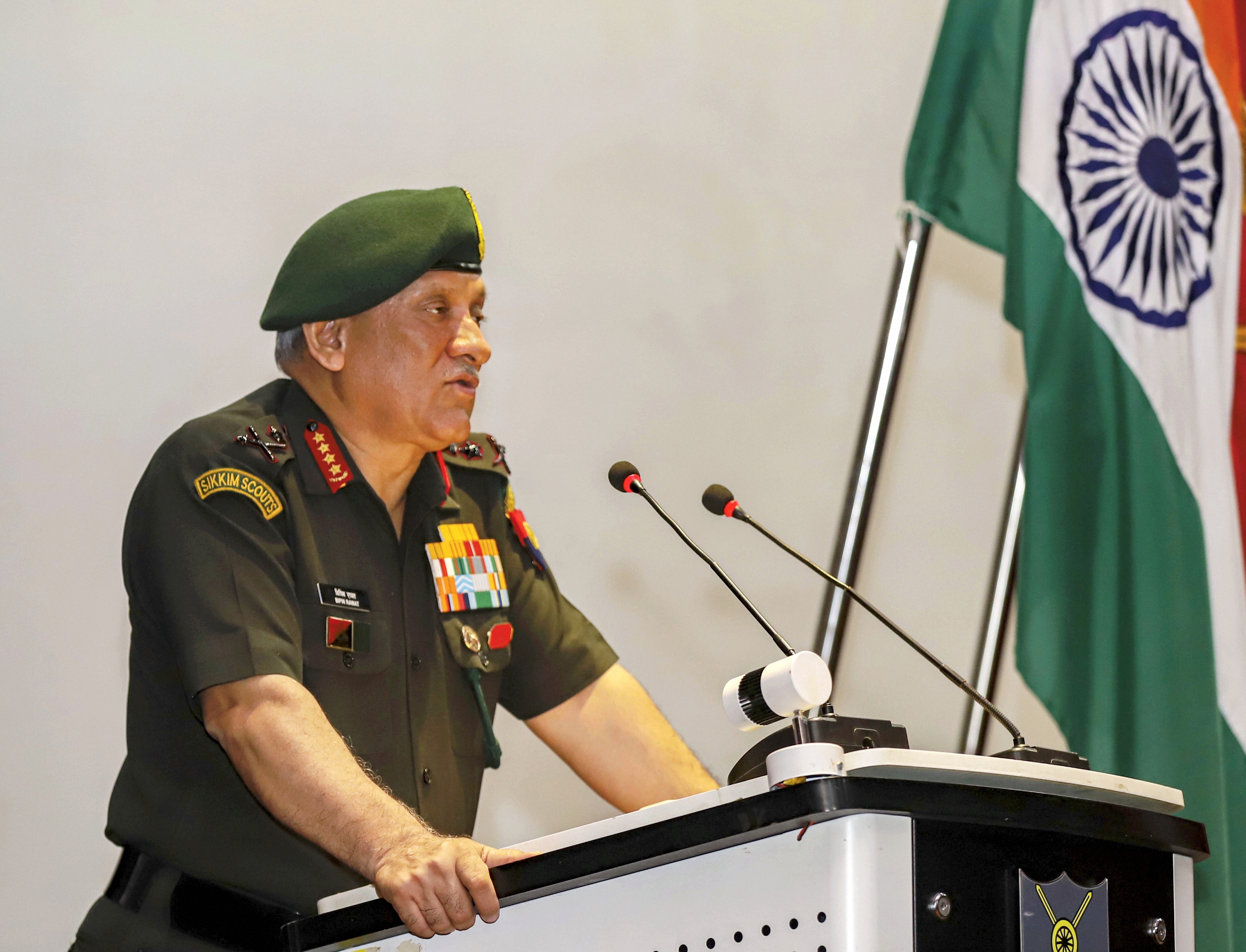 "So far, as per the information available with us, six to 10 Pakistani soldiers have been killed and nearly as many terrorists," Indian Army chief Gen. Bipin Rawat said in New Delhi on Sunday evening.
(PTI)
---
Srinagar
|
Published 21.10.19, 12:15 AM
|
---
The Indian Army on Sunday said it had destroyed with artillery attacks at least three "terror camps" inside Pakistan-occupied Kashmir and killed nearly 20 people across the Line of Control.
The fusillade, said to be retaliation for alleged Pakistani shelling that killed two Indian soldiers and a civilian, marks a "calibrated escalation" from the small-arms fire usually exchanged by the armies of India and Pakistan and came on the eve of the Assembly elections in Maharashtra and Haryana.
"So far, as per the information available with us, six to 10 Pakistani soldiers have been killed and nearly as many terrorists," Indian Army chief Gen. Bipin Rawat said in New Delhi on Sunday evening.
"Three terror camps have been destroyed and on the fourth one also, we have caused severe damage," he added.
Islamabad rejected the claims, offered to arrange a visit to the sites by foreign diplomats to expose Indian "falsehood", accused India of targeting civilians and killing five people, and summoned the Indian envoy to condemn the "unprovoked ceasefire violations".
It said its retaliatory fire had killed nine Indian soldiers and injured several.
India rejected the allegations.
Indian defence sources said the offensive was retaliation for unprovoked firing by Pakistan on Saturday evening that had killed the two Indian soldiers — Hawaldar Padam Bahadur Shrestha and Rifleman Gamil Kumar Shrestha — and the civilian, Mohammad Sadiq, 55.
Col Rajesh Kalia, the defence spokesperson in Srinagar, said the Pakistani army initiated an unprovoked ceasefire violation to help militants sneak into India.
"As a result, a calibrated escalation by the Indian side was undertaken, in which terrorist launch pads, Pakistan army posts giving incidental protection to these launch pads and certain gun positions were hit."
India retains the right to respond at a time and place of choosing "in case the Pakistani army continues to assist terrorist activities across Indian borders".
Army sources said the terror launch pads destroyed were located in the Neelam Valley in PoK.
An officer at the army headquarters said this counter-offensive could not be equated with the September 2016 "surgical strike" — when Indian forces had claimed to have entered PoK and destroyed terror launch pads — or this year's Balakot air strike on a purported terror camp. He said this weekend's artillery strike was "a step lower in the escalation matrix".
"However, the counter-offensive was meant to send a strong signal to the Pakistani army. We hit Pakistani artillery positions in a clear message that their concealed positions were under our watch," he said.
Army sources said Pakistan had committed 2,317 ceasefire violations between January 1 and October 10, a period during which 147 terrorists had been killed on the Line of Control and the hinterland.
A PTI report quoted Pakistani foreign office spokesperson Mohammad Faisal as saying: "Pakistan categorically rejects Indian media reports about alleged launch pads being targeted by India along the LoC."
Faisal said Islamabad was calling on the P5 countries (permanent members of the United Nations Security Council) to ask India to provide information about the terror launch pads. He said Pakistan was willing to arrange a visit by P5 diplomats to those locations.
A Pakistani military spokesperson, Major General Asif Ghafoor, accused the Indian media of "falsely claiming" the targeting of alleged terror camps.
Pakistan admitted to losing a soldier in the Indian firing, which it claimed had killed five civilians in the Jura, Shahkot and Nausehri sectors.
It identified the five as "Muhammad Rafaqat s/o Haji Azam aged 28 years, Haji Azam aged 60 years, Haji Sarfaraz s/o Ghulam Rabbani aged 47 years, residents of village Nausadda, and two non-resident civilian labourers Liaqat and Faisal". It said "six others, including women and children, sustained serious injuries".
Islamabad summoned Indian deputy high commissioner Gaurav Ahluwalia and condemned the Indian firing.
A Pakistani statement said: "Heinous Indian targeting of civilians is a typical attempt by India to divert international attention from the humanitarian nightmare in IOJ&K (Indian-occupied Jammu and Kashmir)."
It claimed the Indian forces had been continually targeting civilian areas with artillery fire, heavy-calibre mortar shells and automatic weapons. It said the Indian escalation was continuing since 2017, a year in which the Indian forces committed more than 1,970 ceasefire violations.