Opposition's view on budget: Petrol and diesel price increase criticised
Congress points to oil excise duty and cess, AAP says Centre stepmotherly towards Delhi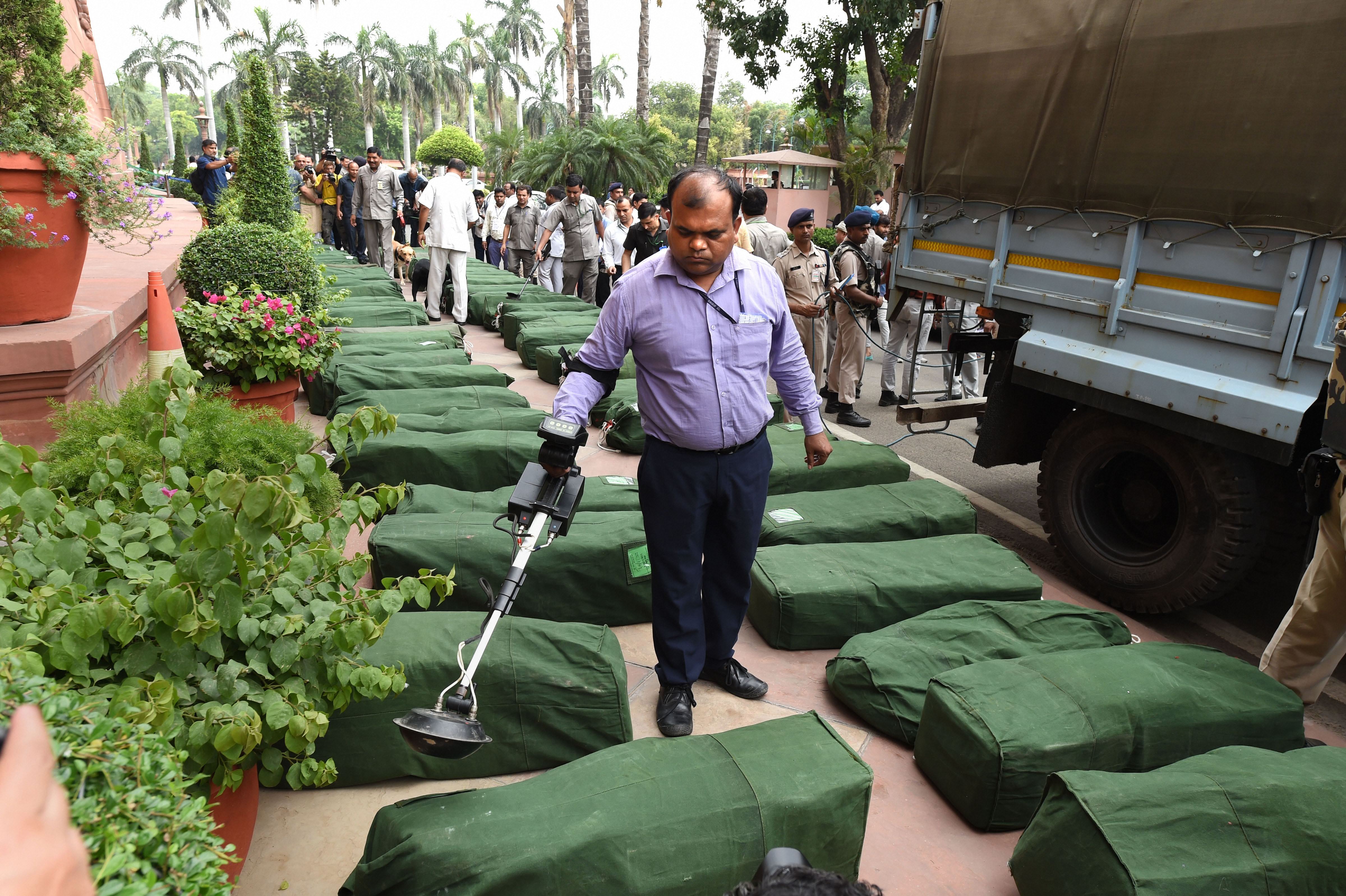 A security official checks sacks containing copies of Union Budget outside Parliament on July 5.
PTI
---
New Delhi
|
Published 05.07.19, 02:30 PM
|
---
CPM general secretary Sitaram Yechury tweeted that the budget had nothing on the job crisis that India faces.
He said phased reduction in corporate tax was 'payback time' for corporates. 'Pay back time for the corporates. 99.3% of them get hefty tax relief but for the majority of Indians, it will be higher priced petroleum products which will feed inflation all-round,' Yechury tweeted.
The Aam Aadmi Party complained that the allocation for Delhi was low and "stepmotherly" and accused the Union government of not appreciating the "progress" it has made in last few years.
Speaking to the press, N.D. Gupta, the Rajya Sabha MP from the AAP, said the budget allocation for Delhi has remained unchanged -- a fixed amount of Rs 325 crore -- since 2002, despite the state growing to become one of the highest tax contributors in the country over the years.
"Delhi is being given stepmotherly treatment by the central government. Despite little assistance from the central government, Delhi chief minister Arvind Kejriwal has presented the country with a model state," Gupta said.
Gupta also expressed his suspicion over the move to bring a provision to give pension to retail traders also, indicating that the decision had more than what meets the eye.

In the budget announced on Friday, finance minister Nirmala Sitharaman announced the disinvestment target to be Rs 10,05,000 crore for 2019-20, raising it from Rs 90,000 crore set by stand-in finance minister Piyush Goyal during the interim budget earlier in the year.
He said the decision was an oblique way of paving the way for 100 per cent foreign direct investment in the retail sector by "retiring" the small traders. And the pension was a form of "compensation".
"Whenever the BJP comes to power, it runs major disinvestment drive. The last time that there was an NDA government, they even constituted a disinvestment ministry to oversee this process. They have started the process again and will sell off government properties to their friendly big corporates at meagre prices," he said.

The Congress targeted the Rs 2 per litre petrol and diesel customs duty.
The budget said that the special additional excise duty and road and infrastructure cess has been increased Re 1 each per litre on petrol and diesel. The total increase is Rs 2 a litre.
Randeep Surjewala, the Congress in charge for communications, posted this:
#Budget2019

5 साल में मोदी 1.0 ने डीज़ल पर 443% व पेट्रोल पर 211% एक्साइज बढ़ा व जनता की जेब काट कर ₹13,00,000 करोड़ की कमाई की।

अब मोदी 2.0 ने छिड़का 'जले पर नमक'-:

पेट्रोल व डीज़ल की क़ीमत ₹2 बढ़ा मध्यम वर्ग, किसान व आम आदमी के बजट की कमर तोड़ी।

क्या ये है 'न्यू इंडिया'? pic.twitter.com/tMjqnbKwDm

— Randeep Singh Surjewala (@rssurjewala) July 5, 2019
On the massive job crisis that India faces, there is nothing in the Budget. The agrarian distress is also not addressed. No debt-relief and nothing on investment in the sector which is badly required https://t.co/ybSHtGfjh0

— Sitaram Yechury (@SitaramYechury) July 5, 2019