Opposition leaders shut out of Lakhimpur Kheri
The police realised they wouldn't be able to stop me and didn't confront me: Tikait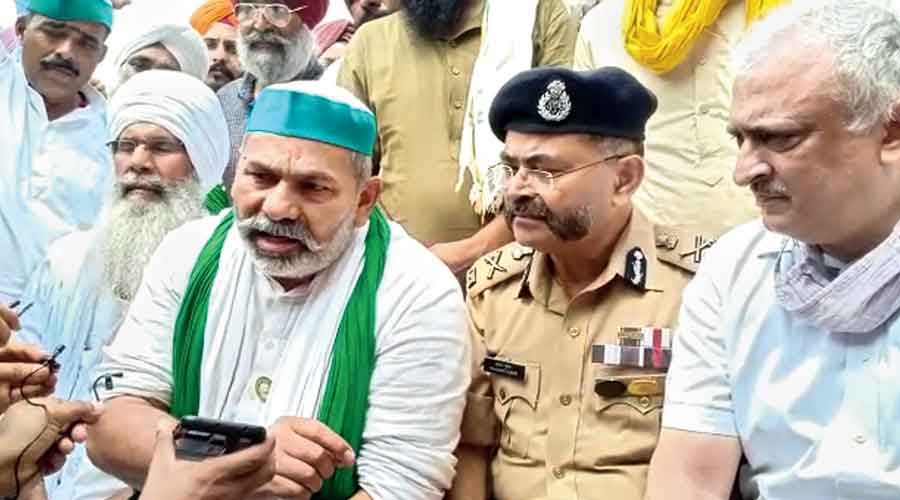 Rakesh Tikait in Lakhimpur Kheri on Monday.
PTI photo
---
Lucknow
|
Published 05.10.21, 02:43 AM
|
---
Several Opposition leaders headed to Lakhimpur Kheri in the aftermath of the violence that left nine people dead were stopped midway or detained on Monday, barring Bharatiya Kisan Union spokesperson Rakesh Tikait who managed to reach Tikunia early in the morning along with his supporters.
"The police realised they wouldn't be able to stop me and didn't confront me," Tikait said in Lakhimpur Kheri.
However, Akhilesh Yadav, former chief minister and Samajwadi Party president, Shivpal Singh Yadav, leader of Pragatisheel Samajwadi Party (Lohia), and some other leaders who had decided to start for Lakhimpur Kheri on Monday morning, couldn't leave Lucknow. They were detained in the state capital and released in the evening.
Rashtriya Lok Dal's Jayant Chaudhary, who started from his home in Baghpat on Monday morning, outfoxed the government machinery at many places and his aides claimed he was close to the spot. He was yet to reach there till the time of filing this report.
Videos shared on social media by Jayant's supporters showed him running on the road and escaping the clutches of the policemen at a tollbooth in Shahjahanpur. He was also seen running on the highway. In one video, he was seen walking with his face covered with a cloth.
Akhilesh was detained minutes after he came out of his home where his convoy was waiting for him. The police took him to Eco Garden in the city along with his over 50 supporters.
"This kind of Hitlershahi was never seen before in the Indian democracy. The government is still protecting the Union minister of state for home (Ajay Misra Teni) and his son (Ashish Misra). They should have been arrested by now on the charge of provoking the people to attack the farmers and crushing them under their SUV. Deputy chief minister Keshav Prasad Maurya went to Banbirpur, the Union minister's village, and attended a government-organised function even after the minister's son and organiser of one of the programmes had killed the farmers sometime ago," the SP chief said.
Teni had addressed a meeting of his supporters in Lakhimpur's Palia area where he said: "I will teach them (the farmers) in two minutes if they don't mend their ways…. They will not be able to live in Lakimpur Kheri, let alone Palia."
Shivpal was detained for a few hours and then allowed to go home in Lucknow.
Aam Aadmi Party MP Sanjay Singh and Bhim Army chief Chandrashekhar Azad were stopped in Sitapur district and forced to return to Saharanpur and Lucknow, respectively.
Former Uttarakhand chief minister Harish Rawat was detained in Dehradun while trying to proceed towards Lakhimpur Kheri. He was released in the evening.
Earlier, some unidentified people torched a police jeep in front of Akhilesh's residence on Vikramaditya Marg.
The farmers attacked the police in Lucknow, Saharanpur and Muzaffarnagar but there was no report of any injury.
Prashant Kumar, additional director-general of police (law and order), said in Lakhimpur Kheri: "We cannot allow any political leader to reach here as the situation is still not normal. We cannot allow anybody to further vitiate law and order in the area. The leaders of farmer unions can come here alone."
Tikait said the "cruel incident" of Lakhimpur Kheri had once again exposed the undemocratic face of the BJP government.
"We will defeat the BJP in the next elections. We will support any party that defeats the BJP candidates in Assembly and Lok Sabha (polls). You keep crushing and killing us till then," Tikait added.