Opposition in Lok Sabha: Panel right snatched
Ruling party accused of not following convention at the first day of winter session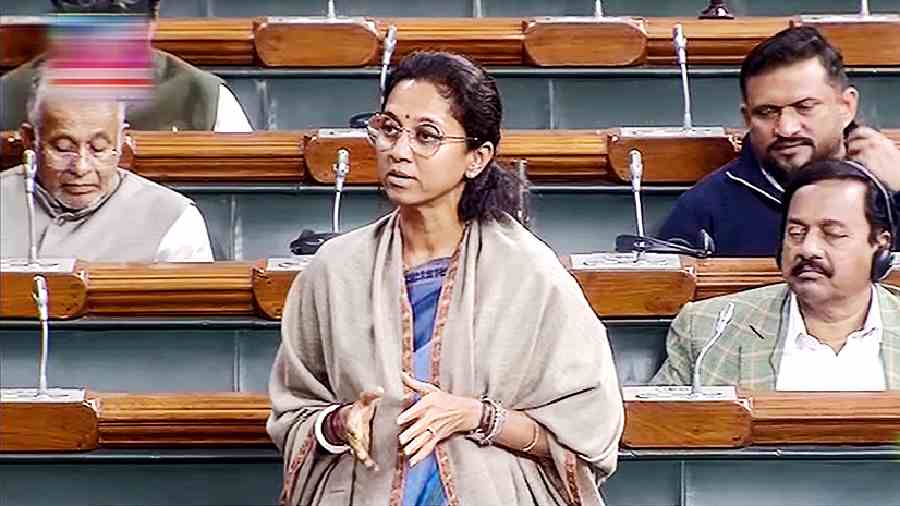 Supriya Sule speaks in the Lok Sabha on Wednesday.
PTI
---
New Delhi
|
Published 08.12.22, 03:42 AM
|
---
The Opposition on the first day of the winter session of Parliament on Wednesday lodged a protest in the Lok Sabha over the denial of chairmanship of standing committees, accusing the government of not following convention.
Congress House leader Adhir Chowdhury raised the issue first, stressing how the "parampara" (convention) of allowing the Opposition to head some of the important parliamentary panels was not being followed by the government.
"We hear big talk here about India becoming great, but what is happening?... The convention of appointing the chairman of standing committees from Opposition parties is being done away with. The Opposition's right is being taken away," Adhir said during Zero Hour, pointing out that the Congress had been heading the information technology panel but had been deprived now.
Speaker Om Birla intervened, saying that Adhir was casting aspersions on the Chair as the formation of the standing committees is the prerogative of the Speaker.
Trinamul Congress House leader Sudip Bandopadhyay stood up and said that they didn't mean to point fingers at the Speaker and recalled how the parliamentary affairs minister had called him to communicate the decision of not giving chairmanship of any standing committee to the party.
Sudip said Trinamul was the second largest party in Parliament and still it had been denied chairmanship of any standing committee. The government didn't respond to the matter.
The composition of the standing committees was rejigged in October this year, with the Congress losing the chairmanship of the information technology panel and Trinamul that of home affairs.
The standing committees, comprising members from both Houses of Parliament, play a crucial role in law-making through scrutiny of bills and also submit reports and make recommendations on important matters. The BJP now heads all the key committees — home, IT, finance, defence, external affairs and health.
Border row
The ongoing border row between Maharashtra and Karnataka was raised in the Lok Sabha by NCP leader Supriya Sule. Sule accused Karnataka chief minister Basavaraj Bommai of speaking "nonsense" and trying to disintegrate Maharashtra.
She pointed out that both the states were ruled by the BJP but still the situation was being allowed to deteriorate.
"For the past 10 days a new issue has cropped up in Maharashtra. The CM of our neighbouring state Karnataka has been speaking nonsense," Sule said during Zero Hour, claiming that on Tuesday people of Maharashtra who went to the Karnataka border were beaten up.
"There is a conspiracy against Maharashtra. The Karnataka CM is speaking about disintegrating Maharashtra. This can't be allowed," Sule added, urging Union home minister Amit Shah to address the issue.
Speaker Birla said the row involved two states and the Centre could not do anything about it.
"It is a matter between two states. This is Parliament, what will the Centre do in this matter?" he said.