One Archer on another: Jeffrey and Jofra
One characteristic they share is that they are both at the top of their game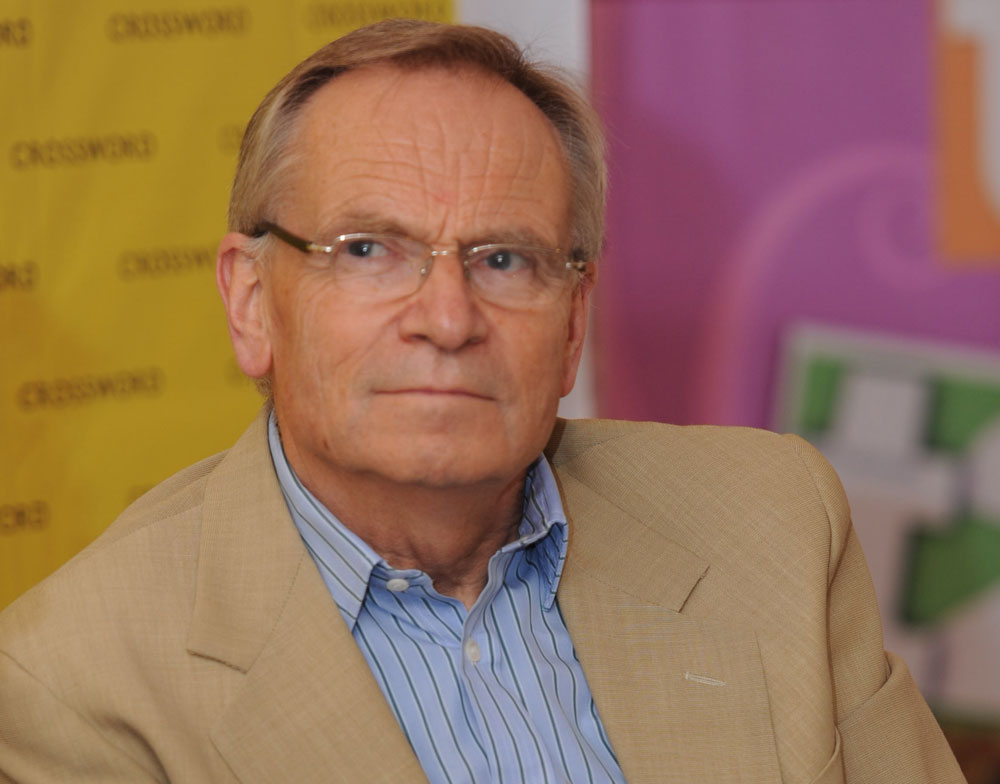 ---
|
London
|
Published 09.09.19, 09:45 PM
---
The names sound so similar: Jeffrey Archer and Jofra Archer.
One characteristic they share is that they are both at the top of their game. Jeffrey Archer, Tory member of the House of Lords, is one of the most popular authors in the world and Jofra Archer is England's new demon fast bowler who knocked out Australian batsman Steve Smith — literally — with a 92.4mph bouncer in the second Ashes Test at Lord's.
We are in Lord Archer's magnificent penthouse apartment that offers a panoramic view of the Thames flowing through Westminster with the Mother of Parliaments as the backdrop.
We chat about his new novel, Nothing Ventured, in which William Warwick makes his debut as a young detective constable in Scotland Yard's art and antiquities squad.
One night while watching a suspect's house from a car, Warwick tries to keep awake "by remembering the top ten Test batting averages of all time — Bradman 99.94, Pollock 60.97, Headley…."
But first we talk about another debut — that of Jofra, who was born in Barbados to an English father and a West Indian mother, moved to England in 2015 and was fast-tracked into the England side when the minimum residence qualifications were reduced from seven years to three.
Is Jeffrey excited at Jofra's arrival?
"Oh, yes," responds the author, who is very knowledgeable about cricket. "He is clearly a great new talent and made the big decision whether he would play for the West Indies or for England. And luckily for us he chose England. Yes, very exciting indeed. As he is only 24 years old we can hope to have him for 10 years."
Archer, 79, has seen Jofra on television many times and in action at Lord's. "And he is in the papers every day — on the front page," the author says.
"He is an athlete, no doubt about that. He is not just a cricketer. He looks to me like a serious athlete: he has an amazing gift because he bowls off only 11 strides — but the whip of his arm, the speed of his arm, moving after 11 strides, is incredible. He is bowling at 93, 94 miles an hour at tops. Most of the world's top bowlers are off 14 or 15 paces."
Who are the fast bowlers from the past who caught his imagination?
He rates the Australian Glenn McGrath, who bowled with the leg-spinner Shane Warne at the other end, "as the second best I have ever seen. I think the best is Malcolm Marshall."
He explains: "I think Marshall, because he was only 5ft 10in so he couldn't bounce it down but if he had been born in any other country, he would have taken 600 wickets. He took three hundred and something (376 wickets) with three of the greatest fast bowlers in the world on the pitch with him. That era of Malcolm Marshall, Joel Garner, (Michael Holding and Andy Roberts) was staggering. The great West Indies team! Probably the greatest team I have ever seen."
What about the warnings by the England side that Jofra would terrorise the Australians?
"Oh, it's a game — I dismiss it for what it's worth. 'Tomorrow I'm going to kill him.' It's drivel. Laugh at it. Smith is one of the greatest batsmen in the world — in fact, I think he and (Virat) Kohli are the two greatest batsmen on earth at the moment. So I don't think that will worry Smith."
It didn't. With scores of 211 and 82 in the fourth Test, Smith, who had to sit out the third match because of the possible consequences of concussion, helped win the game for Australia — and with it the Ashes.
(Smith will also have forced Warwick to revise his top-ten list today --- with the cut-off of a minimum 2,000 aggregate runs --- Bradman 99.94, Smith 64.81, Pollock 60.97, Headley 60.83, Sutcliffe 60.73, Barrington 58.67, Weekes 58.61, Hammond 58.45, Sobers 57.78 and Sangakkara 57.40.)
On a broader sociological point, no one makes anything of the fact that Jofra is a black man playing for England and has become a national hero overnight.
"Why should it?" asks Archer. "This is a natural evolution."
Archer, himself once an athlete who ran the 400 metres, recalls: "When I ran for England and for Britain we had no black men in the team. That has changed now. It has changed to the extent that I read in The Times the other day that in the Olympic Games there wasn't a white man in the semi-final or the final. And that's fine. That's a change. We live with it."
At Oxford, he says, "my opposite number was a man called Wendell Mottley, Olympic silver medallist in the 400 (he won a silver medal and a bronze medal at the 1964 Summer Olympics in Tokyo). He was doing a PhD and he was West Indian. I knew I wasn't his equal. I never pretended to be his equal. He was my superior."
Archer goes on: "I love him and he remains a dear and close friend — he was an usher at my wedding 54 years ago. I don't care if he was black, green, pink or yellow — he was better than me."
Does he then think that diversity, represented by the likes of Jofra, has brought strength to modern Britain?
"Very much," enthuses Archer.