On IIM Bangalore campus, 'exclusive' student clubs
Students from Scheduled Caste and Scheduled Tribe communities poorly represented in the clubs, claims Dalit alumnus who never made it to any of the clubs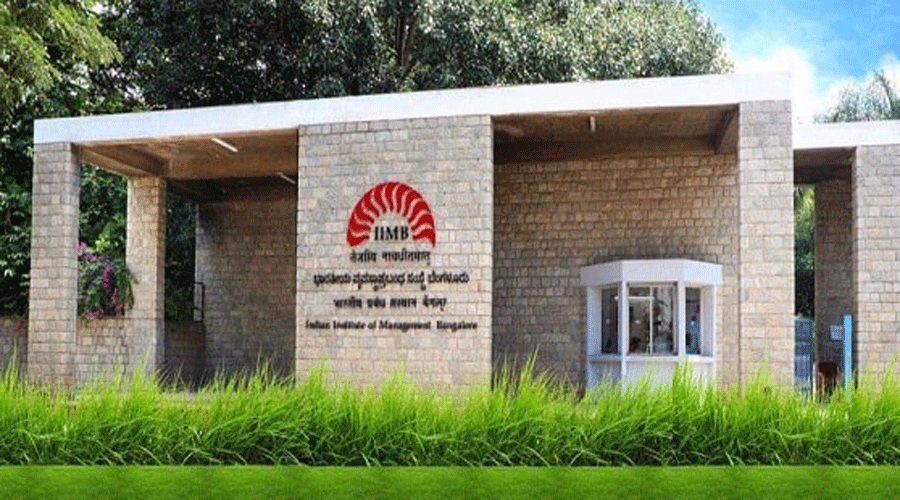 IIM Bangalore
File picture
---
New Delhi
|
Published 05.12.22, 04:43 AM
|
---
A Dalit alumnus of IIM Bangalore who earned his MBA in 2018 told The Telegraph he never made it to any of the students' clubs on campus despite applying, and that he was not alone in missing out.
"Students from Scheduled Caste and Scheduled Tribe communities are poorly represented in the students' clubs," the alumnus, who didn't want to be named, said.
After admission, new batches of students need to apply if they want membership of any club. Senior club members interview them and sometimes ask them to write an article or an essay.
"I had thought they would give adequate representation to students from all sections of society in each and every forum in the institute.I applied for the Bharat club, which focuses on public policy issues. I cleared the interview and wrote an article. But my seniors did not select me," the alumnus said.
The alumnus said: "Diversity in the clubs can bring in diversity of experience and help the clubs perform better. A skewed composition can limit the work of any organisation. But since it's the existing club members who select new members from the junior batches, and since there's poor representation from the SCs and STs, the same practice continues every year. I was not made part of any club."
He said the IIM had no policy or mechanism to ensure that students from various sections of society received adequate representation in the students' clubs. Nor, he said, did the B-school have an Equal Opportunity Cell (EOC) — mandated for all higher education institutions by regulator UGC — to which students from disadvantaged sections could take their grievances.
The various students' clubs — such as the cultural club, sports club, marketing club or entrepreneurship club — conduct projects and organise events, including discussions.
Membership of a club helps a student during placement, since prospective employers consider it a mark of leadership.
Anindya Sen, a former IIM Calcutta faculty member and former director-in-charge at IIM Ranchi, admitted that the composition of the students' clubs lacked diversity.
"The institutes need to sensitise the students about diversity. This can be done through discussions and sensitisation sessions. That will certainly change the way the clubs are being constituted now," Sen told this newspaper.
Several faculty members from IIM Bangalore too acknowledged that most of the students' clubs continued to have low or zero representation from the SC, ST and OBC communities.
They said this was a feature particularly of the six older IIMs — those in Ahmedabad, Bangalore, Calcutta, Indore, Lucknow and Kozhikode — which, they added, neither had any policy on club memberships nor had set up EOCs.
The UGC (Promotion of Equity in Higher Educational Institutions) Regulations say that every higher education institution must have an EOC, headed by an anti-discrimination officer who should be a professor, to address complaints of discrimination against SC, ST, OBC and minority students.
Most among the 14 new IIMs have set up EOCs but the older IIMs are yet to do so. Anil Wagde, a former student of IIM Calcutta, said the absence of anti-discrimination mechanisms at the older IIMs betrayed negligence on the part of the authorities and fostered a culture of institutional discrimination and casteist mindsets.
Citing an example, Wagde said that when he was a postgraduate student at IIM Calcutta in the late 1990s, he and a friend, who happened to be from an advanced caste, were assigned a project to prepare a business model for a company.
When they completed it, the professor liked it but was curious whether Wagde, a Dalit, had made any contribution to the project.
"It is excellent, the professor told us. Then he looked at me and asked, 'How much is your contribution to this project?'" Wagde said.
"I was shocked at the question. The bias is deep-rooted; it sometimes finds expression directly and sometimes through innuendos."
This newspaper sent emails to the directors of the six older IIMs seeking the reasons why these B-schools had not set up EOCs — or even the SC-ST Cells, mandated by the Union department of personnel to monitor the implementation of reservation in faculty recruitments.
IIM Bangalore director Rishikesha T. Krishnan replied saying the institute had an Institute Diversity & Inclusion Committee to address all issues of diversity.
"Reflecting international best practice, we have an Institute Diversity & Inclusion (D&I) Committee. Diversity is today seen as multi-dimensional covering caste/ category, gender, disability, etc. This Institute committee oversees issues related to all aspects ofdiversity and inclusion," Krishnan wrote.
On the poor representation of SCs and STs in the students' clubs, the director said the institute had not received any complaints on the subject.
"We have several mechanisms for sharing grievances including the D&I committee, a Whistle-blower policy (that ensures that any grievances are addressed maintaining anonymity) and an Internal Committee. As an institute, IIMB has zero tolerance towards any kind of discriminatory behaviour," Krishnan wrote.
Former UGC chairperson Sukhadeo Thorat said every institution was required to set up an SC-ST Cell and an EOC whether or not it had any other anti-discrimination committee.