Share-cropper fears threat from big firms
Labourer who took up farming after job loss during pandemic worried because of the farm bills passed by Parliament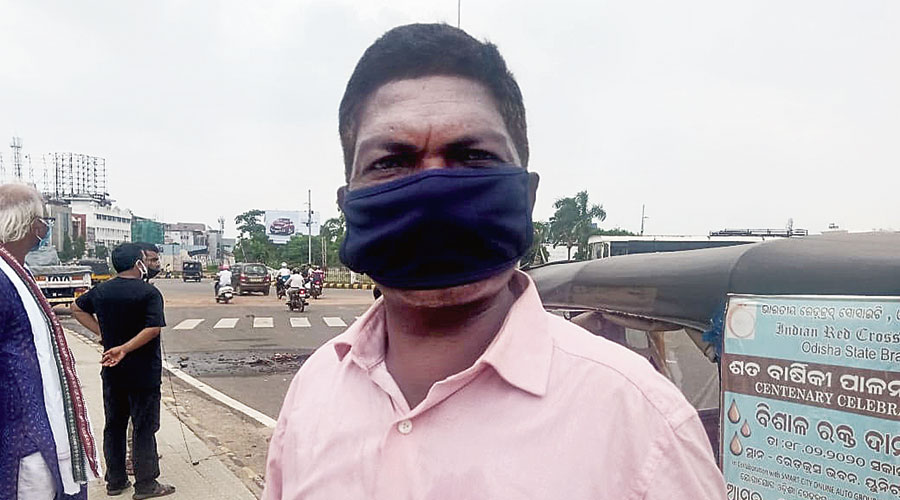 ---
---
Damburu Soren, a 50-year-old tribal labourer who came to the Odisha capital 30 years ago from the mineral-rich belt of Keonjhar in search of work, was rendered jobless by the coronavirus pandemic.
After 30 days in search of a job, he took up farming on the outskirts of Bhubaneswar as a share-cropper. But he now finds himself at a crossroads because of the farm bills passed by Parliament recently.
Damburu, who joined the protests against the farm bills on Friday, is concerned that the proposed laws will pave the way for contract farming which will allow the entry of big players into the agriculture sector.
"They will finish us. I took up farming on two maann (nearly two acres) of land on sharecropping basis recently. As per the understanding, I will give two quintals of paddy for one acre to the landowner and the rest would be mine. From the two acres, I hope to earn Rs 30,000. I have already spent around Rs 4,000 on the land. But these bills have now put everything in jeopardy," he said.
Soren said he has taken the land from a person who owns 10 acres. "He is not in a position to cultivate the land. He has given the land to poor landless labourers for cultivation and I am one of them. I can't afford to lose this source of livelihood," he said.
On how he could be affected by the farm bills, he said, "As the land is only 22km from Bhubaneswar, many companies may try to grab it by making a contract with the landowner. He may agree because he will get more money. He will not give it to me anymore. Where will I go then?" asked Soren.
Though he does not know about the Farmers (Empowerment and Protection) Agreement of Price Assurance and Farm Services Bill, 2020, he is aware that big players are going to take away his livelihood by adopting the method of contract farming.
The labourer-turned-sharecropper said, "Before the lockdown, I used to work as a mason and earned Rs 550 per day. Everything was fine. I could even organise the marriage of my elder daughter smoothly.
"But now my income is gone and I have to look after my other two daughters also. As no one knows when the situation will improve, I decided to opt for farming as suggested by some of my friends. But now even this work is threatened by the new laws."
Soren said "The bills should not have been passed at a time when the coronavirus has broken the backbone of our economy and poor have become poorer. I am protesting against the bills because I want to save my livelihood. Earlier we used to take part in rallies sponsored by political parties. But I have joined this protest on my own and came here by spending from my own pocket."
Like Soren, many marginal and small-scale farmers came and joined the protest rally. More than 70 per cent farmers are share-croppers in Odisha.
Many of them also raising their voice against the Farmers' Produce Trade and Commerce (Promotion and Facilitation) Bill, 2020, which allows growers to directly sell their produce to institutional buyers such as big traders and retailers.
"We want government intervention and not any companies to decide our fate. We don't want to put our future in the hands of multinationals," said 62-year-old farmer Natabara Behera.
The Congress also supported the agitation. Members of Navanirman Krushak Sangathan were detained while they were trying to force their way into the state secretariat, Lok Seva Bhavan.
They also tried to gherao the Krushi Bhavan in the city.
"The government should immediately roll back the bills," said Suresh Panigrahi, state secretary of All India Kisan Sangharsh Coordination Committee.