NV Ramana formally recommends Justice UU Lalit's name as next CJI
The current Chief Justice of India is scheduled to retire on August 26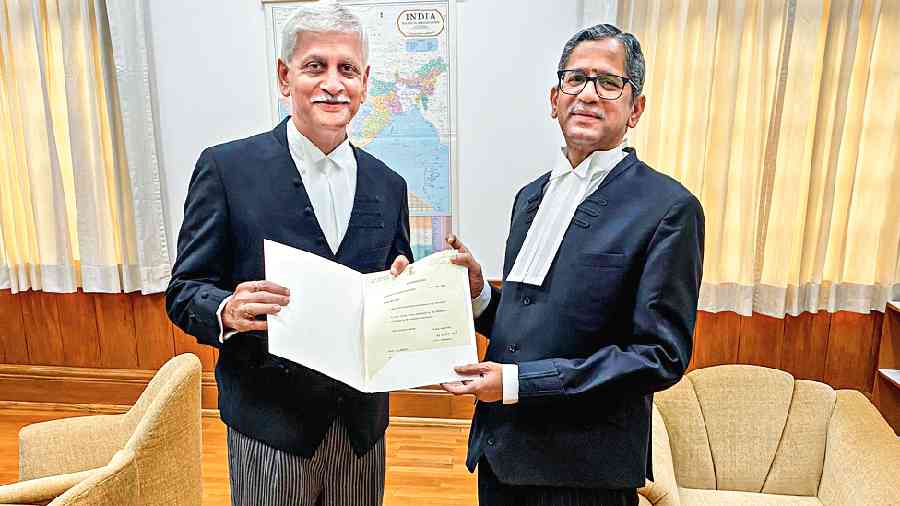 Justice UU Lalit (left) with CJI NV Ramana on Thursday.
PTI
---
New Delhi
|
Published 05.08.22, 02:27 AM
|
---
Chief Justice of India N.V. Ramana on Thursday formally recommended to the Union law ministry the name of Justice Uday Umesh Lalit as his successor from August 27.
Justice Ramana, who became Chief Justice of India in April 2021, is scheduled to retire on August 26, and it is a convention that the CJI recommends his successor. Justice Lalit is the second senior-most judge of the Supreme Court.
Justice Ramana made the recommendation within 12 hours of receiving a communiqué from Union law minister Kiren Rijiju on Wednesday, requesting him to suggest a successor.
On Thursday morning, Justice Ramana sent the recommendation to the law minister and handed over a copy of the letter to Justice Lalit.
According to the memorandum of procedure that governs the appointments and transfers of Supreme Court and high court judges, the outgoing CJI has to recommend his successor -- usually the next senior-most judge of the apex court.
Justice Lalit is expected to have a short stint of two-and-a-half months as CJI as he is due to retire on November 8. He is set to be succeeded by Justice D.Y. Chandrachud, the third senior-most judge of the Supreme Court.
Justice Lalit was counted among the finest criminal lawyers in the country before he was elevated to the Supreme Court by the collegium headed by then Chief Justice of India R.M. Lodha on August 13, 2014.
Born on November 9, 1957, Justice Lalit was enrolled as an advocate in June 1983 and practised in Bombay High Court till December 1985 before shifting to Delhi in January 1986.
Designated as senior advocate by the Supreme Court in April 2004, he had appeared as amicus curiae in many matters and was appointed special public prosecutor for the CBI to conduct trials in the 2G spectrum allocation case under the orders of the Supreme Court. He was a member of the Supreme Court of India Legal Services Committee for two terms. The committee provides free legal aid.
Justice Lalit headed the bench that on June 3 last year quashed the FIR registered against journalist Vinod Dua by Himachal Pradesh police, invoking sedition and various other offences, for criticising Prime Minister Narendra Modi.
Dua was accused of saying in an online show that "Narendra Modi has used deaths and terror attacks to garner votes" and of creating panic by "spreading false information that the government does not have enough testing facilities" for Covid-19.
The bench, which also had Justice Vineet Saran, had in a 117-page judgment held that Dua's statements had neither incited people to violence against the government nor created disorder so as to invite the charge of sedition, but was at best an "expression of disapprobation of actions of the government and its functionaries so that prevailing situation could be addressed quickly and efficiently".
"A citizen has a right to criticise or comment upon the measures undertaken by the government and its functionaries, so long as he does not incite people to violence against the government established by law or with the intention of creating public disorder; and that it is only when the words or expressions have pernicious tendency or intention of creating public disorder or disturbance of law and order that Sections 124A (sedition) and 505 (public mischief) of the IPC must step in," Justice Lalit, who authored the judgment, had said.
The bench had, however, dismissed Dua's plea that all FIRs for sedition against journalists with over 10 years' experience should be vetted in each state by a committee headed by the chief justice of the high court concerned or a judge nominated by him or her.
The bench had said that such a provision could be enacted only by Parliament and that the court would not venture into the legislative domain.