NRC Anarchy
Assam's citizenry will stand excluded of those deemed illegitimate later this week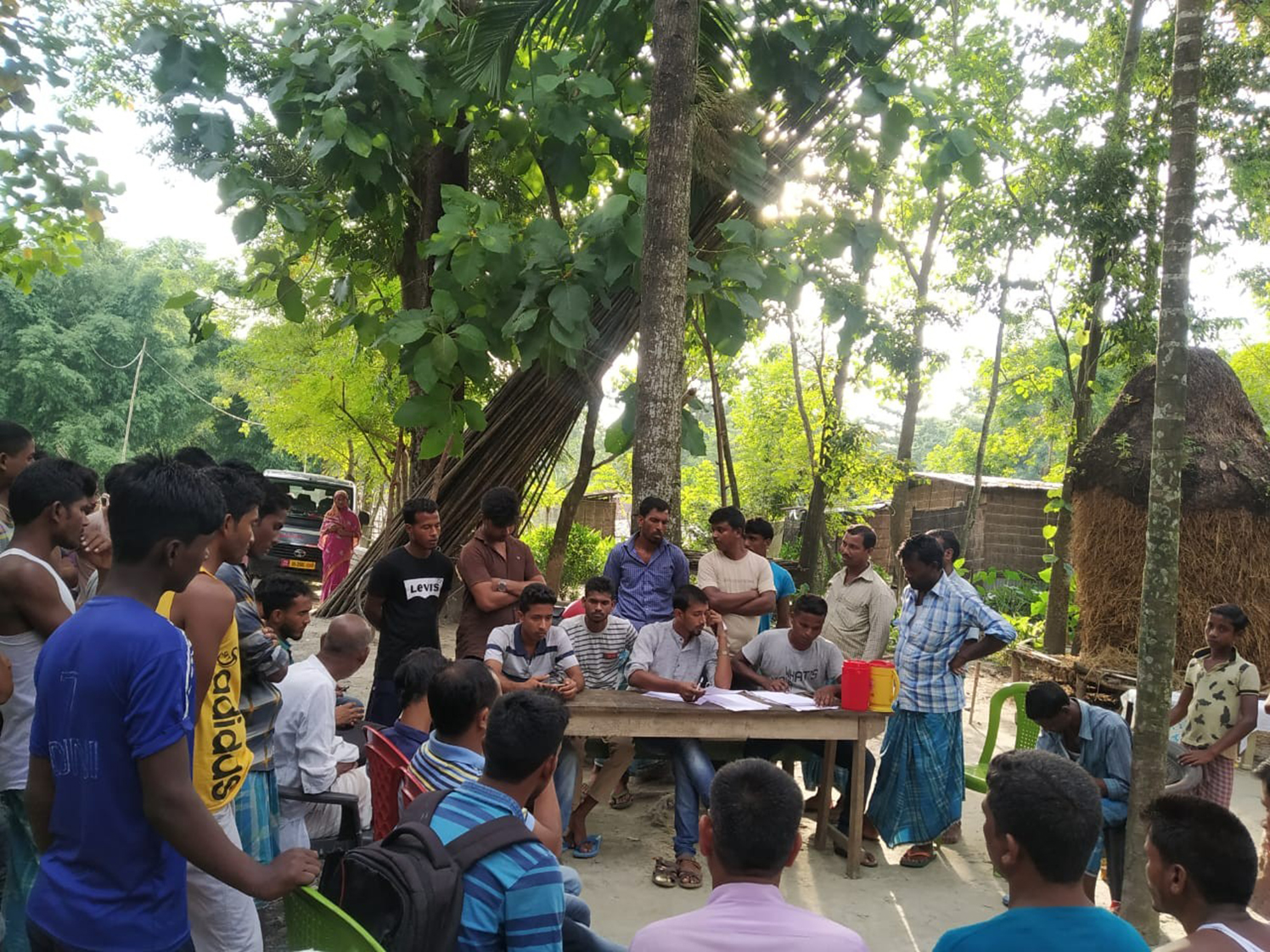 ---
---
There is a spectre more ominous than the sword of Damocles looming over the state of Assam. Come August 31, the updated National Register of Citizens or NRC will be published (no prevarication, the Supreme Court has warned), amid a simmer of tension and apprehension.
According to its website, the NRC is a register containing names of Indian citizens, which is now being updated in Assam. It says, "After the Census of 1951, the NRC was prepared by recording particulars of all the persons enumerated. It will be updated to include the names of those persons (or their descendants) who appear in the NRC 1951, or in any electoral rolls up to the midnight of March 24, 1971, or in any one of the other admissible documents, which would prove their presence in Assam or in any part of India. All the names appearing in the NRC 1951, or any of the electoral rolls upto the midnight of March 24, 1971, together are called Legacy Data. There will be two requirements for inclusion in the updated NRC: existence of a person's name in the pre-1971 period and proving linkage with that person."
The exigencies of enrolment have been in place since 2013, when Assam launched the process of updating the NRC on the directive of the Supreme Court, under Section 6A of the Citizenship Act, which was inserted with effect from December 7, 1985, by the Citizenship (Amendment) Act, 1985, carving out a special category for citizens in Assam.
Supreme Court Chief Justice Ranjan Gogoi pointed out on August 13 that in view of the special category of citizens, Rule 4A of the 2003 Citizenship Rules would guide the preparation of the NRC in Assam, whereby claims of all persons (including those born in India) for inclusion in the register "were to be reckoned with the entries either in the National Register of Citizens, 1951, or any of the electoral rolls prepared upto the midnight of March 24, 1971, or the basis of any of the additional documents prescribed under the rules".
The procedure was necessitated on account of a large number of persons who acquired citizenship by virtue of Section 6A of the Act, without being actually born in India.
On July 30 last year, the complete draft of the NRC was released, with the names of nearly 40 lakh people missing. On June 30 this year, an additional draft list was published with the names of another 1.02 lakh exclusions. When the NRC was first prepared in Assam in 1951, the state had 80 lakh citizens. According to the 2011 census, the state's population exceeds 3.11 crore.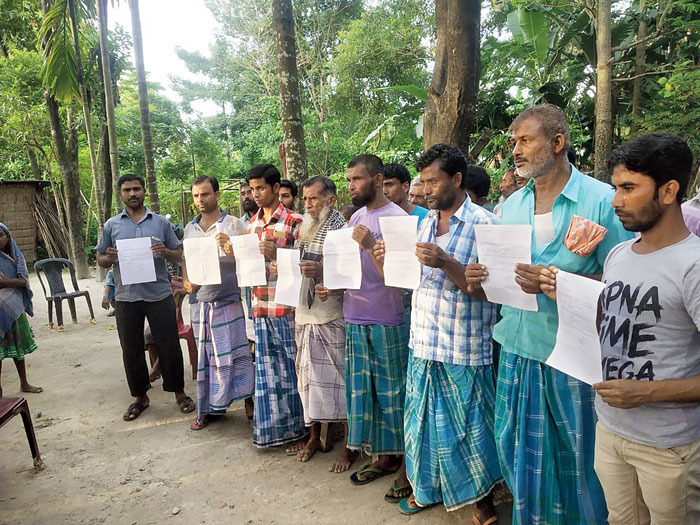 The 'foreigner' conundrum
Alarm bells are ringing for those whose names have been excluded from the draft list. Twenty-five declared foreigners have already died in the detention camps of Assam. The state's parliamentary affairs minister, Chandra Mohan Patowary, told the Assembly recently that seven detainees each have died in 2019 and 2018, six in 2017, four in 2016 and one in 2011. Till last month, there were a total of 1,145 detainees at six detention centres, of whom 335 have remained lodged for more than three years.
It is the tale of these detainees that makes the NRC exercise complex and gargantuan. Take the case of Nanibala Debnath, for instance. She was carrying food for her husband, the priest of a nearby temple, when Dhemaji police arrested her on December 31, 2016. Nanibala, 38, a resident of Silabaligaon in Dhemaji district and a mother of four, said: "I was on my way to the temple when policemen took me to Tezpur Central Jail as a doubtful (D) voter."
Nanibala, who claims she has documents to prove her legacy dating back to 1966, was lodged at the detention camp for over a year till the administration declared her a citizen of India. She was acquitted "as Indian and not illegal migrant and not D voter," then Dhemaji superintendent of police wrote to the electoral registration officer. Nanibala said her repeated attempts to show all documents to officials of the foreigners tribunal proved futile. She not only suffered untold misery at the detention camp, her husband, Samiran Debnath, 50, died last month. "My eldest is 18 years old, while the youngest is 8. When I was taken to the camp, the children were at a loss. My relatives lent me money for the legal procedures. We had to sell four bighas of land. Over Rs 1 lakh has been spent on the case. I still have to repay over Rs 30,000 of debt. I earn around Rs 2,500 as a domestic help," said Nanibala, who received no compensation from the government for her wrongful detention.
Hundreds of activists protested the injustice. Two childhood friends — Sanjay Das, 37, a pharmacy owner in Silapathar, and Subhas Biswas, 39, who works in restaurant in south India — became part of the movement under the banner of Nikhil Bharat Udbastu Samanway Samiti. They were arrested while campaigning for Nanibala and against the detention of several genuine Indian citizens. "We took out a rally in Silapathar to protest Nanibala's arrest in early 2017. Hundreds of activists took part in the rally, which was attacked by the supporters of the All Assam Students Union. The AASU members started pelting stones. It led to a clash and police arrested us," said Das, who along with Biswas, was in jail from March 2017 till July last year.
Debendra Sarkar, 70, of Dalimbari village in Nagaon district, was declared a D voter in early 2011. He was arrested despite submitting copies of his 1964 voter identity card and ration card, among other documents and released from the Goalpara detention camp in 2015.
"I was about to appear for my Madhyamik examination when my father was arrested. Our eldest brother works as a mason in Kerala, while the second is a farmer. I have also started working as a mason. We lost our mother when we were young. We had to sell three bighas of land, mortgage our house and arrange for nearly Rs 1 lakh to bail out my father," said Harimohan Sarkar, Debendra's youngest son. "We had to pay the local sentry to get permission to meet my father. There were no basic amenities at the camp," Harimohan added.
Kumud Ram Das, 66, a detainee who returned home on a Gauhati High Court bail after spending over two years in the detention camp in Silchar Central Jail, was arrested in December 2016 after being declared a "foreigner". His family spent over Rs 2 lakh to re-establish his identity as an Indian citizen. They sold their cattle, land and crops, even mortgaged their trees and took a bank loan of Rs 50,000 to get him released. His wife, Kamakhya Devi, said she still lives in fear that he will again be relegated to a camp. Their daughter, Jhuma, was turned back from the NRC Seva Kendra when she went to deposit her father's papers for the second time, on the pretext that these did not prove he was Indian.
The daughters of Dilip Biswas, a vendor from Murkata village in Morigaon district whose family was declared "foreigner", had to forfeit their education. In 2010, Biswas, 47, and his elder brother, Sukumar, were sent to the Goalpara detention camp while his wife, Rumani, 40, and two daughters, Kalpana and Archana, now 19 and 11, were sent to the Kokrajhar camp. The family was released following a high court order in February this year.
Given that Assam shares a 262-kilometre border with Bangladesh, the fear of an illegal influx is very real. Residents want an error-free NRC to weed out non-Indians. This desire had snowballed into the Assam agitation of the early 1980s, which culminated in the signing of the Assam Accord, a memorandum of settlement (MoS) between the Government of India and the leaders of the Assam movement in New Delhi on August 15, 1985.
Clause 6 of the Accord reads: "Constitutional, legislative and administrative safeguards… shall be provided to protect, preserve and promote the culture, social, linguistic identity and heritage of the Assamese people." To safeguard its citizens, a special procedure was prescribed under Rule 4A of the 2003 Citizenship Rules for preparation of the NRC in Assam.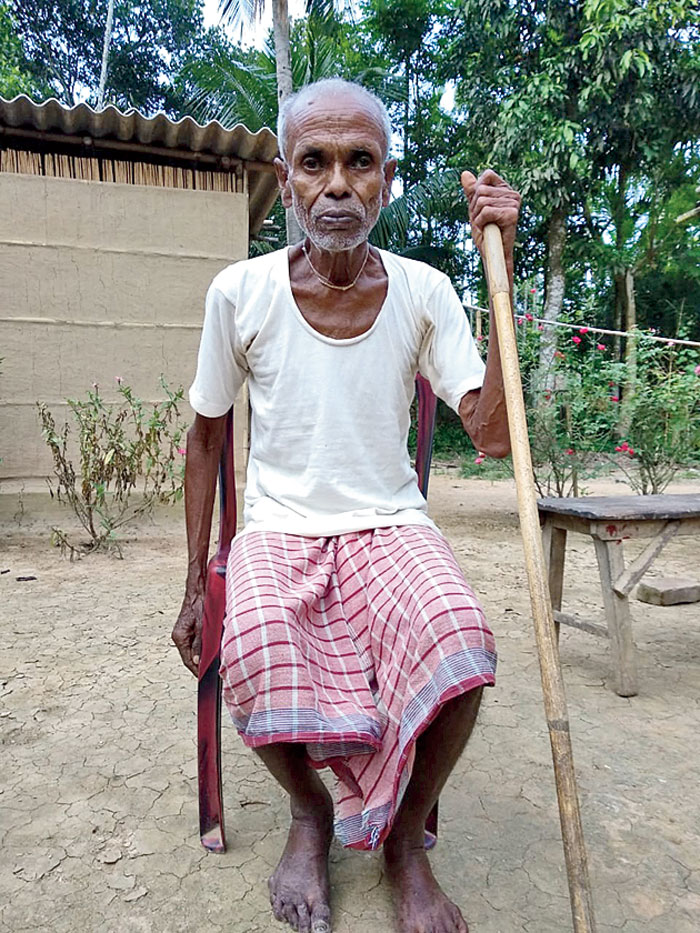 It remains an irony that several NRC officials have been arrested on charges of taking bribes to sneak in foreigners (Bangladeshis) as citizens, while genuine Indians have been left out. On June 26, Madhubala Mandal walked out of the Kokrajhar detention centre after two-and-a-half years of incarceration, a victim of "mistaken identity". She was picked up by police in 2016 on the suspicion of being Madhumala Namodas.
In June, Mohammad Sanaullah, an Indian army retiree, who was declared a "foreign national" by a tribunal in Assam, was finally released on bail.
On June 30, nonagenarian Amar Upadhaya lamented: "My daughter, Bajyanti Devi, was the first woman martyr of the Assam Agitation and I contested the Assembly election. But my daughter-in-law and two grandsons are in the exclusion list."
So is Manju Devi, the great-granddaughter of freedom fighter Chhabilal Upadhyay. Even Sahitya Akademi winner Durga Khatiwada, whose father Abinarayan Khatiwada's name figures in the 1951 NRC, was "excluded".
On August 31, several lakh people will make their tryst with destiny. Those excluded have a long battle ahead to prove their identity as bonafide citizens of the world's most populous democracy. As Assam chief minister Sarbananda Sonowal stressed in his Independence Day speech, "We hope people will get an error-free NRC, which will be turned into a historic document where names of no foreigners will be included and no genuine Indian citizen will be left out."
The Centre this week extended the deadline for filing claims to 120 days and double the existing number of 100 foreigners tribunals. But whatever the time limit, coping with lakhs of people with only six detention camps will be an onerous task indeed.