Batons and barricades capitulate
Nothing could stop us, we won: One year of farmers' movement
Friday's anniversary mobilisation had been planned before Narendra Modi's surprise announcement on November 19 of a decision to repeal three controversial farm laws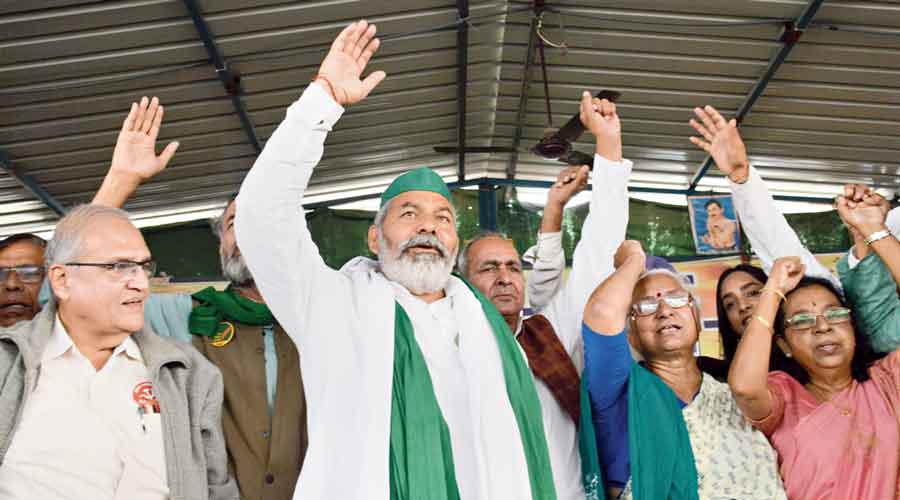 ---
New Delhi
|
Published 27.11.21, 12:56 AM
|
---
At the Singhu border, Kirpal Singh showed a scar on his right leg — the legacy of a police baton.
"Batons, barricades, threats, nails... nothing could stop us, we won!" said Kirpal, 57, who has been at the protest site since December last year.
Farmers from across north India converged on Delhi's borders on Friday to mark their movement's anniversary, celebrate their success in forcing the government to agree to repeal the three contentious laws and reaffirm their determination to fight on for their remaining demands.
For the Samyukta Kisan Morcha, the collective leadership spearheading the agitation, the mobilisation was also an occasion to test the farmers' mood before Saturday's crucial meeting that is likely to chart the next course of action.
This time the arriving farmers were spared the obstacles put up last year, when the first lot of protesters headed for Delhi's borders had to brave water cannons and push past boulders placed on their way by Haryana's BJP government.
What had begun in answer to a two-day "Dilli Chalo" call by Punjab's farmers for November 26 and 27 last year has not only stretched to a full year but has spread across the country, galvanising agricultural communities in almost every state.
As a result, besides the large gatherings at Singhu, Tikri and Ghazipur on Delhi's borders, protests were held in Karnataka — where farmers blocked highways — as well as Bengal, Bihar, Chhattisgarh Andhra Pradesh, Telangana, Jharkhand, Tamil Nadu and Odisha.
The farmer protest in India has drawn worldwide attention. The La Via Campesina — an international movement of peasants, small and medium farmers and the landless across 81 countries — issued a statement of solidarity and urged civil society the world over to express online and offline support for Indian farmers.
Friday's anniversary mobilisation had been planned before Prime Minister Narendra Modi's surprise announcement on November 19 of a decision to repeal the three controversial farm laws.
The farmers have six more demands, including a law guaranteeing minimum support prices for all farm produce.
In the morning, the farmers held special prayers in tribute to those who died during the protest. A notice board outside a tent at Singhu served as a grim reminder of the sacrifices made during the protest. "732 people have died in the last one year," it read.
Farmer leader Gurnam Singh Chadhuni said more than 700 people would have been alive here had Modi agreed to rescind the farm laws earlier.
Lakhan Singh, 45, from Barnala in Punjab was protesting at the Delhi-Haryana border when he lost his father early this year.
"Having him here today would have been better. But I know his soul will be at peace now," he said.
Bhagwan Singh, 43, from Mavi village in Patiala, who lost his friend Najar Singh, 35, in the seventh month of the protest, burst into tears remembering him. "My friend, the sole breadwinner of his family, left behind three small daughters and elderly parents. We miss him," he said.
Harpreet Kaur, 45, and her husband had brought their specially abled son to Singhu border in a wheelchair. "He has been here twice. We could have left him with his grandparents, but it would not have been the right thing. He cannot convey his feelings in words, but I know he is happy," said Kaur, from Ludhiana.
On loudspeakers, farmer leaders and activists could be heard asking people not to slacken. Near the centre-stage, a group of farmers celebrated the farm law protest anniversary by donating blood.
Sukhdev Bhullar, 42, from Anantpur Sahib said farmers had nourished the protest with their blood. "My blood is a tribute to all of them," he said.
"Celebrate the win but do not get carried away by it. We won't move an inch until all our demands have been met," farmer leader Shiv Kumar Kakka said, iterating the demand for an MSP law and compensation for the families of the dead.
Referring to the "historic agitation", La Via Campesina said: "It is an inspirational account of what people's power can achieve even in the most adverse conditions…. India's farmers have inspired the world with their resilience. They have shown us what a united struggle of the working class and the peasantry can achieve even in the face of all adversities.
"Over the last year, this protest has stitched alliances with workers unions and other social movements and issued inspiring messages of solidarity, communal harmony and unity among rural societies."
According to the Morcha, solidarity events are being planned in various countries.
These include a "kisan demonstration" outside the Indian high commission in London on Friday, followed by an anniversary rally and vigil on Saturday, a "kisan sleep-out" in Letchworth city (England), a car rally in New York on Saturday, and a car and truck rally in California next weekend.
Similar programmes have been lined up in Canada where the farmers' movement has drawn support from the government and Prime Minister Justin Trudeau.
The Morcha shared with the media messages of solidarity it had received from various civil society groups -- a reflection of how the movement has found wide resonance and been strengthened by its vilification at the hands of the government and its ecosystem.