Nobody should create tension in the name of fact-checking: Centre
Shiv Sena member Priyanka Chaturvedi places a written question about the rise in fake news online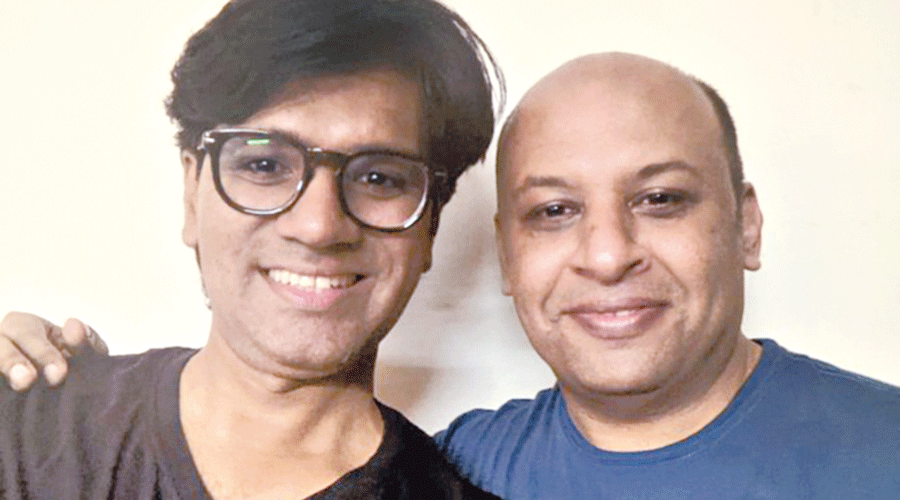 AltNews co-founder Pratik Sinha (right) tweeted this picture with Mohammed Zubair hours after he was released from the Tihar jail on the Supreme Court's directive on Wednesday. "Zubair wants to convey his heartfelt gratitude to everyone who stood by us and supported us in the last few weeks. He'll be back real soon," Sinha tweeted.
Twitter
---
New Delhi
|
Published 22.07.22, 02:20 AM
|
---
The Centre on Thursday said people creating tension in society "in the name of fact-checking" were liable for legal action, a day after efforts to keep fact-checker Mohammed Zubair imprisoned were frustrated in the Supreme Court.
Rashtriya Janata Dal member Manoj Jha had asked in the Rajya Sabha why fact-checkers were being arrested while those spreading hatred moved freely.
Information and broadcasting minister Anurag Thakur said: "This is important to know who is a fact-checker and who are not."
"Nobody should create tension in society in the name of fact-checking. If any complaints come against such people, the law will take its own course."
Jha's question came in the context of suspended BJP spokesperson Nupur Sharma having so far escaped arrest despite facing multiple cases over her eight-week-old comments on Prophet Mohammed.
But Zubair, co-founder of fact-checking portal AltNews and the person who had highlighted Sharma's comments, was arrested over certain tweets, accused of hurting Hindu sentiments, and had case after case filed by BJP-administered police forces in Delhi and Uttar Pradesh to pre-empt his release.
On Wednesday, the apex court ordered him freed, granting interim bail in every existing case and any future FIR on the "same subject matter".
Jha later told The Telegraph: "What we thought was that the minister would reassure us about protecting the fact-checkers. (But) he started blaming the fact-checkers. He started (uttering) canards against the fact-checkers. I am not satisfied with the answer."
Shiv Sena member Priyanka Chaturvedi placed a written question about the rise in fake news on online media. The trend is the principal reason for the emergence of fact-checkers.
In his written reply, Thakur said the government had an institutional mechanism to look into matters relating to fake news on the various media platforms.
He spelt out the various laws, rules and self-regulatory guidelines in place for the print, electronic and digital media that mandate adherence to programme codes and ethical practices.
A fact-checking unit (FCU) has been set up in the government's Press Information Bureau to address questions posed by citizens on its portal relating to the authenticity of news in the print, electronic and digital media, Thakur said.
The FCU has responded to 34,125 queries, and also posts verified information on social media platforms, he added.
"(The) ministry of information & broadcasting has issued directions for blocking of 94 YouTube-based news channels and 19 social media accounts/ websites/ mobile applications for publishing content not found to be in the interest of sovereignty and integrity of India, defence of India, security of the State, friendly relations with foreign States, etc, including fake news, in accordance with Section 69A of the Information Technology Act during the period 2021 to 22," Thakur said.
"Similarly, the ministry of electronics and information technology has also issued directions for blocking of 747 URLs containing… on social media intermediaries during 2021 to 2022 regarding content covered under section 69A of IT Act, 2000."