No country for tanneries
The troubles of the tanning industry are many. From Kanpur to Calcutta, it has turned into one big leather-hunt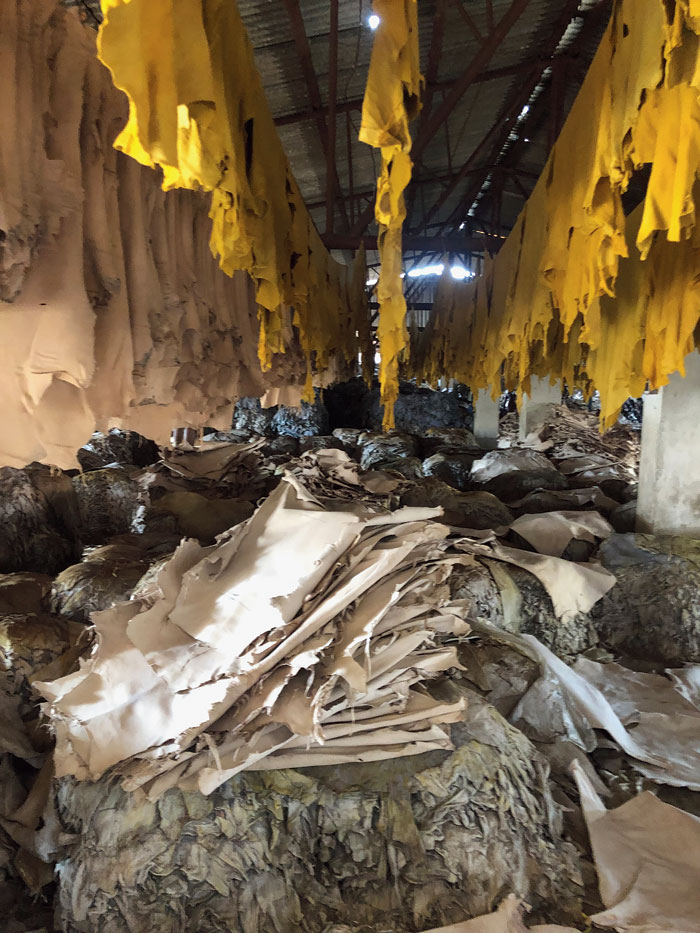 Skin deep: Finished leather stacked in a godown in Bantala leather complex
Courtesy CLC Tanners Association
---
Published 03.08.19, 08:09 PM
|
---
In May 2018, the Uttar Pradesh (UP) government announced that tanneries in Jajmau in Kanpur would close down for three months between December and March during the Kumbh Mela. Reason: to keep the river waters clean during the Hindu festival wherein millions of pilgrims take a dip at the confluence of the Ganges and the Yamuna. The March 15 deadline has long expired but the tanneries — close to 400 of them — are yet to start operating. Several lakhs of people are facing an uncertain future.
In February, around the same time when the leather industry in Kanpur was grinding to a halt, the Bengal chief minister, Mamata Banerjee, announced at the annual Bengal Global Business Summit 2019 that she would allocate land to businessmen to set up tanneries in Calcutta. By March 2019, 29 people were given land allotment papers in the 1,150-acre Calcutta Leather Complex (CLC) in Bantala on the eastern fringes of the city.
These many months later, the 29 parties from Kanpur have been allotted land. It will take 12-18 months before they become operational.
Taj Alam is the vice-chairman of the UP Leather Industries Association, Unnao chapter. He owns a tannery and also has a factory that makes value-added leather products. His is a 100 per cent export business and he has been working in this industry for four decades. Speaking over phone from Unnao, he says, "Leather business from Kanpur and Unnao would yield around Rs 4,000 crore a month. Till 2005, the tanneries did not have to shut down for a single day for the Kumbh Mela. It was the golden period for tanneries. But thereafter, successive governments — the Bahujan Samaj Party, the Samajwadi Party and now the Bharatiya Janata Party — imposed rules on us."
He continues, "First, it was a closure during the nahan or bathing days during the mela. That would come to around 18 days of shutdown over a period of 90 days. It was bearable. The BJP extended it to three months of complete closure. It has been more than that now and there is no notice yet to start operation. Iss loss ka hum bharpai nahin kar payenge. (We won't be able to make up for the loss)." He explains the extent of the loss. "Permanent staff have to be paid, shutdown or no shutdown. Contractual labourers are shifting to other cities. We are not processing and selling finished leather, so leather goods makers cannot make bags, belts, boots. A lot of chemicals are packed in leather casings, the packaging industry is also suffering. It is basically a huge blow to a section of the economy."
In July this year, the UP government said tanneries would be allowed to restart operations but on the condition that they comply with norms laid down by the National Green Tribunal. And what would those be? Alam has no idea; there has been no written intimation.
Bantala is a 25-kilometre drive from the city centre. Pre-CLC, it was just acres and acres of land adjacent to the east Calcutta wetlands. The Anushka Sharma-starrer 2018 horror flick, Pari, was shot here. The neighbourhood is sparsely populated; only shanties of scrap-dealers intercept the clear view. There are plenty of trees all around. I enter the complex. And as I drive down the wide road, I notice heaps of greenish-blue dyed cow hides stacked along the pavement to my left. When I roll down the car window, a sharp stench assaults the senses. Some labourers are loading hides onto stationary trucks.
That day, Bengal finance minister Amit Mitra is also visiting the place to allocate 70 acres of land for new tanneries. Addressing tannery owners, CLC employees and the media, he says, "We have only 210 acres of land available currently but we have received 400 applications from Kanpur. For this reason, the state government will spend Rs 540 crore to put up effluent treatment plants, build facilities for workers, roads, dumping stations…" There are already four modern effluent treatment plants in Bantala and four more will be added. "One advantage that we have over Kanpur is that we do not release our water into the Ganges. It goes to a canal in Bantala, which will also be cleaned of all chemical deposits as per the current plan," says Mitra.
"This is very important as the leather industry is a highly polluting industry. We are in the red category for pollution," explains Imran Ahmed Khan, who is the general secretary of the CLC Tanners Association. According to recent news reports, the UP government has decided to set up a 20 million-litres-per-day waste treatment plant at Jajmau in Kanpur. The government has cleared a project worth Rs 617 crore to check the release of tannery waste into the Ganges.
Once again, in reality nothing has happened. "We are aware of the reports in the media. On the ground, there is nothing," says Alam.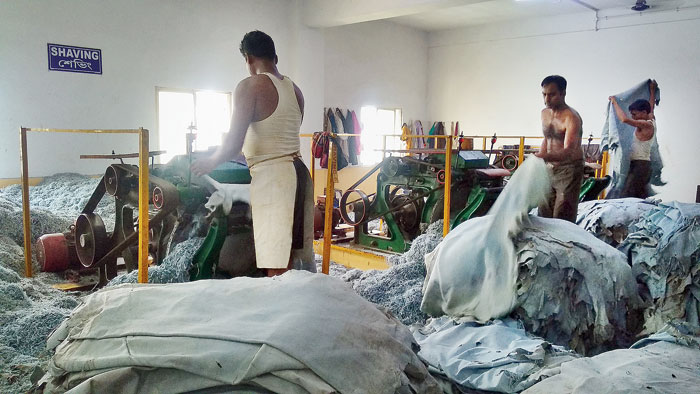 Does this mean that the 150-year-old UP leather industry had no waste check all these years? "Aisa nahin hai… It is not like that," says Alam. "We always released treated water into the river. There are effluent treatment plants running in our state as well," he adds.
Khan feels that all this rah rah actually has to do with intentional harassment of "the minorities". He sounds agitated and aggrieved as he says, "The BJP government is targeting this particular industry as it is run by minorities. There are other industries in the red category for pollution — chemicals, paper and pulp, sugarcane, distilleries — but these have been spared."
Khan has one thing to say — Muslims have spent 4-5 decades, if not more, in the tanning industry. They have learnt the skills of this business. They cannot unlearn this and move overnight to something else. He also points out that there are people from other backward classes too who are invested and involved in this business.
Alam is not looking to shift to Calcutta. He says, "It is not possible to uproot your establishment and shift to a new location at someone's whim." But many others are weighing this option. Khan has been getting enquires about houses on rent, school admission schedules and so on. Ramesh Juneja, chairman, CLC Tanners Association, points out that availability of raw material is a factor. He says, "Cow slaughter is banned in almost all the states barring West Bengal and Kerala."
The other major reason, according to Javed Iqbal, regional chairman of the Council For Leather Export (Central Region), is port facilities. "This makes transportation cheaper. Those in Kanpur have to send products to Mumbai port before they are shipped out to foreign destinations," says Iqbal, who has been allotted land in the Bantala complex and is planning to shift part of his business here.
But post 2019, the leather industry scene in Bengal doesn't look rosy. Sayantan Bose, general secretary of the Bengal BJP, has said illegal slaughter houses will be closed down in Calcutta should the BJP come to power. What will become of the legal ones is anybody's guess.
And it is not just the BJP; the Left Front government in Bengal too had crippled what was once a flourishing business in the state. "We were pushed out from the Park Circus area to the eastern fringes," says Khan. In 1996, the Supreme Court ordered 550 tanneries to relocate from Tangra, Topsia, Tiljala and Pagla Danga areas in east Calcutta as they were found to be violating environmental laws.
It was following the CLC Tanners Association versus the State of West Bengal case, that the state government resolved to build Asia's largest leather complex in Bantala. But land was not distributed then. "Instead it went to IT giants," says Khan. That possibly explains the Cognizant office building in the middle of the leather complex. He clarifies, "The government has decided to shift the IT offices to Rajarhat where it is developing the IT hub." In 2015, the Trinamul government resuscitated the industry. Says Khan, "There was a Rs 90-crore government loan. We repaid only Rs 7.5 crore and the rest was converted into a grant by the government."
Faisal Irshad, another Calcutta-based tanner, feels there is no safe place in all of India for tanners to conduct their business from. He says, "My consignment of hides was coming from Bihar by truck. There was goatskin as well beside buffalo hide. The entire consignment was set on fire. I couldn't meet my customers' orders and the fallout was huge." He adds, "The present Union government is targeting the leather industry aggressively."
Juneja brings up the point about the UP government closing down slaughterhouses. The policies for export of raw hide also work against tanneries. "There is a 60 per cent export duty on finished leather whereas import is completely free," says Khan. "We import finished leather from Africa, Egypt, Europe, Middle East, the US," says Juneja.
The central government is not helping tanneries get the required clearance certificate for export. It is not even releasing the names of the laboratories that issue NABL (National Accreditation Board for Testing and Calibration Laboratories) certificates. Currently, tanners in Calcutta have to send samples to a laboratory in Chennai and wait for three months before they get clearance. In the meantime, products languish in stores and godowns, remain stuck in custom offices.
"It is such a waste," says Khan. He goes on, "The central government is giving us a soft diplomatic death. At this rate we might have to set up tanneries in Vietnam or Cambodia, while Pakistan and Bangladesh profit from our losses."