Bengal leather hub targets Rs 80,000cr funds
Mamata announced a cluster of new projects ranging from plot allotment to 187 new tanneries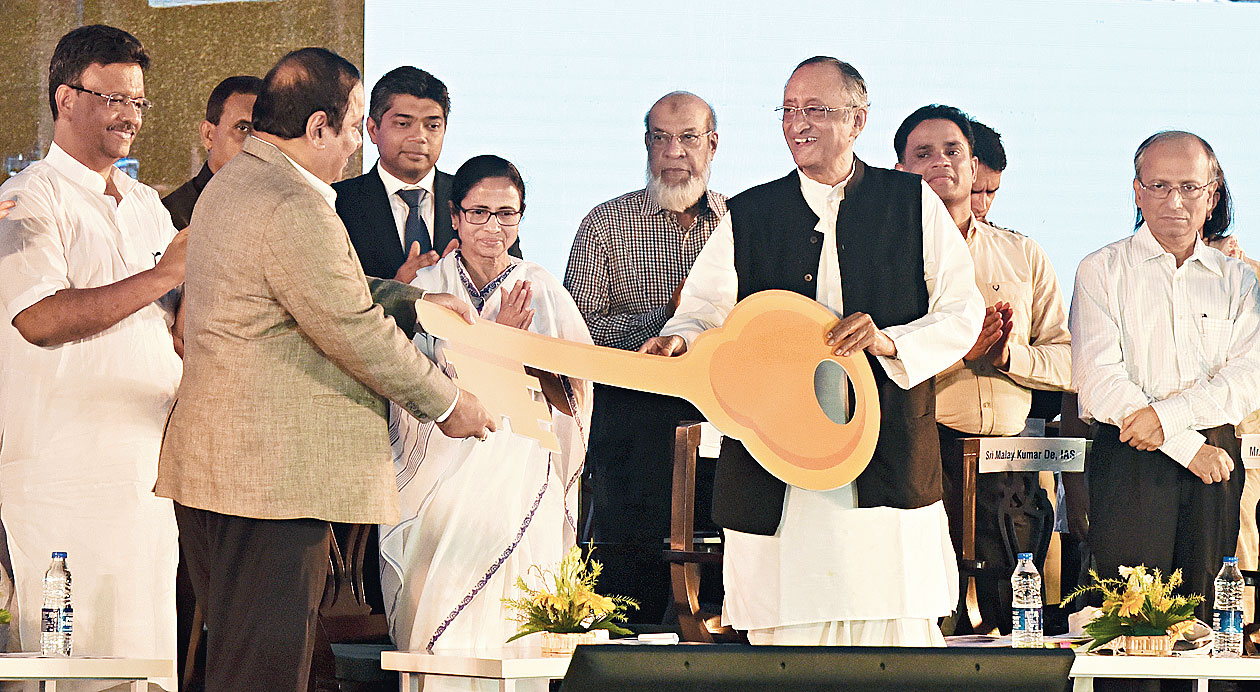 Mamata Banerjee with Amit Mitra, Firhad Hakim and other officials in Calcutta on Thursday.
Picture by Pradip Sanyal
---
Calcutta
|
Published 18.07.19, 07:46 PM
|
---
The Bantala leather hub, which houses around 400 tanneries, has got a new name along with infrastructure proposals that could attract investment of Rs 80,000 crore and create employment for 5 lakh people.
On Thursday, Bengal chief minister Mamata Banerjee announced a cluster of new projects ranging from plot allotment to 187 tanneries, including those from Kanpur, Chennai and Calcutta and a footwear and a leather goods park.
"Finance minister Amit Mitra was asking whether there could be a new name for such a big leather and tannery hub. As there is large employment opportunity, I have given this place a new name — Karmadiganta. There is employment potential of 5 lakh people and there is investment potential of Rs 80,000 crore," Banerjee said.
After demonetisation and a crackdown on slaughter houses in Uttar Pradesh, several leather tanneries from Kanpur decided to relocate to Bengal.
Banerjee said that even though land has been allotted to new units, the state is taking steps to curb pollution.
"When industry in Kanpur is shrinking, we have taken steps to bring it to Bengal but not by compromising the environment. There will be eight effluent treatment plants of which four are already done, two will be complete by November and another two will come up shortly," she said.
She added that information technology units located at Bantala are being shifted elsewhere, including being offered land at Silicon Valley Hub in New Town.
Banerjee said tanneries from Calcutta looking to set up units at the hub would be compensated for additional cost of land with incentives.
Coal block
Bengal has got the pending approval from the Centre on the Deocha Pachami coal block. The block has estimated reserves of 2.1 billion tonnes.
BGBS
The Bengal Global Business Summit, the flagship investment summit of the state, is likely to be held in November or December next year.