Nirmala Sitharaman announces Rs 70,000 cr measures
The package aims to boost exports and the real estate sector, but details are sparse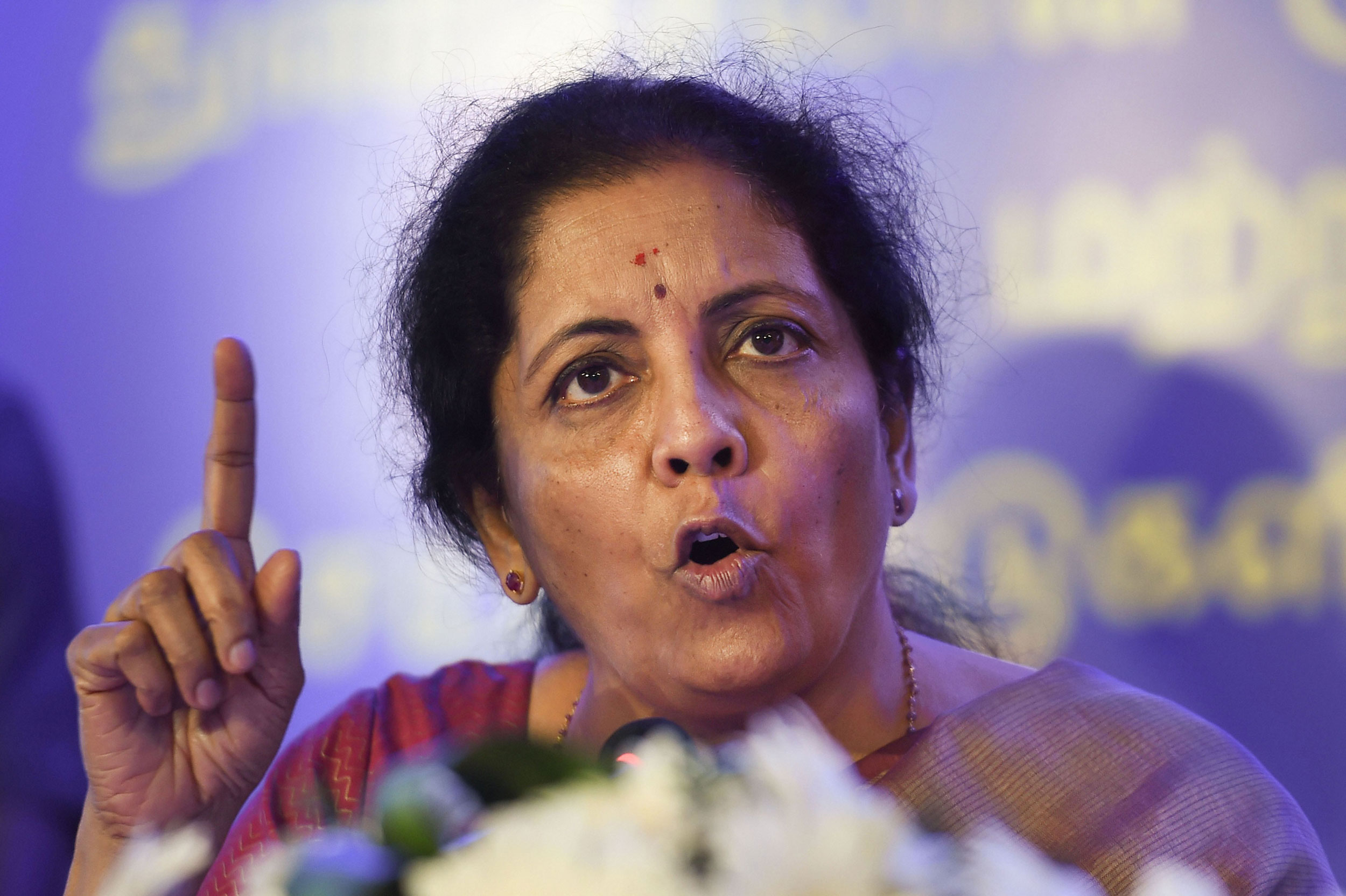 ---
---
Finance minister Nirmala Sitharaman on Saturday unveiled a Rs 70,000-crore package of measures designed to crank up exports and provide relief to the stress-ridden real estate sector.
But as usual it was thin on specifics, leaving industry struggling to figure out how effective it would be in achieving the larger objective of steering the economy out of a rut after growth in the first quarter (April-June) fell to a six-year low of 5 per cent.
The big announcement was the decision to set up a special fund that would provide last-mile funding to affordable and middle-income housing projects that have been stalled due to a liquidity crunch.
Funds will be paid out of the Rs 20,000-crore corpus to housing projects that are not in the bankruptcy court, Sitharaman told a media conference while announcing the third set of measures to address stress in specific sectors and boost the economy.
The fund will be run by external professionals. The government will contribute Rs 10,000 crore to the fund while other investors will put in roughly the same amount, Sitharaman said.
Housing finance companies have been allowed to borrow funds abroad with the relaxation in the rules governing external commercial borrowing (ECB).
The interest rate on house building advance has been lowered and linked to the yield on the 10-year government security, benefiting government servants who make up a major component of the demand for houses.
The stressed asset fund will benefit around 3.5 lakh homebuyers, Sitharaman said, adding that buyers stuck in bankruptcy-bound projects will get relief through the national company law tribunal.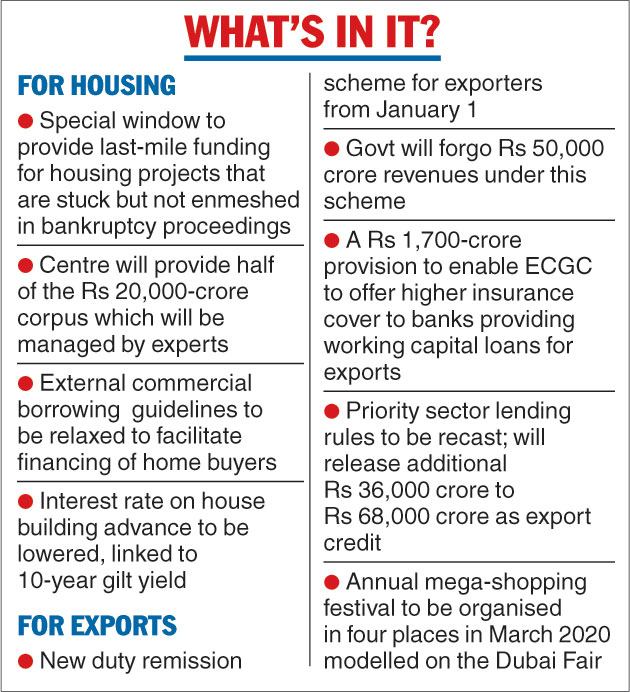 Relief for exports
Exporters, who have been clamouring for measures to fight an alarming drop in revenues in a tough environment clouded by a raging global trade war between the US and China, have been offered a new duty remission scheme.
The scheme, which is called the Remission of Duties or Taxes on Export Product (RoDTEP), will come into effect from January 2020.
The new scheme "will more than adequately incentivise exporters than existing schemes put together," Sitharaman said.
The government will forgo Rs 50,000 crore in revenues as a result of this scheme. The Centre is already providing Rs 40,000-45,000 crore refunds under existing schemes.
Besides, a Rs 1,700-crore annual dole will allow Export Credit Guarantee Corporation (ECGC) to offer higher insurance cover to banks that provide working capital for exports, she said. This will enable reduction in the overall cost of export credit including interest rate, especially for small and medium companies, she added.
The government announced a revised priority sector lending (PSL) norms for exporters which will release an additional funding of Rs 36,000 crore to Rs 68,000 crore.
The Reserve Bank of India will frame the guidelines for the export credit scheme.
Dubai-like fair
Sitharaman announced plans for a mega-shopping festival modelled on the world-famous Dubai Shopping Festival. It will be conducted at four places in India in March 2020 on themes of gems and jewellery, handicraft, yoga, tourism, textiles and leather.
The finance minister said the measures, together with the ones announced on the previous two occasions, will help lift the economy and growth rate will improve in the second quarter.
She said there were clear signs that the economy was on the road to recovery and the government had managed to put the lid on inflation which was pegged far below the desirable threshold of 4 per cent.
The finance minister said the efforts made to improve credit outflow from banks had started to pay off with banks starting to bring down lending rates.
Sitharaman said she would meet heads of public sector lenders on September 19 to review the policy rate transmission.
Not everyone was immediately impressed by Saturday's announcements.
Keki Mistry, chief executive officer of HDFC Ltd, said the special fund for stuck housing projects was a welcome step but one would have to look closely at the guidelines.
Mistry explained that if a project is stuck because of lack of funding and the developer has not made three monthly instalments to the lending bank, it will be classified as a non-performing asset. In that case, it will no longer be eligible for last-mile funding.
Anuj Puri, chairman of Anarock Property Consultants, said the Rs 20,000-crore special fund for the housing sector was 'not big enough to provide relief to the real estate sector as a whole'.
'There are more than 5.5 lakh units that are stuck or delayed in the top seven cities alone which would be much higher if we consider all cities and towns,' he added.
Shishir Baijal, chairman and managing director of Knight Frank India, said: 'The larger issues of demand creation have not been addressed in any way and form in these announcements. We will have to await the results of the measures and targeted relief announced other sectors such as auto and manufacturing to see how the economy is revived leading to stability and growth in demand.'