Night in the Assembly: BJP on dharna in Karnataka
Yeddyurappa says protest will be on till H.D. Kumaraswamy holds the trust vote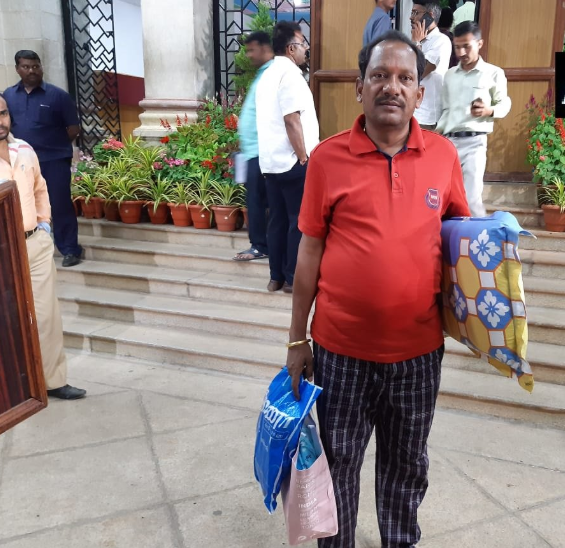 ---
New Delhi
|
Published 18.07.19, 07:31 PM
|
---
Constitutional head of the state honorable Governor has issued direct & stringent instruction to @hd_kumaraswamy to prove his majority in Vidhana Soudha by 1.30 pm tomorrow, 19 July 19

Power greedy @hd_kumaraswamy should now abide by constitution & do as instructed#StepDownCM

— BJP Karnataka (@BJP4Karnataka) July 18, 2019
Karnataka BJP president B.S. Yeddyurappa refused to leave the Assembly complex on Thursday night after the trust vote was not held and the House was adjourned until 11 am, Friday.
He asked all BJP MLAs to sleep in the Assembly and sit on a dharna till the trust vote is held by H.D. Kumaraswamy. The BJP MLAs also want Speaker K.R. Ramesh Kumar to reply to the Karnataka governor's letter, which said that the floor test should be held by the end of Thursday.
Fifteen rebel MLAs from Congress and JD(S) had approached the Supreme Court earlier and pleaded that the Speaker be told to accept their resignations. On July 17, the apex court said that the legislators can't be compelled to attend House proceedings. It also said that the Speaker need not be bound by time on deciding the fate of the MLAs.

Chief minister Kumaraswamy moved the confidence motion in the morning, as expected but chaos took over in a few hours.
Congress leader and the state water resource minister D.K. Shivakumar accused the BJP of kidnapping a Congress MLA.
Shivakumar, who in an attempt to win back the rebel MLAs had positioned himself outside the Mumbai hotel a few days ago, today held up an enlarged photographs of Congress MLA Srimanth Patil lying bare-chested on a stretcher. Shivakumar also showed a flight ticket and accused the BJP of making Patil pose for the photograph.
"With folded hands, I'm requesting the honourable Speaker of this House to protect my party MLAs. They are being kidnapped. I got a call from the family member, five minutes ago our CLP leader (Siddaramaiah) got a call, he has been kidnapped by these people. I want you to bring them back," Shivakumar said.
Patil's photo with Karnataka BJP MLA Laxman Savadi at Chennai airport, purportedly from Thursday morning, was published by some news outlets. Later, the Congress wrote to the police commissioner, saying Savadi had "either abducted or unlawfully restrained" Patil without his consent in order to defeat the trust vote.
Siddaramaiah also requested the Speaker to postpone the confidence motion debate until the Supreme Court clarified on his power to issue a whip.
Both the sides have decided to petition the Supreme Court on Friday. The Karnataka Speaker and the chief minister want to approach the apex court against its order protecting the 15 rebel MLAs from the party whip. The BJP wants a direction to the Speaker to seek the trust vote on Friday.
Late on Thursday night, BJP MLAs were seen taking pillows and bedsheets for a night in the Assembly.