National Human Rights Commission calls for law on refugee rights
In recent years India has been inundated by demands for the status by Rohingya fleeing neighbouring Myanmar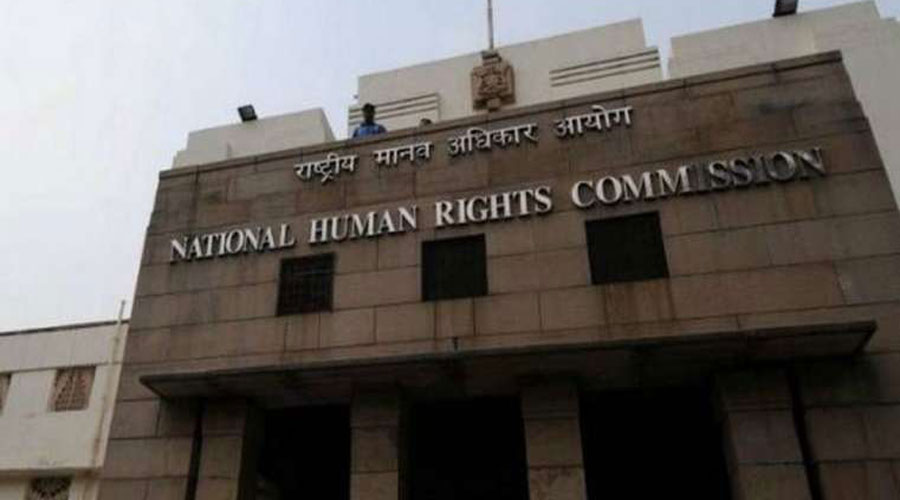 The National Human Rights Commission.
File photo
---
New Delhi
|
Published 22.01.22, 02:57 AM
|
---
The National Human Rights Commission (NHRC) has called for a comprehensive law to end the ambiguous and ad hoc measures being deployed to deal with refugees and asylum seekers, at a time thousands of Rohingya Muslims persecuted in Myanmar are seeking refugee status in India.
At an open forum held late on Thursday evening, speakers who included NHRC chairperson and former Supreme Court judge Arun Mishra unanimously pitched for a uniform national law to ensure the human rights of refugees.
Asylum and refugee statuses are granted to applicants only on the basis of the Citizenship Act, 1955, and certain covenants of the UN Charter on Universal Declaration of Human Rights, which is a time-consuming and frustrating process.
For instance, the status is granted to an applicant on the subjective satisfaction of the executive authorities in the home and external affairs ministries rather than on the basis of constitutional or statutory guarantees.
In recent years India has been inundated by demands for refugee status by Rohingya fleeing neighbouring Myanmar.
Besides Justice Mishra and Justice M.M. Kumar (retd), a member of the NHRC, representatives from the Union ministries of law, external affairs and home and domain experts were present at the event.
According to NHRC spokesperson Jaimini Kumar Srivastava, it was unanimously felt that though India always had a good track record of dealing with refugees and asylum seekers, there was still a need for comprehensive legislation to deal with grave human rights problems.
"…It is time a national law is enacted to include all the best practices and policies so far to have in place uniformity and legal sanctity to ensure the protection and realisation of human rights of refugees and asylum seekers across the country and help them seek the benefits of other welfare measures of the government even while taking care of national security," Srivastava said while summing up the discussion.
Inaugurating the open forum, Justice Kumar said that by virtue of the Constitution, every citizen was entitled to basic human rights. Articles 14, 20 and 21 of the Constitution also extend some rights to refugees and asylum seekers.
"But their permit to stay in the country cannot be extended for time immemorial without acquiring citizenship, as also observed by the Supreme Court," Justice Kumar said.
He said India was a signatory to various international conventions and treaties related to refugees and asylum seekers, largely within the framework of the Universal Declaration of Human Rights but not on the basis of the Citizenship Act, 1955, which he said could be regulated to protect their rights.
Protecting their rights merely on the basis of certain documents and on a case-to-case basis may lead to ambiguities and compound their problems in getting even basic necessities in the absence of a national law, he said.
Justice Kumar said the legislature needed to enact a national law on refugees and asylum seekers to overcome ad hocism and confusion as these might lead to subjectivity and unnecessary litigation.
Bimbadhar Pradhan, the NHRC secretary-general, said that while India had put in place internationally acclaimed measures to deal with refugees and asylum seekers, these aimed largely at sending them back to their countries on voluntary repatriation.
Kavita Belani, deputy chief mission of the United Nations High Commissioner for Refugees, said refugees by definition were victims of human rights violations. She lauded India's support to refugees and displaced people with its homegrown solutions in line with global commitments.
She described these as inclusive and forward looking. However, she said these efforts needed to be put in a structured policy on predictable lines for a national response to make it easy for all refugees and asylum seekers to get access to their rights.
Besides the inaugural session, the open forum was divided into two thematic conferences focusing on policy framework and legal safeguards for refugees and asylum seekers and issues and challenges related to the protection of the right to life and dignity and access to other socio-economic, educational and cultural rights.
Concluding the discussion, Justice Kumar said all the suggestions would be further deliberated within the NHRC before they are sent to the government as recommendations for implementation.
On November 21, the Supreme Court had issued notice to the Centre and to Delhi, Haryana, Jammu and Kashmir, Telangana, Manipur and Mizoram on a PIL for providing free food to over two lakh refugees and asylum seekers facing severe distress on account of the pandemic.
The petition filed by advocate Faizal Abdali had pleaded that because of the Covid crisis, an estimated 2.1 lakh refugees and asylum seekers from Sri Lanka, Tibet, Myanmar, Afghanistan, Palestine, Somalia, Sudan, Congo and Cameroon were facing severe hardships due to lack of food. The petition had said they were entitled to protection under the National Food Security Act and Article 21 relating to life and personal liberty
In another PIL by some Rohingya refuge seekers, the Supreme Court had on July 9, 2019, agreed to examine whether an estimated 40,000 alleged illegal Rohingya migrants from Myanmar were entitled to refugee status. However, the matter is yet to come up for detailed hearing because of the pandemic.