The National Crime Records Bureau's 2017 Crime in India report that was published after a year's delay left out hate crime and lynchings because it found the available data on it "unreliable" and "vague".
The report also left out data on crimes against journalists, whistleblowers, RTI activists and those committed by khap panchayats, religious leaders and illegal migrants for the same reason.
While the government found data provided by its own agencies unreliable, a report published by Reporters Without Borders labelled India as fifth most dangerous for journalists, citing killing of six scribes in 2018.
"Journalists also live in fear in India. Six were murdered this year (2018) and many others were the targets of murder attempts, physical attacks, and threats. Hate campaigns against journalists, including incitement to murder, are common on social networks and are fed by troll armies linked to the Hindu nationalist right," the report published last year had said.
The NCRB report, which was released on Monday, also gave no data on honour killings, rapes committed during communal/sectarian violence and murders that can be called hate crimes or instigated by fake/false news or rumours.

"It was observed that data received for certain newly created additional parameters/crime heads are unreliable and their definitions are also prone to misinterpretation. Accordingly, data related to certain parameter/crime heads have not been published," a source in the Union home ministry that oversees the NCRB told this website.
The need for lynching to be listed as a separate head was felt after the cases Mohammad Akhlaq in Uttar Pradesh and Pehlu Khan in Alwar, Rajasthan.
Akhlaq was beaten to death by a mob in 2015 on the suspicion that he had slaughtered a cow and had stored its meat for eating.
In 2017, Pehlu Khan was beaten to death by cow vigilantes, who intercepted his truck when he was returning to his village in Haryana after buying cows in Jaipur. Many such mob-driven murders, either linked to cow slaughter or trading in cattle, were reported throughout the Narendra Modi-led government's first tenure from 2014-19.
The NCRB also chose to call "vague" the category of "crime committed with firearms". Another category that figured in the list of 'vague' or on which data was unreliable was that of 'human violation committed by defence personnel and Central Armed Police Forces'.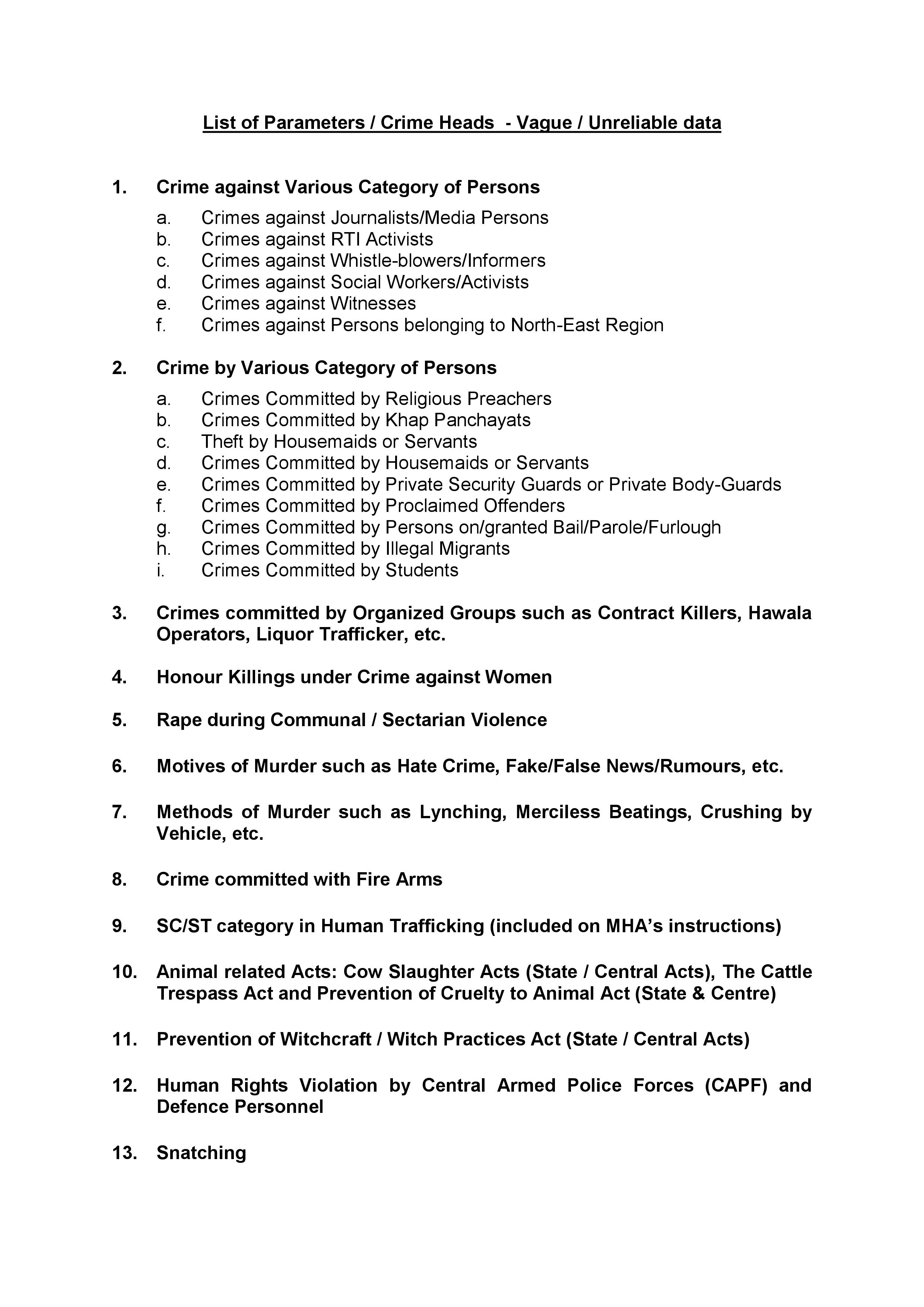 List of crime heads with vague or unreliable data, according to the NCRB Sourced from NCRB
The proforma of the report, the NCRB has said, was up for some changes since 2016, the year when the previous report was published. It was mooted that under the new proforma, several new categories of crimes would be added. It was because of the time spent in data collection for the new categories, preparing the software and the training officials in states and Union territories that the publishing of the report was delayed, the home ministry source said.
The final data, after removal of errors and inconsistencies, was received by the bureau in July 2019.
After the exercise, undertaken to make the report more detailed and useful for parliamentarians and policymakers, the government this year added the category of "crimes committed by anti-national elements". These people were identified as Maoists/Left-wing extremists, Northeast insurgents, jihadi terrorists and other terrorists.
The report showed Northeast insurgents to be responsible for 38 attacks in 2017, Naxalites/LWEs for 408, jihadi terrorists for 83, and other terrorists for 46 of them.
During these attacks, Maoists were responsible for killing of 138 people (civilians and police/state/army personnel combined), jihadi terrorists for 85, Northeast insurgents for five, and other terrorists for 41.
Increasing the ambit of cyber crime, the NCRB report this year has included a number of crimes committed using cyber technology. These crimes were described as: crimes against women & children, crime statistics under cyber blackmailing/threatening, cyber pornography, cyber stalking, defamation/morphing, fake profile, internet crimes through online games, etc.
According to the latest report, over 50 lakh cases of cognisable crimes were registered across the country in 2017 -- an increase of 3.6 per cent from 2016 when 48 lakh FIRs were lodged. Murder cases saw a decline of 5.9 per cent in 2017. As many as 28,653 killings were recorded in 2017, down from 30,450 in 2016.
The report listed as many as 3,59,849 cases of crime against women across the country in 2017, continuing the upward trend for the third consecutive year.