Narendra Modi's election season travel diary: 150 events in 42 days
What Modi did from January 26 onwards: Served mid-day meals, washed feet of sanitation workers, took a holy dip in Kumbh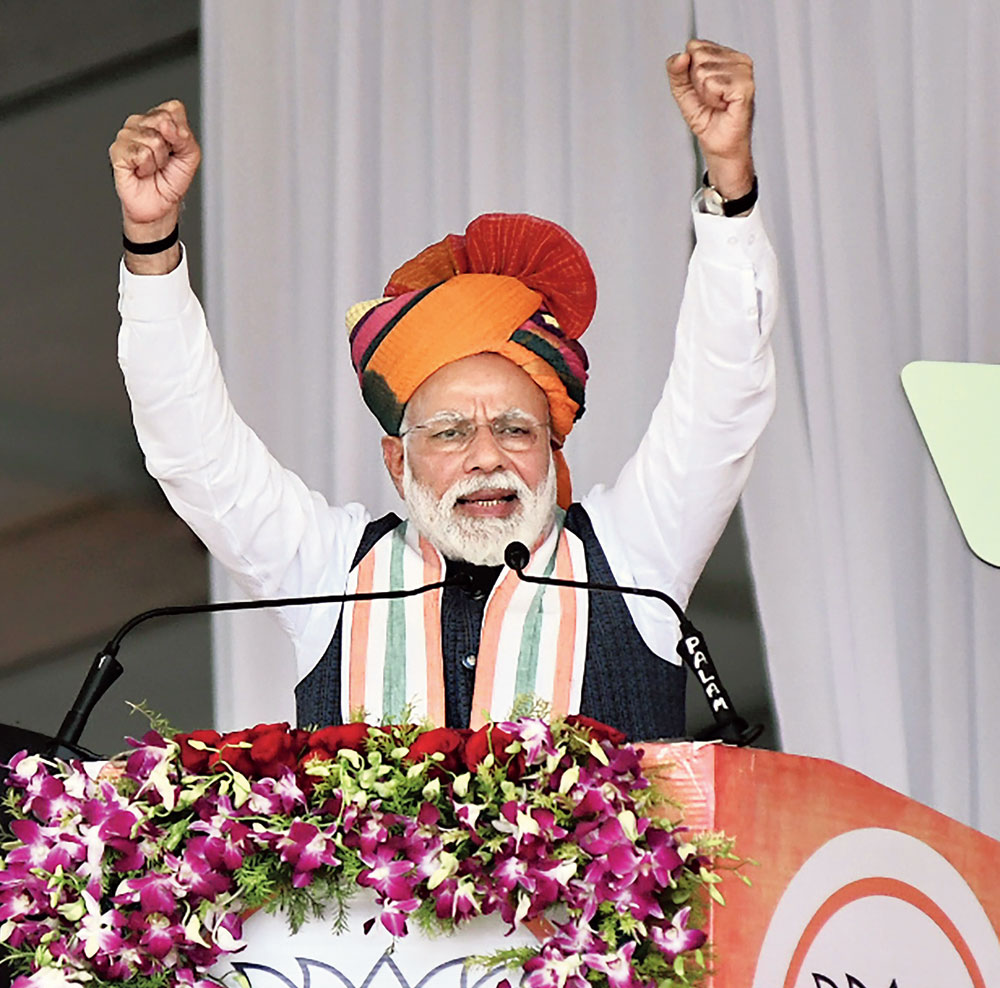 ---
---
Prime Minister Narendra Modi has conducted at least 150 unveilings of projects or laid foundation stones between Republic Day and March 8, going by the releases of the Press Information Bureau in the past 42 days.
Elections are expected to be announced anytime now. From the moment the Election Commission announces the polls till the end of the process, no contestant will be able to start off new work or dedicate finished projects to the nation because of the model code of conduct.
The 150 events meant that the Prime Minister criss-crossed the country travelling to 37 cities and towns. From Leh in the north to Kanyakumari, the southern tip. From Jamnagar in his home state, Gujarat, to Tripura capital Agartala in the east. He showcased the work of his government, sang the election pitch, took potshots at the Opposition and talked about Pulwama and Balakot.
Although this is predictable election-season behaviour for most political leaders in the country, the Prime Minister's calendar also bears out, somewhat, the Congress's charge that for most of the time when the country was close to a war-like situation, Modi was in election and PR mode.
Between February 26, the day of the Balakot airstrike, and March 8, the Prime Minister was at least at 23 events, either to kickstart projects or to announce the unveiling of utilities to the public. He couldn't visit one city, Rudrapur in Uttarakhand, because of bad weather. This was the day of the fidayeen attack in Pulwama, Jammu and Kashmir, in which 40 CRPF personnel were killed.
The Congress later alleged that while news of the attack was breaking on TV in anxious Indian homes, the Prime Minister had chosen to continue with a photoshoot for a documentary in the Corbett wildlife reserve.
On March 5 in Vastral, Gujarat, Modi seemed to have launched a scheme that had already been kickstarted. The Prime Minister supposedly launched the Pradhan Mantri Shram Yogi Maan-Dhan Yojana, a pension scheme for unorganised workers. The ministry of labour and employment had rolled out the scheme anyway on February 15. It had also been announced in the budget.
Some of the photo-ops in this whirlwind of events got Modi flak from the Opposition.
On February 24, Modi washed the feet of sanitation workers in Allahabad, which the government called "charan vandana". A few days later, AAP took a dig at the Prime Minister while giving out sewer cleaning machines to sanitation workers. "Today Arvind Kejriwal didn't wash feet of manual scavengers, but gave them special fabricated sewer cleaning machines," the party's Facebook post announced.
The Prime Minister himself claimed that in February and March he had initiated development projects worth over Rs 95,000 crore.
He also managed to take a holy dip in the Kumbh, perhaps hoping to wash away his sins.
पुलवामा में 40 जवानों की शहादत की खबर के तीन घंटे बाद भी 'प्राइम टाइम मिनिस्टर' फिल्म शूटिंग करते रहे।

देश के दिल व शहीदों के घरों में दर्द का दरिया उमड़ा था और वे हँसते हुए दरिया में फोटोशूट पर थे।#PhotoShootSarkar pic.twitter.com/OMY7GezsZN

— Rahul Gandhi (@RahulGandhi) February 22, 2019