History will remember August 5
Modi links India's hockey bronze to Article 370 dilution & Ram Mandir construction
In a display of how sporting success can bring a country together, Olympians lauded Manpreet Singh's team for ending India's 41-year hockey medal drought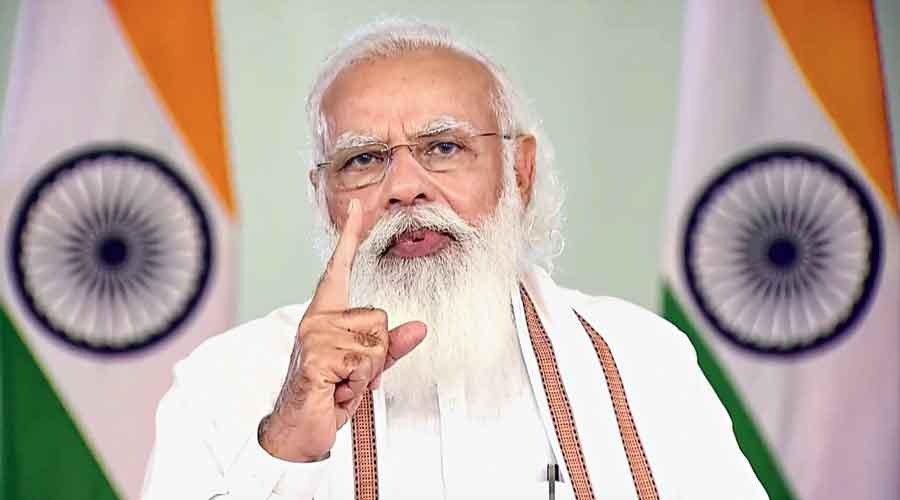 ---
New Delhi
|
Published 06.08.21, 02:11 AM
|
---
Prime Minister Narendra Modi on Thursday linked India's feat of winning an Olympic hockey bronze to the dilution of Article 370 and the construction of a Ram temple in Ayodhya on the ground that they shared the "special" date of August 5.
Elsewhere, in a display of how sporting success can bring a country together, hockey Olympians from Zafar Iqbal and Gurbux Singh to Joaquim Carvalho and Dhanraj Pillay lauded Manpreet Singh's team for ending India's 41-year hockey medal drought.
"Aisa lag raha hai Bharat ki vijay ki shuruwat ho chuki hai. Isme 5 August ki taarikh bahut vishesh ban gayi hai, bahut mahatwapurn ban gai hai. Itihas isko saalon tak darz karega (It seems the process of India's triumph has begun. In this, August 5 has become very special, very important. This date will be lodged in history for years)," Modi told an event in poll-bound Uttar Pradesh virtually from Delhi.
"Yeh 5 August hi hai jab do saal pahle desh ne Ek Bharat Shreshtha Bharat ke sapne ko aur sashakt kiya tha. Karib saat dasak baad Article 370 hatakar Jammu-Kashmir ke har nagarik ko har adhikar har suvidha ka pura bhagidar banaya tha (It was on August 5 two years ago that the country had strengthened the dream of One India, Best India. The removal of Article 370 after nearly seven decades gave every citizen of Jammu and Kashmir full partnership in every right and every benefit)."
Modi added: "Yehi 5 August hai jab pichhle saal koti koti bharatiyon ne saikdon saal baad bhavya Ram mandir ke nirman ki taraf pahla kadam rakha. Aaj teji se Ayodhya mein Ram mandir ke nirman ka karya chal raha hai (It was on August 5 last year that crores of Indians had, after centuries, taken the first step towards the construction of a grand Ram temple. Today, construction of the Ram temple in Ayodhya is on in full swing)."
He went on: "Aur 5 August ki tarikh phir ek baar hum sabhi ke liye utsah aur umang leke aayi hai. Aaj hi Olympic ke maidan par desh ke yuvaon ne hockey ke apne gaurav ko phir se sabit karne ke taraf badi chhalang lagai hai. Char dashak ke baad ye swarnim pal aayi hai (August 5 has once again brought us excitement and enthusiasm. Today, at the Olympics, the country's youth have taken a giant leap towards reinstating India's pride in hockey. This golden moment has come after four decades)."
While scrapping Jammu and Kashmir's special status on August 5, 2019, the Modi government had enforced a lockdown and information blockade on the ground, suspending phone and Internet services and arresting hundreds of politicians and activists.
On August 5, 2020, as the country reeled under a pandemic, Modi had led the "bhoomi pujan" (groundbreaking ceremony) for the Ram temple in Ayodhya.
The revocation of Article 370 and the construction of a Ram temple in Ayodhya had been part of the BJP's core agenda since its birth, but during Atal Bihari Vajpayee's time it had been forced to exclude these from its political programme to gain allies.
But with the BJP gaining absolute majority in 2014 under Modi, the party has revived these agendas. A bigger majority in 2019 encouraged it to implement them, making brazen use of state power.
Modi might not know it but August 5 is a memorable date in Olympic history for reasons that go beyond sport.
It was on this day in 1936 that the African American athlete Jesse Owens won the 200m sprint to complete the 100m, 200m and long jump treble in the Berlin Olympics, shattering Adolf Hitler's hopes of turning the Games into an advertisement of Aryan superiority.
On Thursday, Modi slammed the Opposition parties for stalling Parliament, saying they were "blocking national interest" at a time the country was surging ahead after overcoming the Covid pandemic.
"Our country, our youth are accomplishing so much, scoring winning goals — yet there are some who for their political motives are intent on scoring own goals," he said.
"At a time when every Indian is trying to battle the once-in-a-century pandemic, they (the Opposition) are bent on blocking national interest."