Tokyo Olympics: Efforts of Naveen govt to support hockey bear fruit
The Indian men's team bagged bronze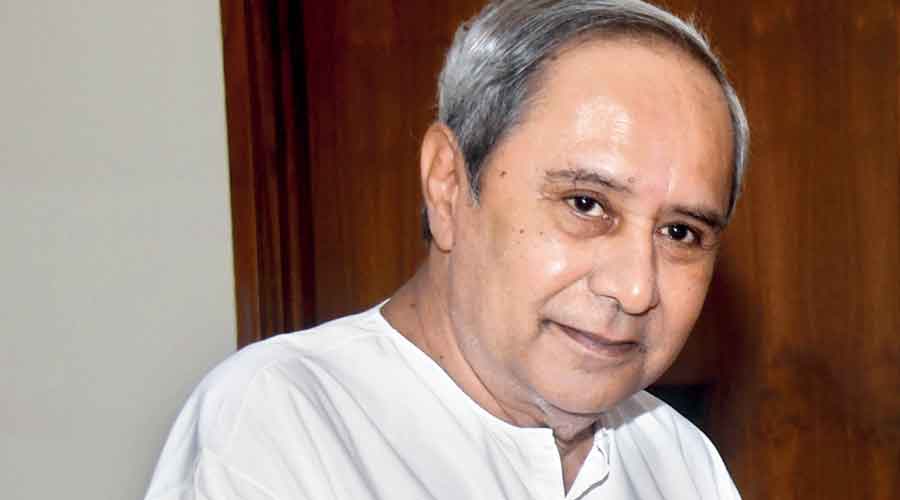 ---
Bhubaneswar
|
Published 06.08.21, 01:32 AM
|
---
Efforts by the Naveen Patnaik government in Odisha to support hockey bore fruit on Thursday when the Indian men's team bagged bronze at the Tokyo Olympics.
The Odisha government is the official sponsor of the Indian hockey teams (both men and women) since 2018. It is contracted to sponsor the teams till 2023 in a deal worth over Rs 100 crore.
Congratulating the players, Naveen, who himself played hockey in his schooldays as a goalkeeper, said: "Many congratulations to our hockey team. The whole of India is so excited, as is Odisha of course. We are all behind you and wish you the very best. We are looking forward to receiving our Indian Olympic hockey team in Bhubaneswar on the 16th of this month. All the very best for all of you for the future. All the best."
Naveen also tweeted: "Brilliant in Blue. Congratulations Indian Men's Hockey team on the spectacular victory to give us an Olympic medal after 41 long years. This historic win at Tokyo 2020 will inspire generation of sportspersons. All the very best for the future."
Brilliant in Blue
Congratulations Indian Men's #Hockey Team on the spectacular victory to give us an Olympic medal after 41 long years. This historic win at #Tokyo2020 will inspire generation of sportspersons. All the very best for future. #Cheer4India @thehockeyindia

— Naveen Patnaik (@Naveen_Odisha) August 5, 2021
Showering praise on Naveen for his support, men's team captain Manpreet Singh said: "It's a special moment for all of us. We finally achieved our dream of winning an Olympic medal. On this special occasion, I would like to express our special thanks to the Hon'ble chief minister of Odisha, Naveen Patnaikji, who has supported us throughout this journey.
"His vision for hockey and encouragement has helped us achieve this remarkable feat for the country. While everyone was supporting cricket, the Hon'ble CM chose hockey and today you can see the result of the vision. I would like to say thank you so much, Sir."
The chief minister spoke to the family members of two Odisha players — Birendra Lakra and Amit Rohidas — who are part of the team.
Official sources said the Odisha government was planning to organise a grand welcome for the Indian contingent when it arrives in Bhubaneswar on August 16.
"When no one came forward to sponsor hockey, chief minister Naveen Patnaik took the responsibility upon himself. Today is a proud moment for India. When we talk about Chak De! India, the leadership and vision of Naveen Patnaik is reflected through hockey," said BJD spokesperson and Rajya Sabha member Sasmit Patra.
In 2018, then official sponsor Sahara had backed out, putting the future of Indian hockey in jeopardy.
Odisha sports minister Tusharkanti Behera said on Thursday: "To promote hockey, we worked on a two-fold strategy — to build infrastructure and to groom and encourage talent. When other states had declined to host the (men's) hockey World Cup, Odisha came forward
to organise it. Kalinga Stadium was refurbished in record time. A second astroturf was also laid in no time…."
Sources said nearly Rs 450 crore was spent. "Money has never been a constraint in promoting sports. We are now building a world-class hockey stadium at Rourkela for the upcoming Men's Hockey World Cup. For 2020-21, we have earmarked over Rs 300 crore for building sports infrastructure. Besides, we are channelling money from the district mineral fund to build the infrastructure," the minister said.
The new stadium at Rourkela, which is being built at a cost of around Rs 100 crore, will have a capacity to hold 20,000 spectators. "Now we are laying astroturfs in 17 blocks in Sundergarh, considered the home of hockey in Odisha," said Behera.
To give the best possible grooming to players, the Odisha government, along with Tata Steel and Tata Trusts, set up the Naval Tata Hockey Academy on the premises of Kalinga Stadium in 2019.
"The Odisha Naval Tata Hockey High Performance Centre here is currently grooming 61 players and the number will reach 80 by September. We have brought in raw talent from the rural belt through various programmes and worked with them to ensure that they reach the next level. With training on astroturf, we are now on a par with western players in terms of speed and resilience," Rajiv Seth, project director of the centre, said.