Modi and Shah sell 'big win'
The two leaders turned up at the BJP headquarters to declare that the results were 'no mean achievement'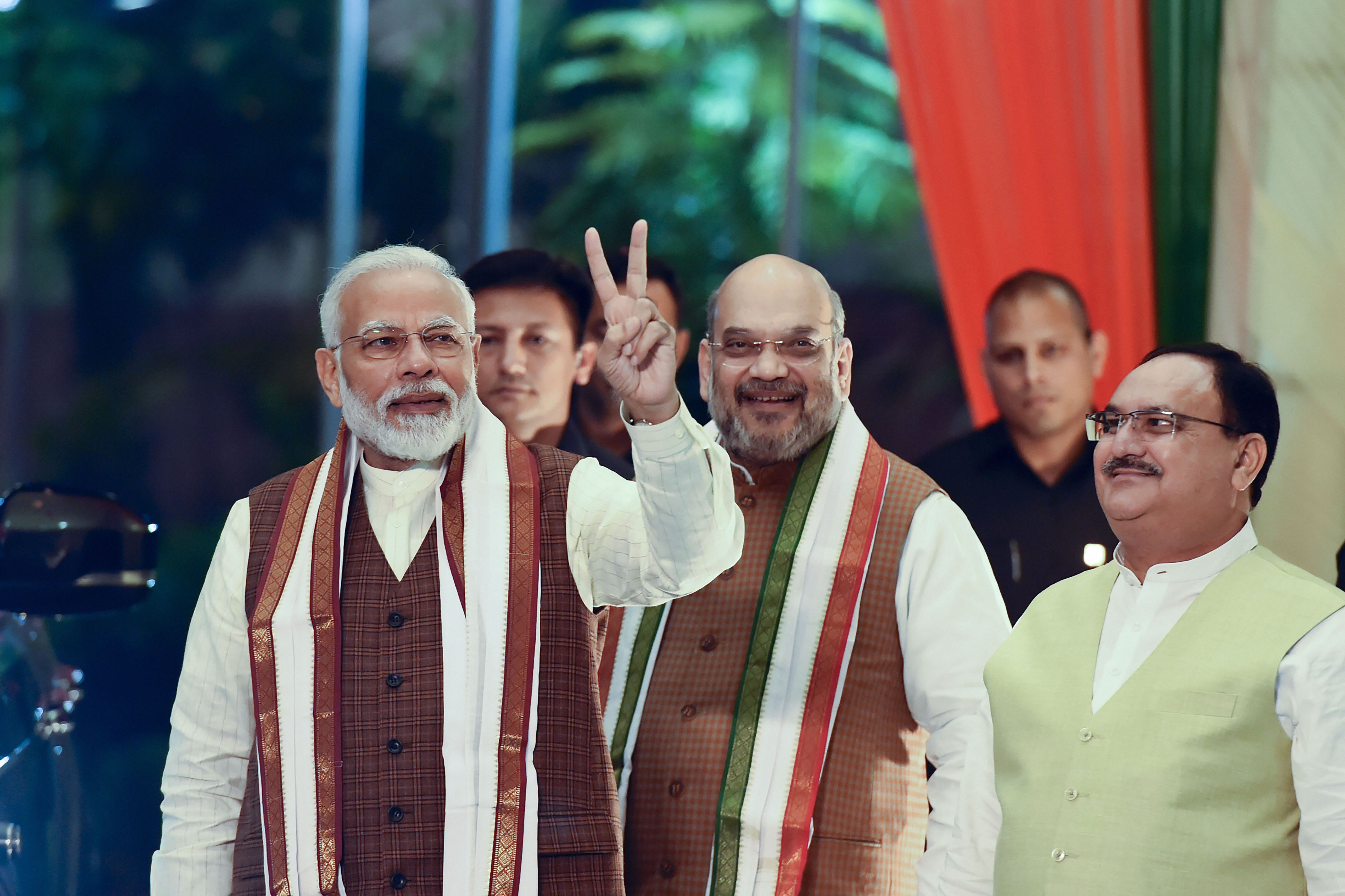 Prime Minister Narendra Modi arrives to address supporters after the results of Haryana and Maharashtra Assembly polls were declared, at BJP headquarters, in New Delhi, Thursday, October 24, 2019.
PTI
---
New Delhi
|
Published 24.10.19, 07:48 PM
|
---
The mood at the BJP headquarters here on Thursday morning, as counting of votes in Maharashtra and Haryana began, was of certain victory and a record one at that.
But once the trends started trickling in and pointed to results that would fall far short of the claims of 75 seats in Haryana and 220 in Maharashtra, the crowd started thinning. No sweets were distributed. The leaders shied away from speaking to journalists and rushed to hold closed-door meetings.
Union home minister and BJP chief Amit Shah, who was scheduled to attend the Raising Day Parade of the Indo-Tibetan Border Police as the chief guest, skipped the event. It was not clear whether Shah's absence from the parade that started at 10am had anything to do with the election results.
The BJP's slogan for Haryana had been: "Abki baar 75 paar. This time, past 75." The state has 90 seats. For Maharashtra, which has 288 seats, the party slogan was: "Abki baar 220 paar. This time, past 220."
The results fell far short: in Haryana the party has not even reached the majority mark while in Maharashtra it will be heavily dependent on ally Shiv Sena.
But as evening fell, word from the top came and party leaders were seen rushing out to prepare for a victory celebration. Cadres who had left the office were called back with the message that "Modiji was coming" and a big crowd was needed.
Prime Minister Narendra Modi and Shah, who had led an aggressive campaign woven around Article 370, turned up at the BJP headquarters to declare a "big win" and explain that the results were "no mean achievement".
As in the past, Modi and Shah addressed the cadres, who were chanting "Modi, Modi…", and thanked the voters of both states from their "core of their heart".
"These are big victories because normally these days few governments return after five years. In such times to be elected again is no mean achievement," Modi said.
Shah, who spoke after him, said the BJP had never been a significant force in either Maharashtra or Haryana and so the victories were big.
"We have emerged victorious in the two states," he said and asked party cadres to clench their fists and chant: "Bharat Mata ki jai". In Haryana the BJP's vote share has increased by 3 per cent over 2014, he said.
Defence minister Rajnath Singh, roads and highways minister Nitin Gadkari and other senior leaders sat on the dais and listened.
Modi said the BJP had always been a junior partner of the Shiv Sena in Maharashtra and had managed to come up in 2014 as the single largest party by contesting alone. He said Devendra Fadnavis was the state's first chief minister in 50 years to complete his five-year term.
"In the last Assembly polls, we didn't get a majority in Maharashtra. In Haryana, we only had 2 seats more than the halfway mark. Despite this the two chief ministers took everybody along and now people have reposed their faith in them again," Modi said.
Modi said the BJP had always been an insignificant player dependent on allies in Haryana and had managed to secure power in the state for the first time in 2014.
"Haryana in itself is an unprecedented victory since these days very few governments return to power after five years. In such times emerging as the single largest party is a big deal," Modi said, as workers chanted: "Modi, Modi…"
A BJP leader who asked not to be named said: "We may not have the majority in Haryana but we will only form the government." The whispers in the party office were that Janayak Janata Party leader Dushyant Chautala, who has emerged as kingmaker with 10 seats, and his family members were embroiled in corruption cases and would choose to back the BJP.