Mukesh seal on 'Iron Man Amitbhai'
Mukesh Ambani hails Amit Shah as a 'true karmayogi'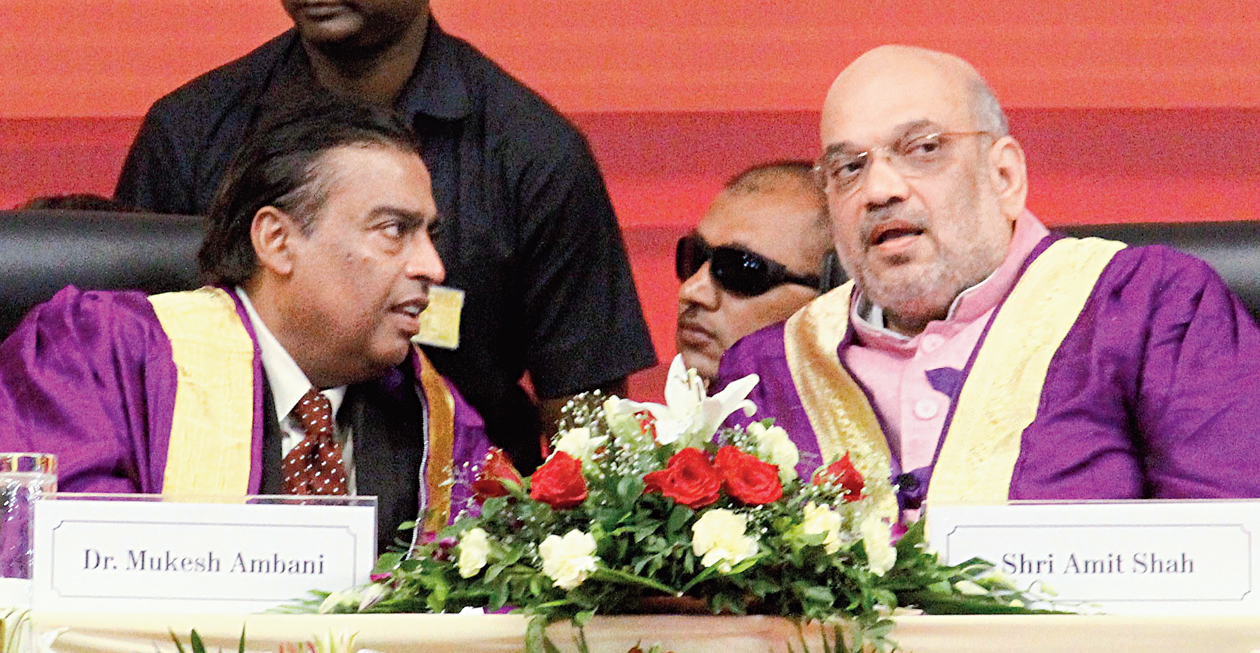 ---
---
Reliance Industries chairman Mukesh Ambani on Thursday hailed Amit Shah as a "true karmayogi" and "Iron Man" in what appeared to be a ringing endorsement of the ascendancy of the home minister, already seen in Delhi's power corridors as Prime Minister Narendra Modi's "natural successor".
Ambani, one of the most powerful corporate personalities in the country, lavished the praise on Thursday at an event in Gandhinagar, Gujarat, but the impact of the comment was felt in Lutyens' Delhi, where Shah's extraordinary rise is a topic of discussion.
"Amitbhai, you are a true karmayogi, you are truly Iron Man of our age," Ambani said at the convocation event of Pandit Deendayal Petroleum University.
The Union minister was present on the dais when Ambani spoke. "Gujarat, and now India, is blessed to have an inspiring leader like you," Ambani said.
Shah, the industrialist added, was a "very popular and most respected leader".
The original "Iron Man of India" — Sardar Vallabhbhai Patel, the country's first home minister who was also from Gujarat — had earned the sobriquet for his uncompromising commitment to national integration.
Nearly 70 years on, similar references to Shah are being heard in Delhi's political circles since the home minister piloted the Modi government's decision to end Jammu and Kashmir's special status under Article 370 and split the state into two Union Territories.
The stunning move to completely alter the status of Jammu and Kashmir has been widely seen in the corridors of power as Shah's baby more than that of Modi's, with BJP MPs heard saying it was a signature move of the "bold and fearless" Shah.
"Mukesh Ambani hailing Amitbhai as the true 'Iron Man' holds a lot of significance. This means that even influential corporates have started to view Amitbhai as the successor of Modiji," a BJP leader said.
Ambani also lauded Modi, recalling his "visionary" achievements that established Gujarat as the "benchmark of excellence" and referred to his ambitious goal of making India a five-trillion-dollar economy by 2024.