Mughal bias: A lesson in ancient Indian history, as it is taught now
Every dynasty in the country has been written about: Historians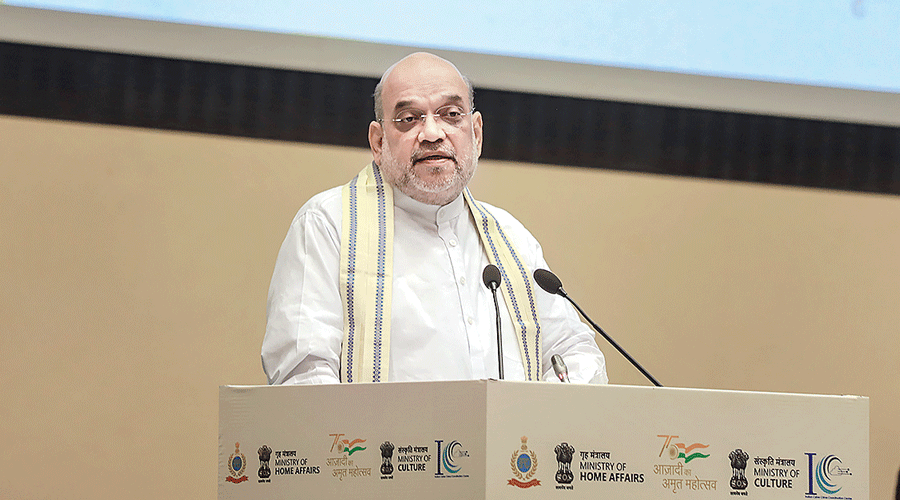 Amit Shah in New Delhi on Monday.
PTI picture
---
New Delhi
|
Published 21.06.22, 03:41 AM
|
---
Leading historians have questioned Union home minister Amit Shah's allegation of a Mughal bias in history writing and his assertion that "there is no reference book" on the Mauryas, Guptas or Cholas, saying school and university syllabuses as well as research have covered these ancient rulers well.
If the Mughals are written about more, it's partly because they "documented a lot of what they did", they argued, while adding that history today was no longer a study of mere dynasties and wars.
The historians questioned Shah's description of some of the purportedly neglected ancient dynasties as "empires", saying a few among them were kingdoms, and also contested the durations of rule that the minister ascribed to several of the dynasties.
Shah had said earlier this month: "We have had many empires but historians concentrated only on the Mughals and wrote mostly about them. Who is stopping us from writing our own history?"
He had asserted that the "Pandya empire" (of southern India) had ruled for 800 years and the "Ahom empire" had ruled Assam for 650 years.
"The Ahoms defeated Bakhtiyar Khalji, Aurangzeb and kept Assam sovereign," Shah said.
"The Pallava empire ruled for 600 years. The Cholas ruled for 600 years. The Mauryas ruled the whole country — from Afghanistan to Lanka — for 550 years. The Satavahanas ruled for 500 years. The Guptas ruled for 400 years, with Samudragupta envisioning a united India for the first time. But there is no reference book on them."
However, the school textbooks by the National Council for Education, Research and Training (NCERT), while being theme-based and not dynasty-based, contain references to all the empires and dynasties Shah mentioned.
"Every dynasty of India has been written on by historians. Those states and empires that historians assessed as being more important were obviously written on more extensively and more frequently," Romila Thapar, the country's best-known historian of ancient India, told The Telegraph.
"These latter include the Satavahanas, Mauryas, Guptas, Pratiharas, Rashtrakutas, Palas, Pallavas, Chalukyas, Cholas, the rulers of Vijayanagara, Tughlaqs, Mughals and some others. Historians therefore have to be very well read."
Thapar, 90, has been anathema to the Hindutva Right for her work that questions the belief that a single, uniform culture of the Aryans determined by Hindu identity subsumed all others in South Asia. School textbooks authored by her were dropped during the Atal Bihari Vajpayee government's tenure.
"There is considerable research and material that has been collated on most of these dynasties (that Shah mentioned)," said Kumkum Roy, retired JNU history professor and former member of the NCERT advisory committee for textbooks in social science.
"For example, Kunal Chakrabarti and Kanad Sinha have edited a 900-page volume, titled State, Power and Legitimacy: The Gupta Kingdom…. This is an anthology of 49 articles by Indian as well as foreign scholars."
Ruchika Sharma, a doctoral fellow of history at JNU who creates videos with an irreverent take on history to counter ill-informed TV debates, explained the spotlight on the Mughals.
"So much has been done on the Mughals, compared to these dynasties, because the Mughals documented a lot of what they did, especially Jehangir, not just through actual meticulous writing but also through architecture and painting…. The Cholas, Satavahanas ruled at a time when there wasn't a very developed sense of history," she said.
"Even before the Turks came in, there was a sense of history that was Puranic — the different yugas. When you put it in a religious framework, the sense of history is very different from the sense of history of the Turks (the chronology of rulers, their policies) — they have a cause-and-effect (narrative) which makes it easier to research."
On Shah's complaint, Sharma said: "These facts are incorrect not only because he has exaggerated the years (of rule by the dynasties he mentioned), but also the claim that there aren't books on these rulers. Even undergraduates have proper courses taught on ancient India.
"They are taught about all aspects — art and architecture of Cholas, Satavahanas…. The BJP has been in power for a long time now. If they think there is not a lot of work on the Cholas or the Satavahanas, they should give grants to people who want to research (these periods of history)."
Rajan Gurukkal, vice-chairman of the Kerala State Higher Education Council and an authority on the ancient history of south India, said it was "unnecessary for an academic to engage in a critical dialogue" with a politician.
"What a politician airs is a populist version of the past driven by sentiments. History is a profoundly enunciated, scholarly field for an academic, who encounters knowledge with methodological preoccupation," he said.
He, however, questioned Shahs' ascription of the term "empire" to some of the dynasties whose cause he had championed.
"The Mauryas' was a huge empire, bigger than that of the Mughals and smaller than that of the British. The Satavahanas, Ahoms, Pallavas, Pandyas and Cholas reigned only over kingdoms, not empires," Gurukkal said.
"They were chiefdoms for most of the period. 'Empire', 'kingdom' and 'chiefdom' are terms of conceptual basis, not mere words to be lavished as metaphors."
Sharma, the JNU doctoral fellow, contested Shah's account of the longevity of some of the ancient Indian regimes.
"He is making the mistake that a lot of students make sometimes. If a dynasty with the same name has ruled for three different intervals, you cannot take them all together and say they have ruled for this many years," she said.
"The Pandyas actually ruled around the 4th century BCE for around 200 years. Then they ruled again from the 6th century CE for 350-odd years. Then again in the 13th century…. There is nothing to prove that the Pandyas of the 4th century BCE and the Pandyas of the 6th century CE had a lot in common, or were of the same descent.
"All of these tended to be of the same name and often would claim the same descent. It needs to be questioned whether they did so because in the area they ruled there was a legacy of the previous Pandyas."
Sharma cited a similar pattern among the early and imperial Cholas who had ruled at different times. "On Satavahanas, he (Shah) is completely wrong as they only ruled once for around 300 years," she said.
Roy underlined the limitations of Shah's understanding of how history should be written or rewritten in future.
"Even while dynastic histories remain significant, recent decades have witnessed a broadening of the focus of history, which has become far more inclusive as a discipline," she said.
"Therefore, instead of focusing only or primarily on the histories of ruling lineages and on battles, more attention has been devoted to economic, social and cultural processes in which ordinary people —forest dwellers, agriculturalists, fisherfolk, crafts persons, traders, pastoralists — were involved, as well as on the lives of marginalised people, especially in terms of gender, caste and community.
"Environmental histories have also received increasing attention, and are likely to become even more important and relevant as we face the crisis of climate change. It is to be hoped that these trends continue in future scholarship."