'Modiji' on lips, Hardik Patel gives up on Rahul Gandhi
Targets Congress leader in his resignation letter, prompts the party to smell a BJP hand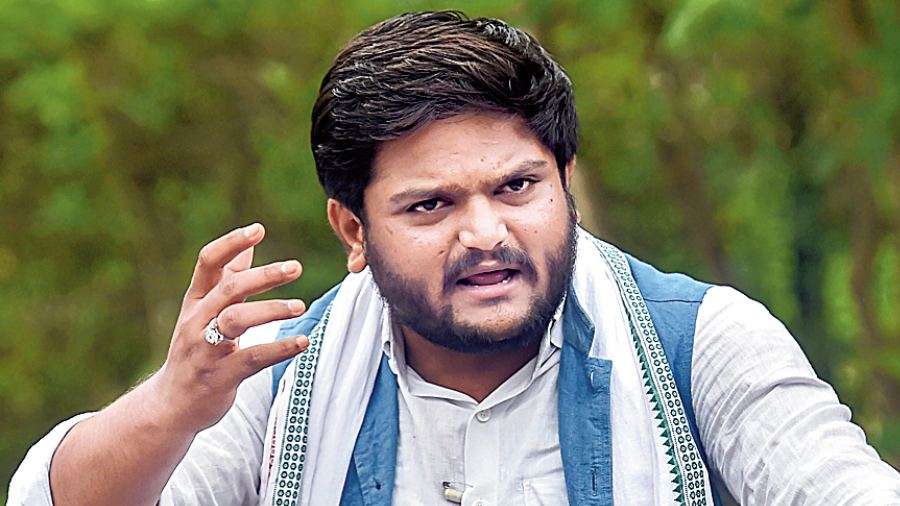 ---
New Delhi
|
Published 19.05.22, 03:32 AM
|
---
Hardik Patel, who was sulking for the past two years, finally quit the Congress after accusing the party of obstructing development and unnecessarily attacking Prime Minister Narendra Modi in a subtle hint about his impending ideological somersault.
Although Hardik had repeatedly said over the past few months that he had no complaints against the Congress central leadership and that only state leaders troubled him, he chose to target Rahul Gandhi in his resignation letter, prompting the Congress to smell a BJP hand.
"What he wrote in the resignation letter is the BJP's language. Now the BJP will use him like a puppet; where he has to go, what he will eat, what to say," Congress spokesperson and senior Gujarat party leader Shaktisinh Gohil said.
Hardik had removed every sign of being a Congressman from his social media profiles and described himself as a "proud patriot" last month. He publicly complained in an interview that local Congress leaders were not allowing him to work, using the analogy of a groom forced to undergo vasectomy soon after marriage to describe his situation.
Rahul had asked him to talk to the state leadership but he wanted to talk to him directly. State leaders felt he had crossed the line and his indiscipline should not be legitimised through a meeting with Rahul.
The Congress suspected that Hardik had made up his mind and, the central leadership therefore avoided going out of its way to pacify him. Sources said Hardik did not only talk about a lack of defined responsibility but went so far as to praise the BJP's nationalism and decisive leadership.
 This took place before Rahul went to Dahod to attend an Adivasi satyagraha, and Hardik's expectation of a one-to-one placatory meeting was not granted. Talk of the Congress being in touch with another influential Patidar leader, Naresh Patel, too alarmed Hardik and the possibility of reconciliation ended.
In his resignation letter, Hardik said: "Despite several attempts to steer the Congress in the right direction, the party has constantly been working against the interests of my country and our society. We are in the 21st century and India is the youngest country in the world. The youth of our country wants a strong and capable leader. Over the last three years, I have found that the Congress and its leadership, both at central and state level, have been merely reduced to opposing everything, whereas the people always seek an alternative that thinks of their future and is capable of taking India ahead."
He added: "Be it the Ram Mandir in Ayodhya, the revocation of Article 370 from Jammu and Kashmir, the implementation of the GST -– India wanted solutions for these subjects for a long time and the Congress only played the role of a roadblock and was always only obstructive. When it came to issues related to India, Gujarat and my Patidar community -– Congress's only stand was to oppose whatever Government of India led by Prime Minister Narendra Modiji did! The Congress today has been rejected in almost every state of India because the party and its leadership have not been able to present a basic roadmap to the people."
Targeting Rahul, he wrote: "Lack of seriousness about all issues is a major problem with the Congress party's senior leadership. Whenever I met with the senior leadership, always felt that leaders were not really interested in hearing about problems concerning the people of Gujarat but were more engrossed on what messages they had received on their mobile and other such trivial things. Whenever our country faced challenges and when the Congress needed leadership, Congress leaders were enjoying abroad! Senior leaders behave in a way like they hate Gujarat and Gujaratis. How in the world can the Congress then expect that people of Gujarat will see them as an alternative to lead our state?"
He said: "It is unfortunate that workers like us, who travel 500-600kms in our cars in a single day to meet people, get to see that big leaders of Congress in Gujarat are far away from issues of Gujarat but are more focussed on ensuring that chicken sandwich for leaders who have come from Delhi is delivered on time! Whenever I went among the youth I was always asked why I was in a party which constantly insulted Gujaratis – be it in the business sector, in matters of religion and even in politics. Gujaratis can never forget how the Congress party has insulted Sardar Vallabhbhai Patel."
Demonstrating his ideological conviction, or lack of it, Hardik wrote: "Even when people like me wanted to do something good for the state, all I and my community faced was ridicule and contempt. When I joined the Congress I did not know that the hearts and minds of leadership of the Congress are filled with such hatred towards our country India, towards my community and especially towards the youth!"
While Hardik had complained about the functional difficulties with local leaders for two years after being appointed working president, he was now talking about the Congress being filled with hatred for India.
"What credibility will such young leaders have if they swing wildly on ideology and principles? This entire letter has been drafted by the BJP. The theme and tenor expose the plot," a Rahul aide told The Telegraph, explaining that he had avoided reaching out only after realising Hardik's intentions.