Modi slams Congress suitors
BJP president Amit Shah demanded that Rahul Gandhi apologise for party functionary Sam Pitroda's comments on terror and air strikes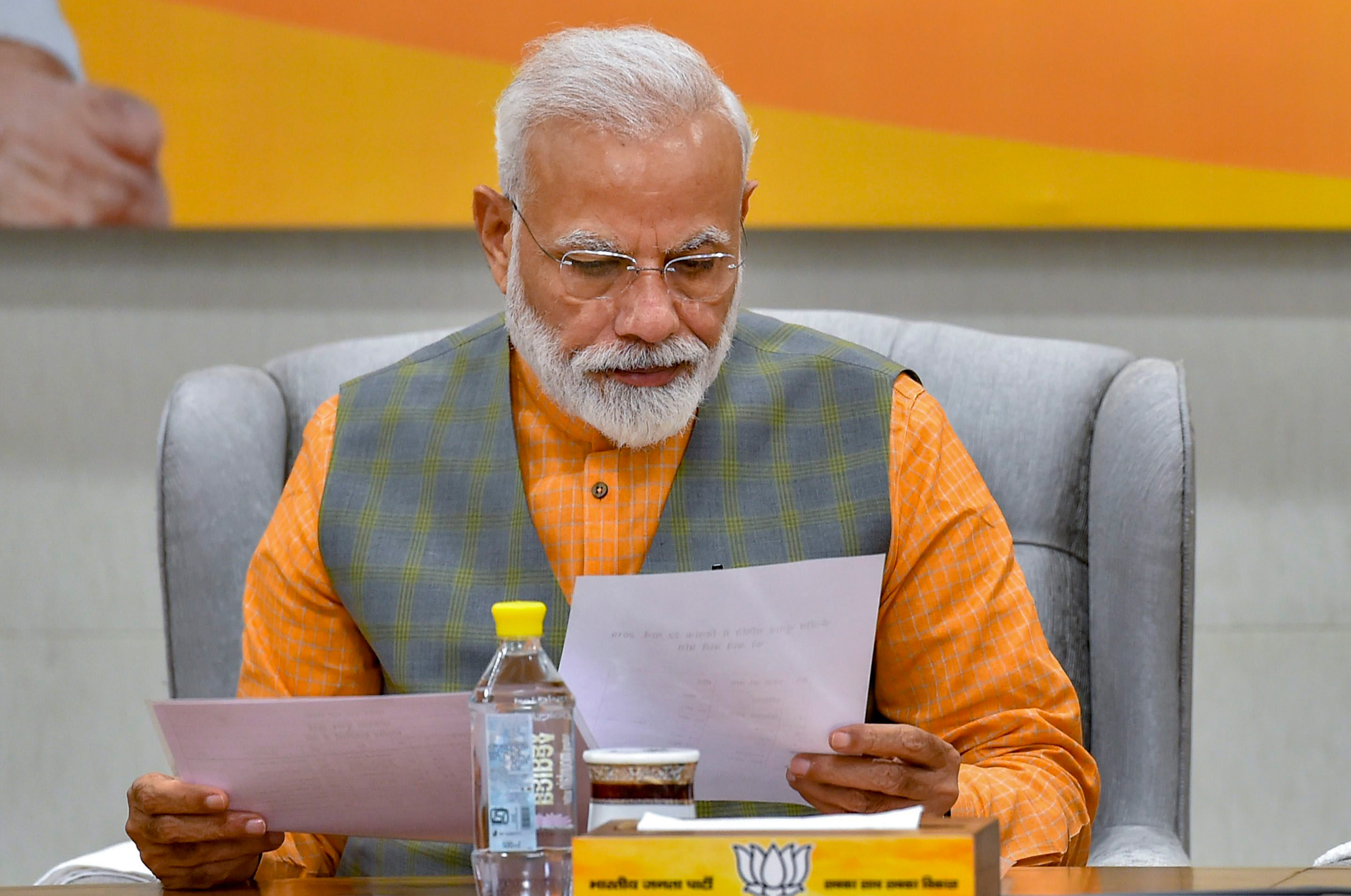 Prime Minister Narendra Modi during the BJP Central Election Committee (CEC) meeting for the upcoming Lok Sabha elections, at BJP headquarters in New Delhi on Friday, March 22, 2019.
PTI
---
New Delhi
|
Published 23.03.19, 08:36 PM
|
---
Prime Minister Narendra Modi on Saturday chided the socialist regional parties for eyeing an "opportunistic" alliance with the Congress, and BJP president Amit Shah demanded that Rahul Gandhi apologise for party functionary Sam Pitroda's comments on terror and air strikes.
Modi wrote a blog on the birth anniversary of socialist leader and Congress critic Ram Manohar Lohia, saying it was "ironical and reprehensible" that parties "that falsely claim to be" Lohia's followers were "desperate" for "opportunistic maha milawat or adulteration alliances" with the Congress.
The Prime Minister, who stressed that "anti-Congressism" was in Lohia's "heart and soul", also tweeted the blog post.
Although he didn't name the regional parties he was targeting, it was obvious that these included the Rashtriya Janata Dal in Bihar and the Samajwadi Party in Uttar Pradesh. Modi has made similar attacks in the past.
Shah referred to comments made by Pitroda, the Congress's overseas wing chief, in an interview with news agency ANI where he questioned the Balakot casualty figures that BJP leaders were claiming unofficially, without evidence or attribution.
Modi had on Friday led a concerted BJP Twitter attack on Pitroda, who had in the interview also justified the UPA government's decision not to carry out air strikes on Pakistan after the November 2008 Mumbai attacks.
Shah broached the subject on Saturday too and demanded that the Congress president clarify his stand on national security and apologise for Pitroda's comments.
He brushed away the clarifications by the Congress and Pitroda himself that he had made the comments as a "citizen" and not as a party politician.
"What is 'personal' in politics? Each time Congress leaders make such comments they become 'personal'," Shah said. "Rahul Gandhi must apologise to the nation."
Pitroda had said that an "entire nation" (Pakistan) or "every citizen of that nation" could not be blamed "just because some people came here and attacked". He had asserted that launching a counter-attack was not the "right approach".
Shah sought Rahul's response to these remarks. "Does the Congress believe that terror incidents that happen in the country have nothing to do with the Pakistan government or Pakistan army?" he asked.
Modi accused the socialist regional parties of dynasty politics and corruption. "These parties are experts at grabbing power, looting as much as possible," he said.
"Today, a moot question facing 130 crore Indians is: How can those who betrayed Dr Lohia be expected to serve the nation? Today they are betraying the principles of Dr Lohia; tomorrow they will also betray the people of India," he wrote.
Samajwadi Party leader Akhilesh Yadav hit back with a tweet. "I wonder which principles are being spoken of. The BJP seems to be schizophrenic. On the one hand they try to coopt Gandhi Ji, Bhagat Singh, Sardar Patel, Dr Ambedkar and Dr Lohia and on the other hand they follow people who these leaders opposed and disagreed with," he said, alluding to the RSS.
He quoted Lohia as saying: "The biggest battle of Indian history is that between liberal Hindus and hardline Hindus…."