Modi salutes peasants' role in Chauri Chaura, not a word on current agitation
PM uses historic incident's centenary year occassion to flag what he claimed was his government's pro-farmer measures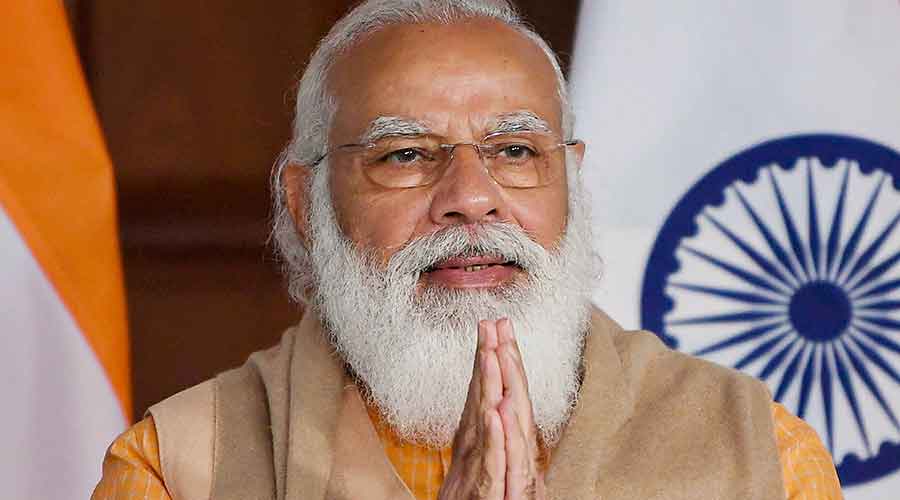 Prime Minister Narendra Modi during the inauguration of the centenary celebrations of the historic Chauri Chaura incident, via video conferencing in New Delhi on Thursday, Feb. 4, 2021.
PTI
---
Lucknow
|
Published 05.02.21, 12:59 AM
|
---
When it comes to recognising protesting farmers, Prime Minister Narendra Modi has to look back nearly a century.
Modi on Thursday lauded peasants' role in the February 4, 1922, Chauri Chaura incident while speaking not a word on the current farmers' agitation against his government.
Releasing a postage stamp honouring the freedom fighters of Chauri Chaura — in line with the BJP's efforts to appropriate chapters of the Independence movement in which its ideological forbears had played no part — Modi claimed his government had been working for six years to empower farmers.
"Friends, farmers are the most important foundation for the country's development. Farmers had played a great role in the struggle of Chauri Chaura," he said while inaugurating through videoconferencing an Uttar Pradesh government programme in Chauri Chaura, 30km from Gorakhpur.
The occasion was the start of the centenary year of the famous Chauri Chaura incident, when police firing on Non-Cooperation Movement participants prompted angry rural demonstrators — most of whom would have been peasants — to torch a police station.
With the violence killing three protesters and 22 policemen, Mahatma Gandhi halted the Non-Cooperation Movement nationally. The Raj sentenced 19 demonstrators to death and 110 to life imprisonment.
Modi claimed the freedom fighters of Chauri Chaura had never before been recognised, ignoring how Indira Gandhi had laid the foundation for a memorial on February 6, 1982, and P.V. Narasimha Rao inaugurated it on July 19, 1993.
"The Chauri Chaura incident used to be referred to merely as an incendiary attack. But it wasn't merely a fire in a police station — the fire had been burning in the heart of every person," the Prime Minister said.
He used the occasion to flag what he claimed was his government's pro-farmer measures.
"During the corona period the country witnessed the results of our six years of continuous effort for the growth and self-reliance of the farmers. Despite the challenges of the pandemic, our agricultural sector moved forward firmly and the farmers achieved record production," he said.