Modi harps on Krishna connection at Bihar rally
I have a strong connection with the Yaduvanshis as I come from Gujarat, where Dwarka is situated, the PM claimed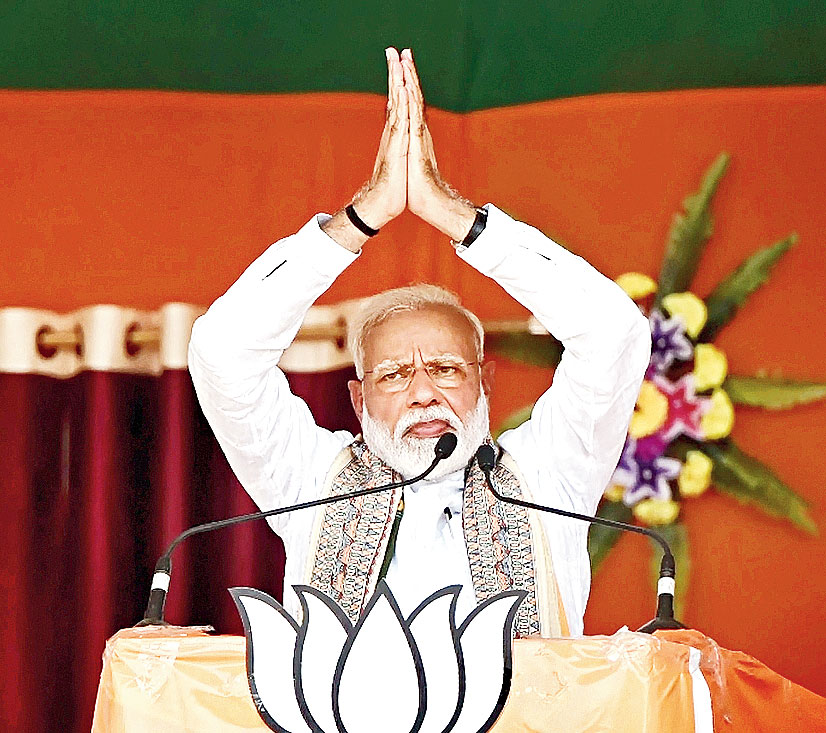 Prime Minister Narendra Modi addresses an election campaign in Paliganj, Bihar, on Wednesday.
(PTI)
---
Patna
|
Published 16.05.19, 12:05 AM
|
---
Prime Minister Narendra Modi, addressing his last rally in Bihar for this Lok Sabha election, on Wednesday harped on his connection with Lord Krishna in what was seen as an effort to woo Yadav voters.
People belonging to the Yadav caste believe they are descendants of Lord Krishna.
"I have a strong connection with the Yaduvanshis as I come from Gujarat, where Dwarka is situated. The community worships Lord Krishna and knows how to play the flute and when and where to strike with the Sudarshan Chakra," he said.
Modi's outreach — at Paliganj, around 45km southwest of Patna — was accompanied by an assault on the family — read party — that is believed to have the Yadav votes in its pocket.
Without taking the name of Lalu Prasad or any family members of the Rashtriya Janata Dal (RJD) chief, Modi said: "They cheated the caste which gave them post and fame. They did nothing for their caste men and when it came to giving important roles they didn't select anyone from their caste and opted for family members."
Modi, accompanied by Bihar chief minister Nitish Kumar and Lok Janshakti Party chief Ram Vilas Paswan, was canvassing for BJP candidate Ram Kripal Yadav from the Pataliputra constituency, Patna Sahib candidate Ravi Shankar Prasad and Chandeshwar Chandravanshi, the
Janata Dal United candidate from Jehanabad.
Pataliputra has a sizeable number of Yadav voters. Ram Kripal was earlier with the RJD and had joined the BJP just ahead of the 2014 general elections after Lalu Prasad had turned down his request for a ticket from the seat. Ram Kripal had beaten Lalu's eldest daughter, Misa Bharti.
This year's battle is a replay of that contest, and Lalu's family members including wife Rabri Devi are campaigning intensively for Misa.
"The naamdaar (famous name or surname) family of the Congress and the corrupt family from this place have acquired assets worth hundreds of crores. After grabbing hundreds of acres of land they have got cut-off from land. For them, poverty is just a word and they don't know the real meaning of the word," Modi said.
The Prime Minister highlighted the 10 per cent reservation for economically weaker sections among the general category in what was seen as an effort to woo upper caste voters, who make up a sizeable chunk in Patna Sahib and Jehanabad.
"This is my last election rally in Bihar," Modi said at his 10th rally in the state in this election, and promised a "vikaas ki Ganga" (flood of development) in his next tenure.
He accused the Opposition of being soft on terrorism, and insisted that Sam Pitroda's "hua toh hua" remark reflected the Congress's arrogance with regard to the "complicity of its leaders in the 1984 anti-Sikh riots".
In an apparent bid to woo the Nishad (fishermen) community, whose cause the fledgling Vikassheel Insaan Party claims to champion, Modi said that in his next tenure he would unveil plans to ensure fishermen from Bihar sell fish outside the state.