Modi finds mother of planks in Congress jibe
Modi seemed to be alluding to Congress lawmaker Raj Babbar's comment comparing the sliding rupee's value to age of Modi's mother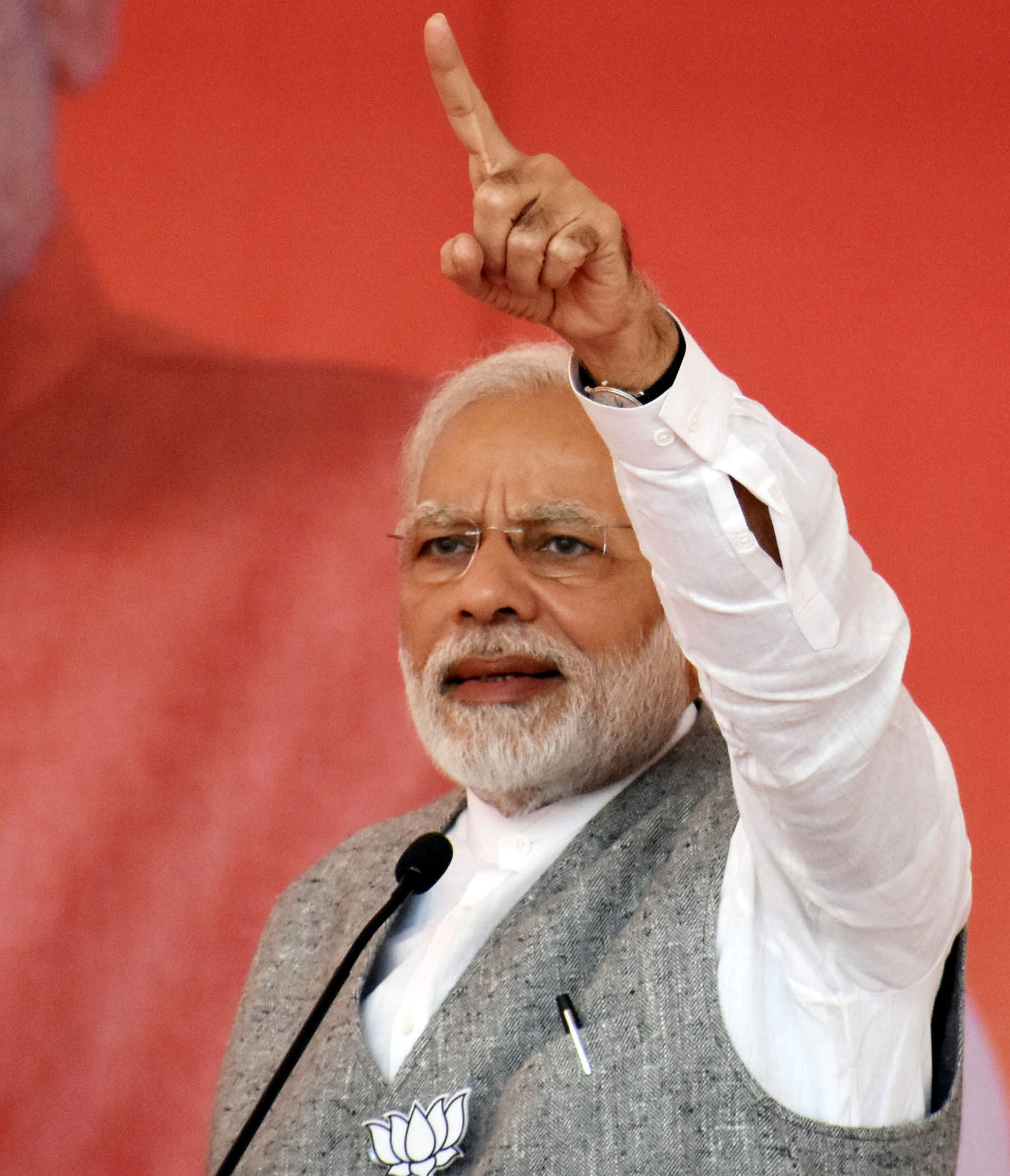 Prime Minister Narendra Modi during a public rally ahead of Madhya Pradesh assembly elections, in Mandsaur, on Saturday.
(PTI picture)
---
New Delhi
|
Published 24.11.18, 09:57 PM
|
---
Prime Minister Narendra Modi on Saturday accused the Congress of abusing his mother, playing up an emotive issue ahead of the November 28 Madhya Pradesh elections.
He took no names but was clearly alluding to Rajya Sabha MP Raj Babbar's comment comparing the value of the sliding rupee to the age of Modi's mother Hiraben, 98, whom the Prime Minister usually meets once a year on his birthday.
"The Congress has lost the courage to fight me, so they are abusing my mother, disgracing my mother. My mother, who has nothing to do with politics, is being dragged (into the campaign)," Modi told a rally in Chhattarpur.
"For 17-18 years I have been challenging the Congress and defeating them, but today they stooped low enough to drag my mother into the election. Does this behove the Congress? Mothers and sisters (among the voters) should give a befitting reply."
He repeatedly asked the crowd: "Will they be able to save their deposit by abusing Modi's mother?"
PTI quoted Raj Babbar as telling a rally in Indore on Friday that before the 2014 general election, Modi "used to say the value of the rupee has fallen to a level where it is almost the same as the age of the then Prime Minister (Manmohan Singh)".
He added: "Mr Prime Minister, at that time you had not taken his (Manmohan's) name out of respect. Although our tradition does not allow this, we wish to say that now the value of the rupee has fallen to the age of your respected mother."
With just two more days left before campaigning closes in Madhya Pradesh, which the BJP has ruled for three straight terms, the party is desperately trying to turn around the perceived mood in favour of "badlaav" (change).
At both the rallies he addressed on Saturday, Modi tore into the Congress and the Nehru-Gandhis, repeatedly referring to "Madam ki sarkar" — an allusion to Sonia Gandhi — and bringing in Italian businessman and Bofors accused Ottavio Quattrocchi.
He accused the Congress of abusing chief minister Shivraj Singh Chouhan as well. "They are worried that Shivraj is (fondly) called 'mama' (maternal uncle). Have they forgotten their own Quattrocchi mama, whom his (Rahul Gandhi's) father had given a permit to steal money allocated for the security of India?" he said.
"Mama Quattrocchi, yaad kyon nahi aate (why don't you remember him)? Mama Anderson, yaad kyon nahi aate?"
Late American businessman Warren Anderson, the then head of Union Carbide, was a Bhopal gas tragedy accused but was allowed to flee India at a time Madhya Pradesh had a Congress chief minister in Arjun Singh and India a Congress Prime Minister in Rajiv Gandhi.
In the second rally at Mandsaur, the epicentre of the farmers' agitation where five peasants died in police firing last year, Modi didn't evoke his mother. Here he picked on state Congress chief Kamal Nath's plea to Muslims to ensure that 90 per cent of their votes were cast.
Modi acknowledged the agrarian distress, admitting it was giving his government a "bad name", but deflected the blame on previous governments.
"Because of the Congress's sins and wrong policies over decades the farmers are suffering. Our government too is getting a bad name," he said, adding that he needed time to correct the "sins and mistakes" committed over five to six decades.
"We have got only four years. If we get even half the time they (the Nehru-Gandhi family) got, all the problems of the farmers would be solved."
Modi appealed to the farmers not to believe the Congress's poll promises, betraying fears that the voters could be swayed by the offers of loan waivers and other sops.
He said the Congress had a long history of making false promises and recalled how poverty continued despite Indira Gandhi's "garibi hatao (remove poverty)" slogan.
He said farmers were protesting in Karnataka because the Congress's promise of loan waivers was not being met. "Can you trust the Congress? Can you, can you?" he asked the crowd.
Modi said the demonetisation ---- which has made the BJP unpopular, particularly in the rural areas --- had led to the closure of many shell companies that were "tools of the Congress's corruption".
"They (Congress leaders) have siphoned off (a lot of money). Modi is not going to spare anyone…. I need your support. Return the BJP to power again in Madhya Pradesh," he said.