Modi calls for climate 'andolan'
Modi announced that India would increase its share of non-fossil fuels to 175 gigawatts by 2022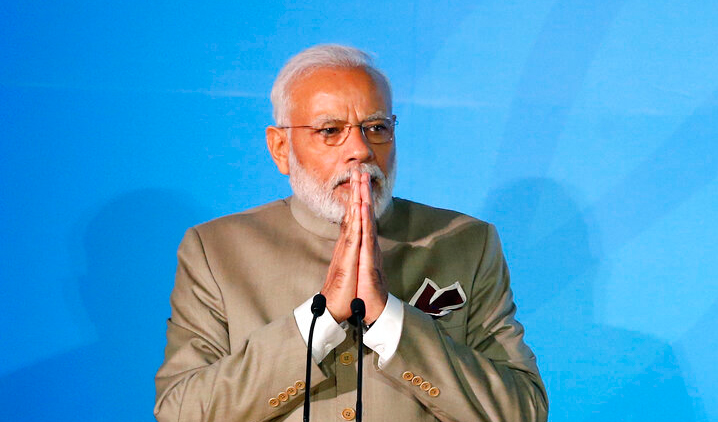 ---
---
Prime Minister Narendra Modi on Monday called for a worldwide "jan andolan" or people's movement aimed at behavioural change to combat climate change, and outlined India's moves to curb its Earth-warming fossil fuel emissions.
Modi, speaking at a UN climate change summit, announced that India would increase its share of non-fossil fuels to 175 gigawatts by 2022 and "further increase it to 450 gigawatts".
"We must accept that if we have to overcome the serious challenge like climate change, then what we are doing is just not enough," Modi told world leaders at the special summit, called by UN secretary-general Antonio Guterres.
Modi said climate change needed to be addressed through a comprehensive approach covering education, values, lifestyle and a developmental philosophy. "Need, not greed, has been our guiding principle," he said. "The time for talking is over — the world needs to act now."
Deora praise
Former Congress MP and ex-Union minister Milind Deora has heaped praise on Modi for Sunday's Houston disapora event, PTI reported.
"PM Modi's Houston address was a momentous first for India's soft power diplomacy. My father Murlibhai was one of the early architects of deeper Indo-US ties. Donald Trump's hospitality and recognition of Indian Americans' contributions makes us proud," Milind tweeted.
In response, Modi on Monday recalled his friendship with late Congress leader Murli Deora and said his commitment had strengthened ties with the US.
Milind had resigned as Mumbai Congress president after the party's rout in the Lok Sabha elections this year.